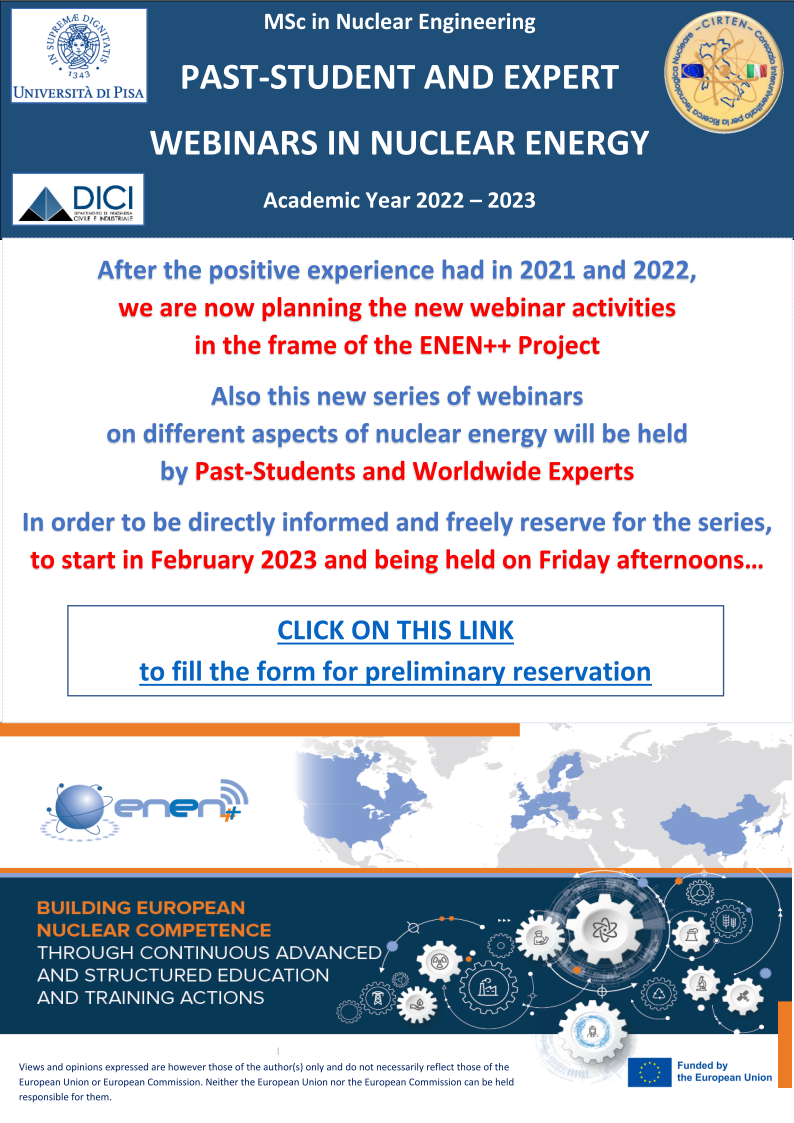 LIST OF WEBINARS FOR THIS YEAR
Webinar by Gabriel Pavel and Roberta Cirillo
on Friday February 10, 2023 at 15:00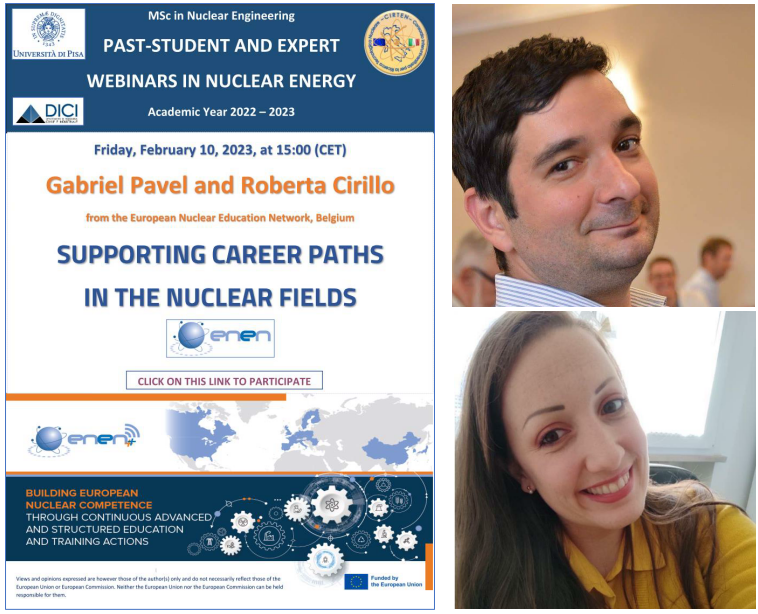 Gabriel Pavel is currently working as Executive Director for the European Nuclear Education Network (ENEN) and also as an assistant professor at University "Politehnica" of Bucharest department of Nuclear Engineering. He finished Faculty of Power Engineering in 2004, Nuclear Power Plants and followed by a Master degree in nuclear engineering. He started working at the University in the same year and also did his PhD in the same period. During 18 years of activity he followed several specialization courses in Research Centers and Universities from Austria, Czech Republic, France, Hungary, Romania, South Korea and Slovakia. He is board member of AREN, Romanian Association for promotion of Nuclear Energy. He is involved in various projects funded by the European Commission and Cohesion funds dedicated to Human Resources and communication in the nuclear field. Since 2018 he is responsible in designing and managing E&T projects ad developing the ENEN's strategy institutions from mainly Europe but with strong connections with international organizations all over the world. He is directly involved in designing, implementing and managing actions aimed at improving nuclear competences and attracting new persons to the nuclear field in eight different projects currently under implementation. He is also managing an organization with more than 80 members from mainly Europe but also with different organizations from all over the world.
Roberta Cirillo has a bachelor in Physics from the University of L'Aquila (Italy) and a double Master of Science in Nuclear Engineering from the Polytechnical University of Catalonia (Spain) and the Polytechnical University of Grenoble (France) with a specialization in material science. She complemented her education with Energy Management and Innovation & Business Creation courses at the Management School of Grenoble. She had a multifaceted career path in which science was always the common thread and required her to live in several European countries. Starting with climate modeling data analysis for the Finnish Meteorological Institute, going on with several years of research in the field of cryogenics in CEA-Grenoble at the beginning, and later at CERN in Geneva. In parallel to her research work, she has always been actively involved in outreach activities, science communication and networking events. In 2019 she definitely shifted her career goals from Research and Technology towards the International Relations sector, focusing on education communication and outreach. Today, Roberta Cirillo works as Project Manager and Communication Officer at ENEN, which stands for European Nuclear Education Network and is the largest network in Europe for Education and Training having its headquarter in Brussels, Belgium. She is responsible for all ENEN Communication channels, manages several EU-funded projects leading the Dissemination and Communication working package and acts coordinator for the TOURR project.
Webinar by Jadwiga Najder and Patricia Schindler
on Friday February 17, 2023 at 15:00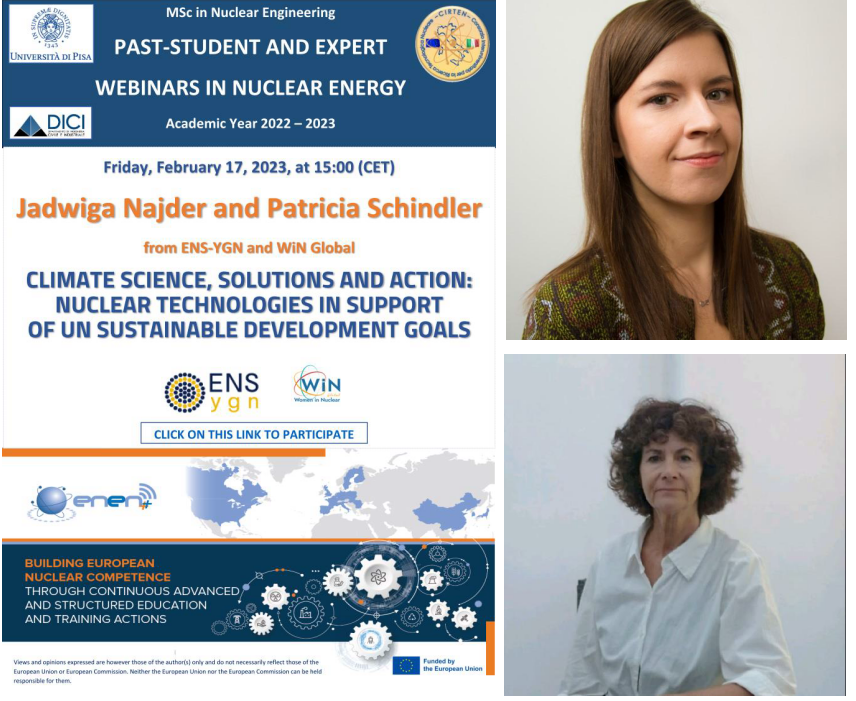 Jadwiga Najder is a nuclear engineer supporting a design of a NPP. As a Youth Community leader, I am also working to boost the participation of young people in the nuclear space. Passionately educating about solutions to climate change, for several years, I prepare youth and NGOs' representatives to represent nuclear at UNFCCC COP conferences. She worked as Nuclear Engineer at Oakridge SAS, France and has been Intern Engineer at CEA, Service d'étude des réacteurs et de mathématiques appliquées, Saclay, France.
Patricia Schindler worked for 35 years at the Alternative Energies and Atomic Energy Commission (CEA). Graduated with a master's degree in engineering (1985), specializing in metallurgy, she spent 5 years in a laboratory of metallurgical expertise, then turned to project management in the nuclear field. She has thus worked with multidisciplinary teams at the national and international level. She began her career in the field of sodium chemistry within FBR (Fast Breeder Reactors), before moving on to study projects concerning the PWR (Pressure Water Reactor) sector. As R&D project manager, she successively led various projects concerning the evolution of chemistry on the primary or secondary side of PWRs. These projects have led her to study, design and monitor the implementation of test facilities, combining the technique of nuclear measurements. These fields involving high temperatures and high pressures, she thus obtained in 2007 the title of expert in ThermoHydraulics in a chemical environment.
She has been actively involved since 2012 in the network "Women in Nuclear (WiN)", as well as in various regional initiatives to promote gender equality in science and technology in order to also increase the participation of women in the nuclear sector. She joined the WiN Global Steering Committee in 2020 when she became secretary. She currently also acts as vice-president of WiN France, and leader of WiN Europe.
Webinar by Alessandro Petruzzi on Friday February 24, 2023 at 15:00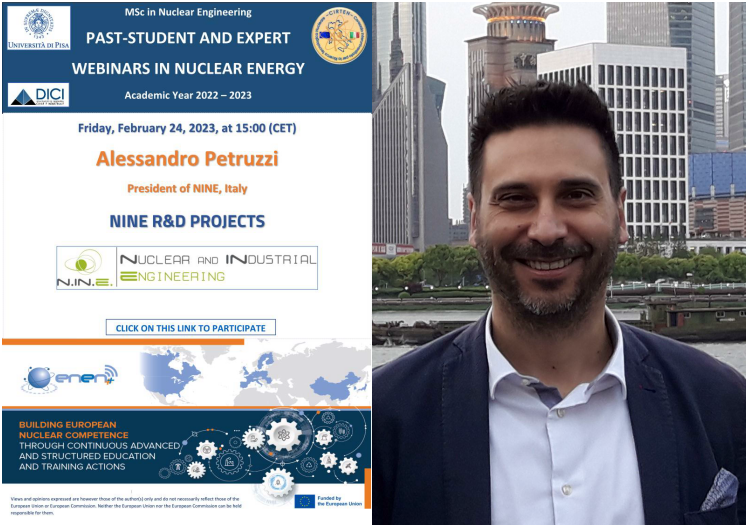 Alessandro Petruzzi is the President of NINE and current Head of the Plant Thermal-Hydraulics Area devoted to safety analysis and licensing of NPP.
Prior to join NINE, he worked over 9 years in the Nuclear Research Group of San Piero a Grado (GRNSPG) and he spent the year 2004 working as an intern-assistant in the Pennsylvania State University (USA).
He got his PhD Degree in "Nuclear and Industrial Safety" Course of the "Leonardo da Vinci" Doctoral Engineering School in 2008, discussing the thesis titled "Development and Application of Methodologies for Sensitivity Analysis and Uncertainty Evaluation of the Results of the Best Estimate System Codes applied in Nuclear Technology".
The methods for uncertainty and sensitivity analysis applied to thermal-hydraulics system codes constitute his main interest as well as the assessment of computer codes and the development of sensitivity and uncertainty methods.
He was involved in several activities connected with safety and licensing process, including the preparation of Chapter 15 of Final Safety Analysis Report (FSAR) of Atucha-2 NPP (Argentina), Hanhikivi-1 NPP (Finland) , the support to the Generic Design Assessment (GDA) Step-3 and 4 for the HPR-1000; the participation as expert to the Generic Reactor Safety Review (GRSR) service organized by IAEA for several NPP design (more than 10 different NPP).
He is the founder and director of the NINE Multi-Level Training Program which includes several courses organized each year and devoted to Scaling, Uncertainty and 3D COuPled Code Calculation, Models and Methods for Advanced Reactor Safety Analysis, Nuclear Reactor Safety Hand-On Training. He was involved also as expert in the Safety Assessment Education and Training (SAET) Programme of IAEA which has been designed to support IAEA Member States with development of required safety assessment capacity and competency.
Webinar by David Novog on Friday March 10, 2023 at 15:00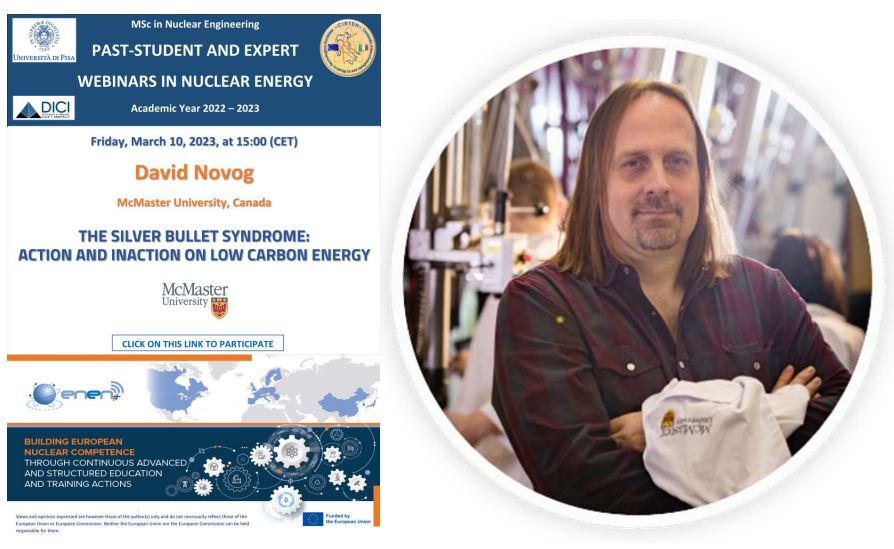 Dr. David Novog is an expert in safety analysis methods and uncertainty quantification. He holds an Industrial Research Chair in Nuclear Safety and has been a professor at McMaster since 2006.
From 1998-2005 he worked at Ontario Hydro, OPG, Nuclear Safety Solutions and AMEC in the areas of reactor physics, thermal hydraulics and reactor trip assessment. Prior to these positions he was a visiting researcher at Mitsubishi Heavy Industries in Japan on their APWR project.
His current research is focused on experimental and analytic issues related to fuel integrity, severe accident modelling, and emergency planning. He has large projects underway on improved maintenance instrumentation and applied radiation imaging.
Webinar by Daniel Freis on Friday March 17, 2023 at 15:00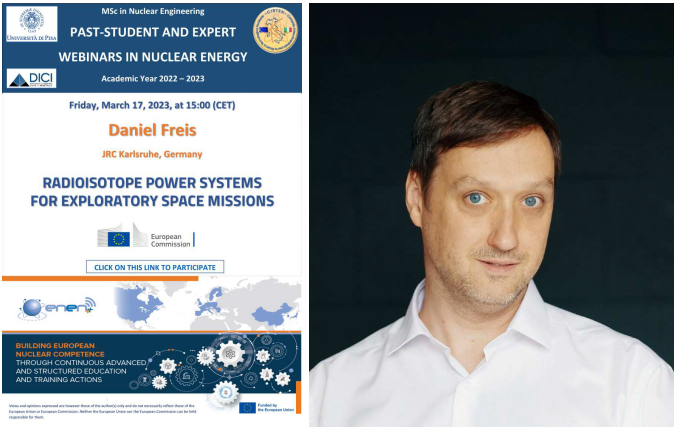 Daniel Freis is a Nuclear Engineer and works since 2013 as a Scientiffic Officer at the European Commission's Joint Research Centre (JRC) in Karlsruhe, where he coordinates the group for Synthesis and Characterisations within the Nuclear Materials Research unit.
Before joining JRC Karlsruhe, Daniel was working at Westinghouse Electric Germany GmbH on safety assessment of nuclear power plants and severe accident mitigation systems. He obtained his PhD degree in Nuclear Engineering from RWTH Aachen University in collaboration with JRC on severe accident behaviour of high-temperature reactor fuel.
Daniel's research is mainly focussed on safety assessment and safety testing of nuclear fuels, with an emphasis on Generation IV metal cooled and high temperature reactors, and he is responsible for JRC's activities on Radioisotope Power Systems for space applications based on Am-241 and Pu-238.
Webinar by Juha Poikola on Friday March 24, 2023 at 14:30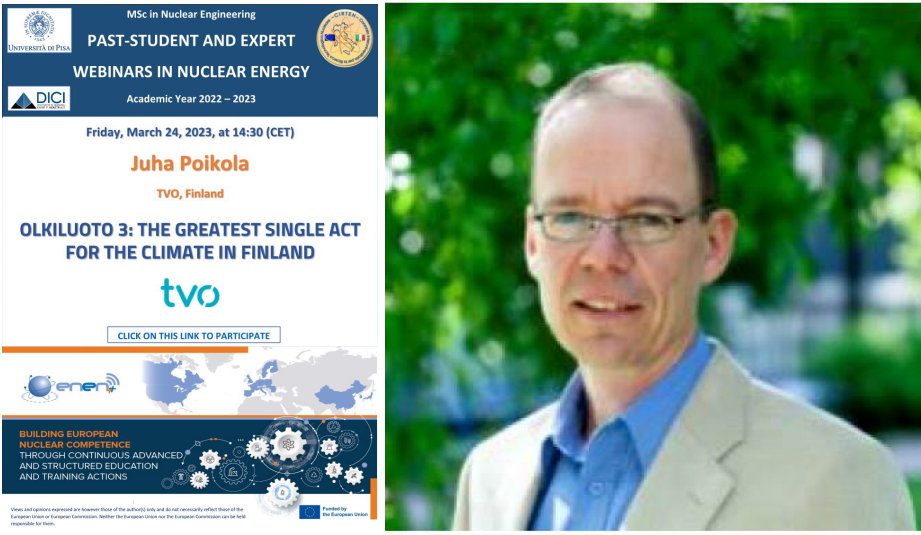 Mr Juha Poikola title is Manager, Public Relations. He also works as an TVO's expert in energy and climate policy. Currently Juha is also responsible for Olkiluoto 3 communication. Mr Poikola has actively participated into lobbying for positive political decisions for Olkiluoto 3 and Olkiluoto 4. Finnish parliament made these decisions in years 2002 and 2010. Mr Poikola has worked at energy sector for 21 years. Before that he worked for forest industry.
Webinar by Bogdan Buhai on Friday March 24, 2023 at 16:00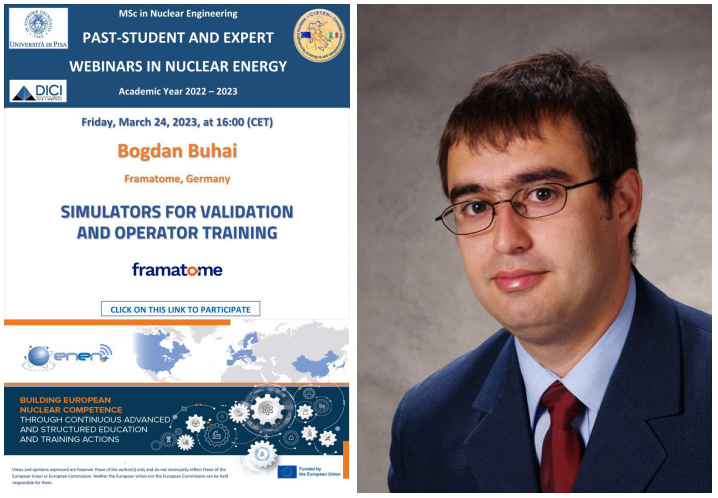 Webinar by Mark Anderson on Friday March 31, 2023 at 15:00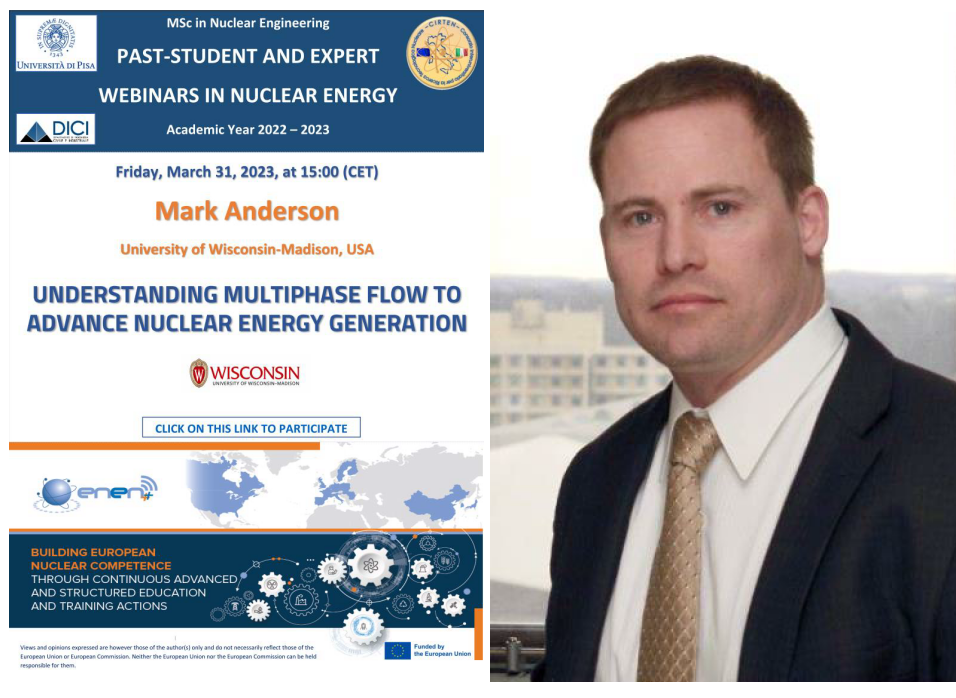 Mark Anderson is the Consolidated Paper Associate Professor in the Department of Mechanical Engineering at the University of Wisconsin – Madison and Director of the University of Wisconsin's Thermal Hydraulic Laboratory. Dr. Anderson studies physics, thermal-hydraulics, and, material corrosion issues related to several different fluids (salts, liquid metals, SCW, sCO2) related to energy production and storage. He is currently the U.S. representative to the International Atomic Energy Agency (IAEA) for the coordinated research project on supercritical fluids and has active research on sCO2 Brayton cycle for nuclear, solar, and fossil advanced power generation. He has been awarded five patents and has published over 150 journal papers in various areas related to energy production and utilization, fundamental physics, and materials.
Webinar by Donato Lioce on Friday April 14, 2023 at 15:00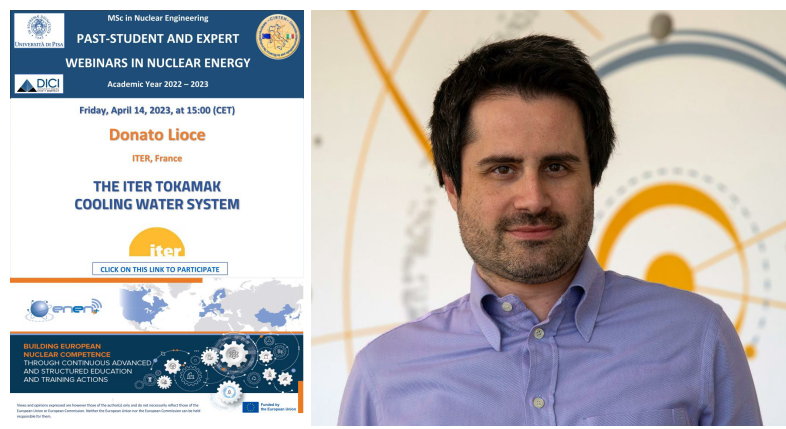 Donato Lioce has a PhD in Nuclear Engineering with a thesis on 'Pre-operational Tests and Design Basis Accidents Simulations for a Generation III+ Nuclear Power Plant'. He leads the Tokamak Cooling Water System Section at ITER (ww.iter.org), having the responsibility to design and manufacture the primary cooling system of the ITER fusion reactor. Before joining the ITER organization, he worked in Ansaldo Nucleare S.p.A. on many projects spanning from service to operating nuclear stations to design of gen. IV reactors, and, before that, he worked for Westinghouse Electric Company on generation III+ reactors.
Webinar by Sergio Ciattaglia on Friday April 21, 2023 at 15:00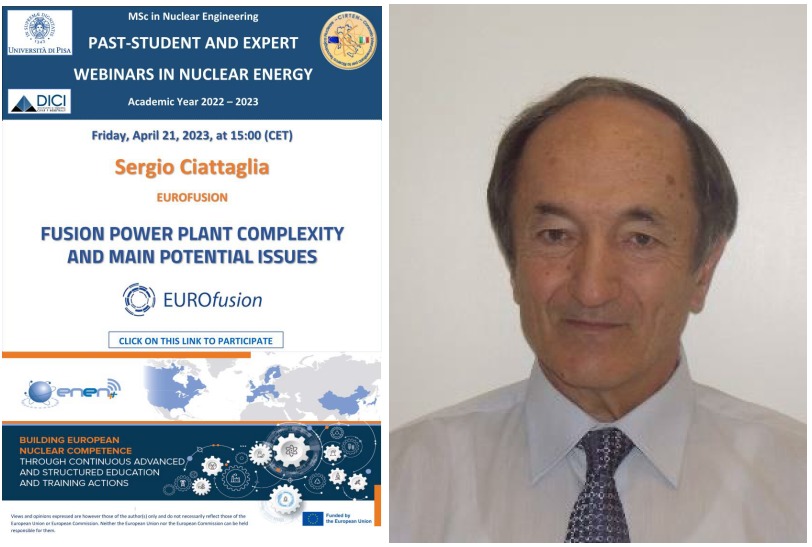 Sergio Ciattaglia is an Electrical Engineer, graduated in 1973. After 3 years in the railway company (operation and maintenance of electrical and safety systems) and a year (1977) at Pisa University for a course on Nuclear Safety and Radioprotection, he worked for 12 years on the licensing of Italian NPPs. Since 1990 he is working in nuclear fusion field: safety analysis of NET, Director of Frascati Tokamak Upgrade (94-98) and manager of ENEA R&D activities. Since 2000 he moved abroad, first at JET, on operation and maintence, than on ITER licensing (7 years at Cadarache) and from 2014 on EU-DEMO safety analysis, plant electrical system and integration, in the design central team of EURO-fusion in Garching.
Webinar by Johanna Hansen on Friday April 21, 2023 at 16:30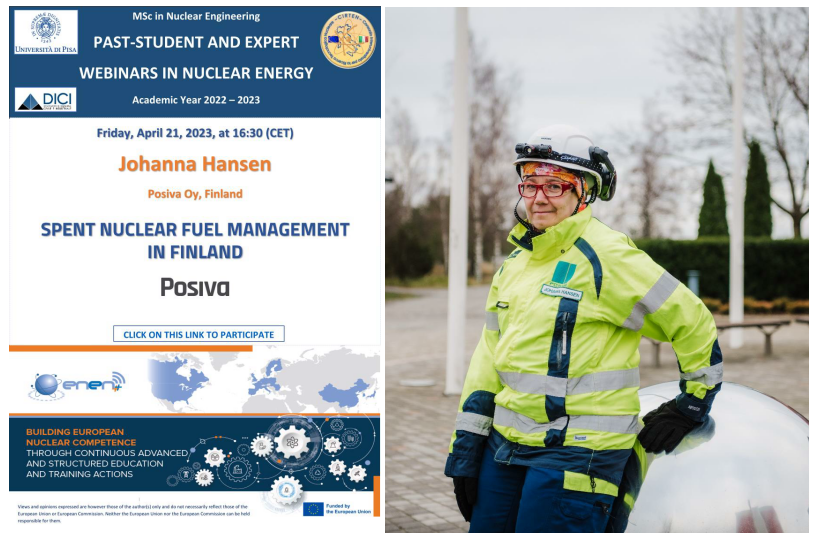 Johanna Hansen
Olkiluoto, 27160 Eurajoki, Finland
Posiva Oy – Eurajoki, Finland, R&D Coordinator, 2002 to Present
Posiva Oy, - Loviisa, Finland, Site Field Manager/Geo Research Assistant, 10/1997 to 2/2002

Dedicated and highly motivated nuclear waste management professional with career-long history driving planning and execution of complex projects focused on cutting-edge research and development for safe nuclear fuel disposal. Lead and mentor teams in producing exceptional results under tight deadlines and in conformance with stringent engineering requirements.

Currently Secretary General for IGD-TP (Implementing Geological Disposal – Technology Platform) 2022-2023

Co-ordinated Euratom's FP7 DOPAS project from 2012 to 2016 (budget up to 16 M€).

Subproject manager for the disposal system demonstration with prototype machinery in real conditions Full Scale In-Situ System Test (FISST) and Project manager for EBBO (Engineered Barrier Behaviour in ONKALO)

Project manager for Disposal Facility Closure project Oversee project planning, schedule development, milestones, deliverables and budgets. Manage performance of teams, ensuring consistent alignment with requirements to achieve goals and deliver high-quality results..

Developed low pH cementitious materials and backfill and closure subsystem for KBS-3 concept at Olkiluoto, including field supervision of underground installation.

Selected as task force leader for WP4 Task 4.1 as part of Horizon 2020 project, Modern 2020.

Supervised site characterisation investigations like core drilling, groundwater measurements, sampling and workflow for site investigations at Hästholmen. Contributed to EIA process and communicated with stakeholders at the municipality level.
Webinar by Mariano Tarantino on Friday April 28, 2023 at 15:00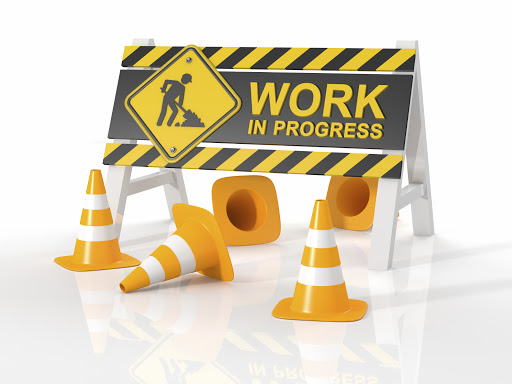 Webinar by Alice D'Onofrio on Friday May 5, 2023 at 15:00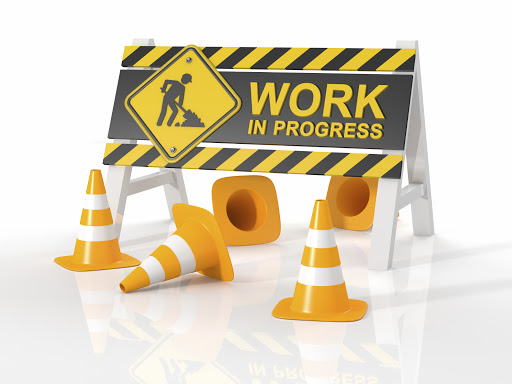 Webinar by Armando Nava on Friday May 12, 2023 at 15:00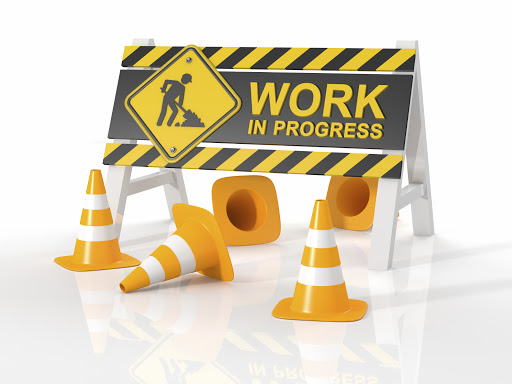 Webinar by Carlo Parisi on Friday May 19, 2023 at 15:00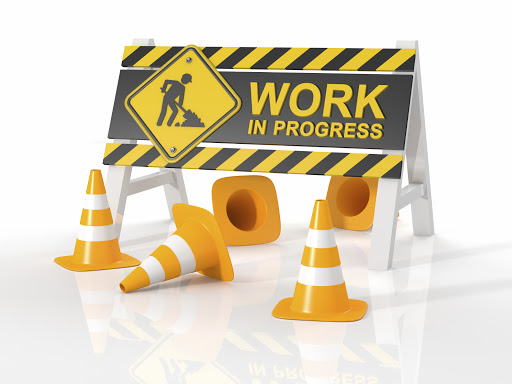 Webinar by Titus Tielens on Friday May 26, 2023 at 15:00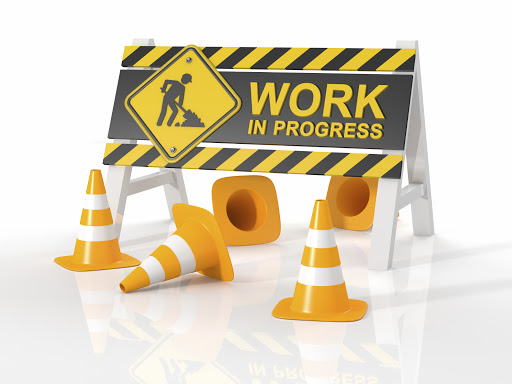 Webinar by Shuisheng He on Friday June 9, 2023 at 15:00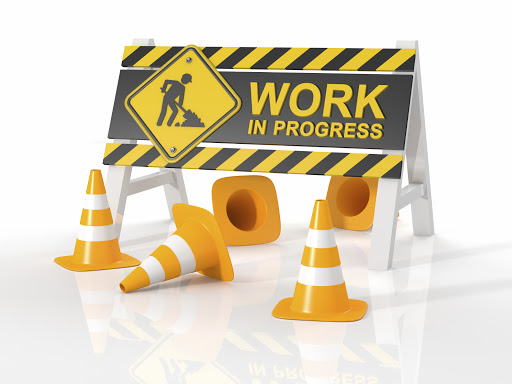 Webinar by Mariano Tarantino on Friday June 16, 2023 at 15:00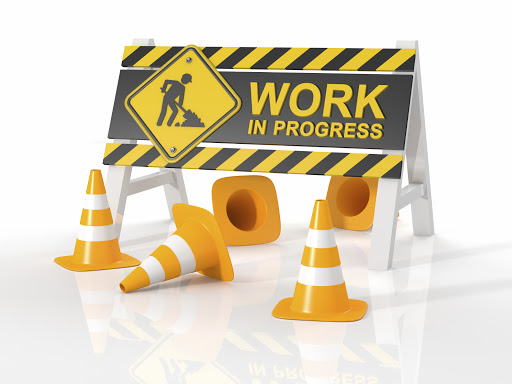 Webinar by Govert de With on Friday June 23, 2023 at 15:00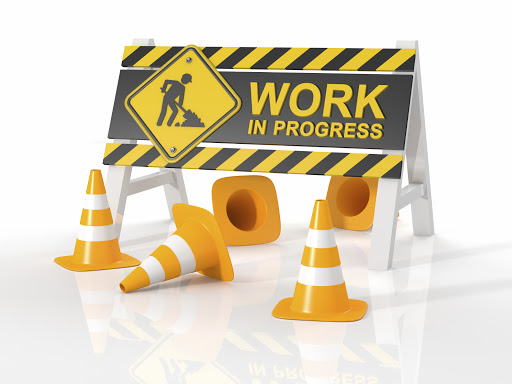 Webinar by Sergio Orlandi on Friday June 30, 2023 at 15:00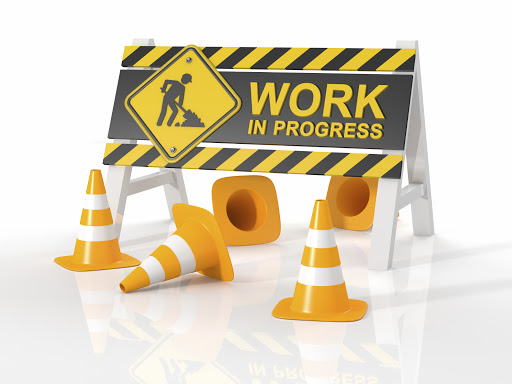 Webinar by Gianfranco Caruso on Friday July 14, 2023 at 15:00