These webinars have been accepted as an in-kind contribution
of the University of Pisa - CIRTEN in the frame of the ENEN+ Project.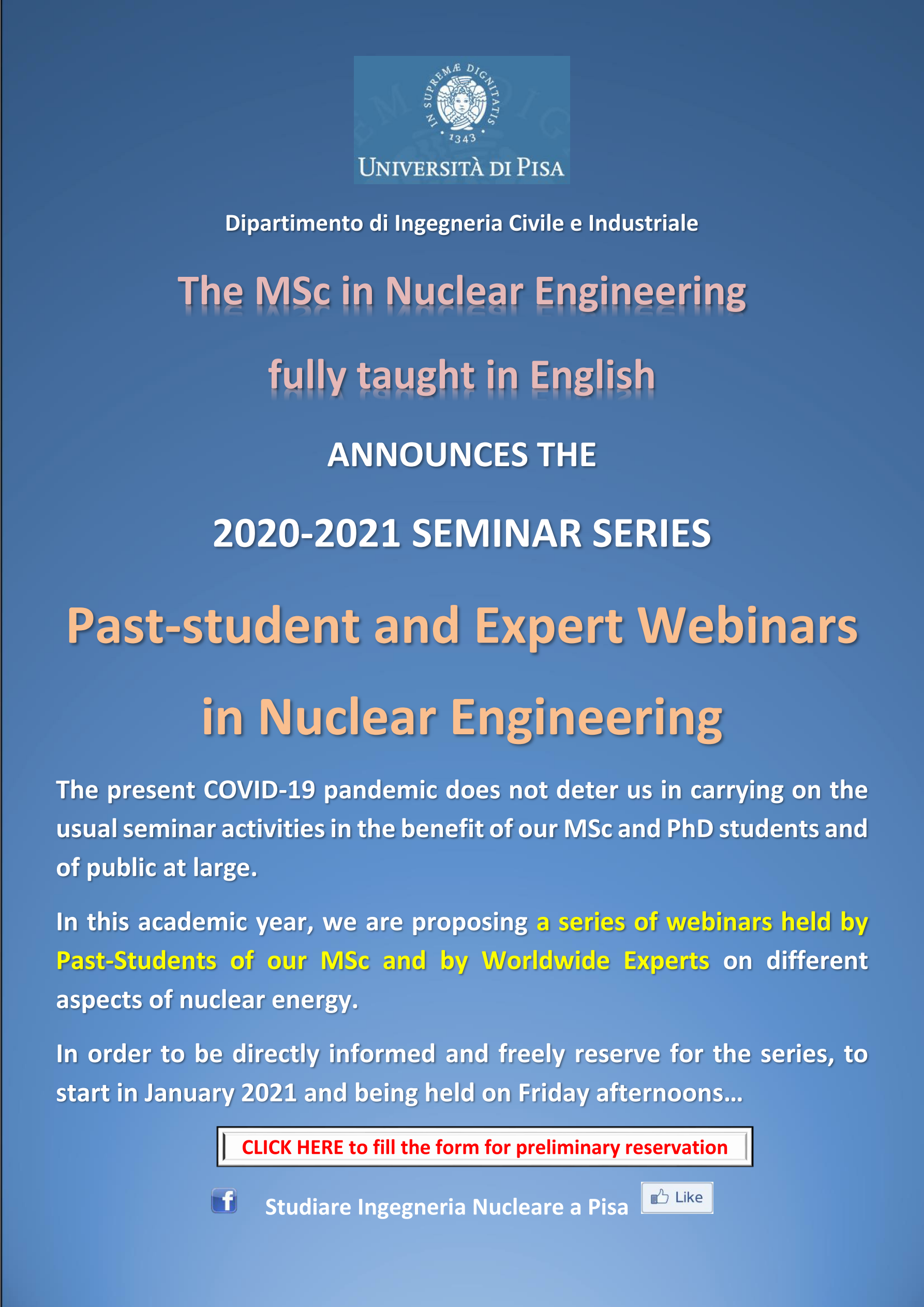 Final programme for the Webinars. Each webinar will be announced separately.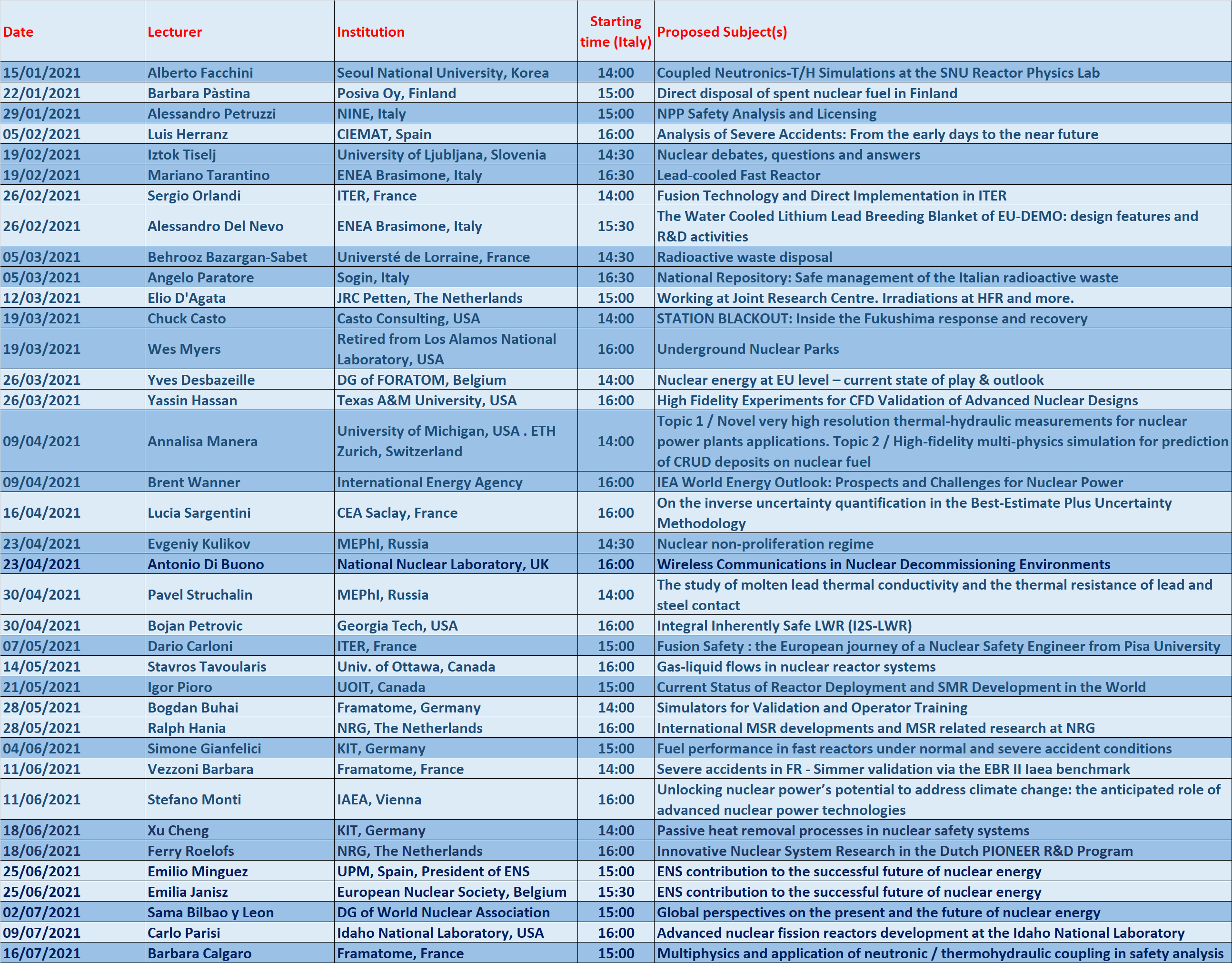 Here are the links to MS Teams for each Webinar
Webinar by Alberto Facchini on Friday January 15, 2021 at 14:00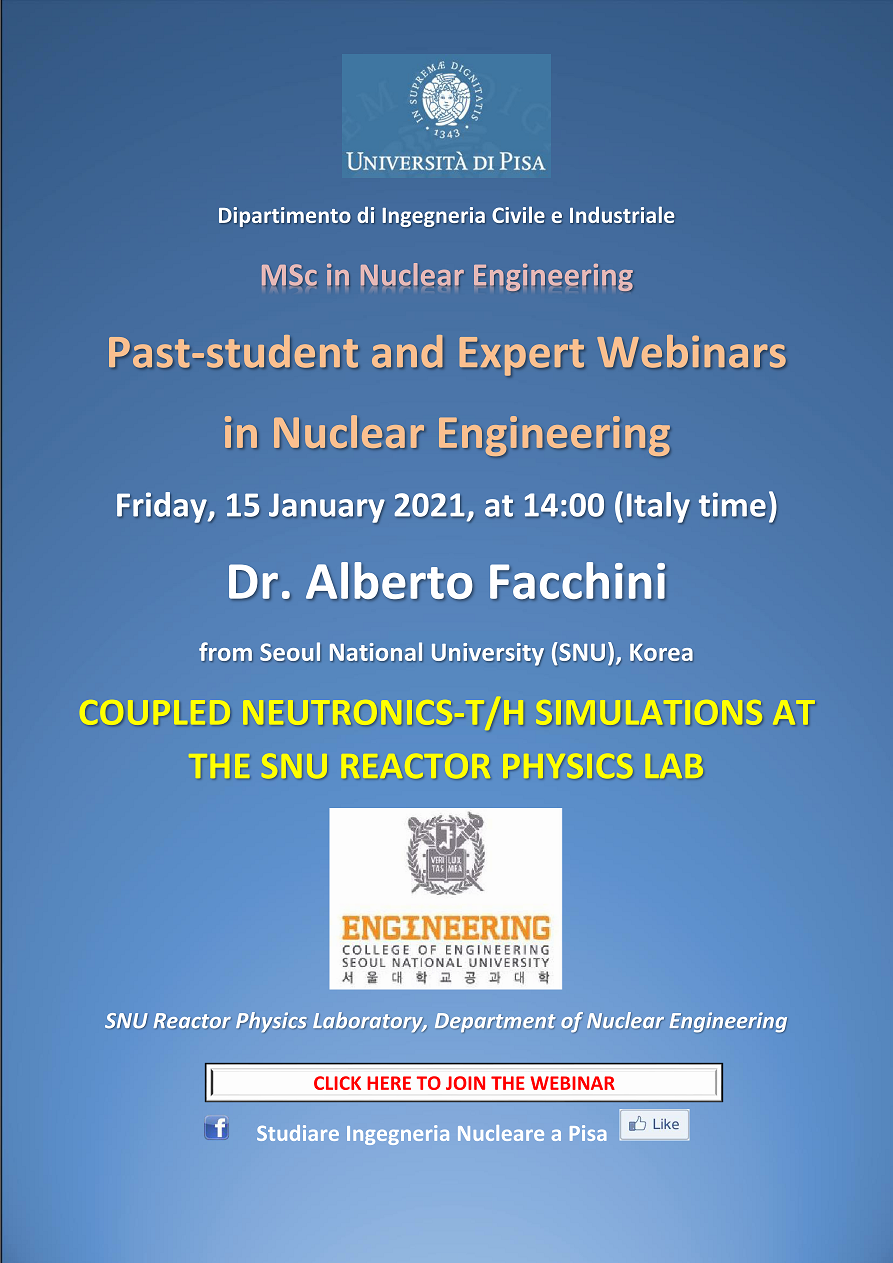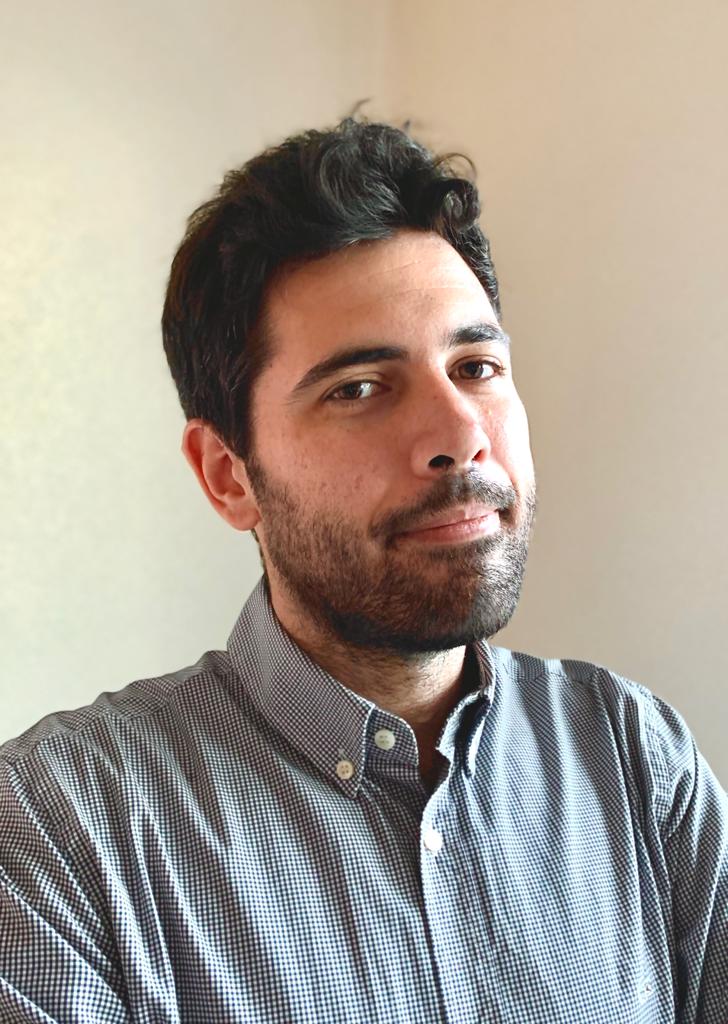 Alberto Facchini completed his B.Sc. in Nuclear and Safety and Protection Engineering at University of Pisa in 2013. Immediately after he joined the M.Sc. program in Nuclear Engineering offered by the University of Pisa. From September 2015 to January 2016, he was intern at the Joint Research Centre, ex Institute ffor Energy and Transport (Petten, NL), where he contributed to the modelization of ESFR for MCNP analyses under UTOP conditions.
In February '16, he defended his Master thesis and graduated 110/110 summa cum laude. After his graduation, he collaborated with the Department of Civil and Industrial Engineering (DICI) until March 2017 when he enrolled in the Ph.D. program of the Seoul National University (SNU in Seoul, KR) under the umbrella of the Reaactor Physics Laboratory (RPL). At the SNURPL, he has been focusing his research on increasing the fidelity of Coupled Neutronics-Thermal/hydraulics (T/H) calculation systems by employing a pin level T/H solver. In particular, he co-authored the ESCOT code, a 4-equation drift-flux based pin level code. This code has been successfully used for steady-state and transient pin level analyses.
At the end of December 2020, he defended his doctorate dissertation with the title "Development of a Pin Level Thermal/Hydraulics-Neutronics Coupled Core Simulator for High Fidelity Steady-state and Transient Analysis".
Webinar by Barbara Pàstina on Friday January 22, 2021 at 15:00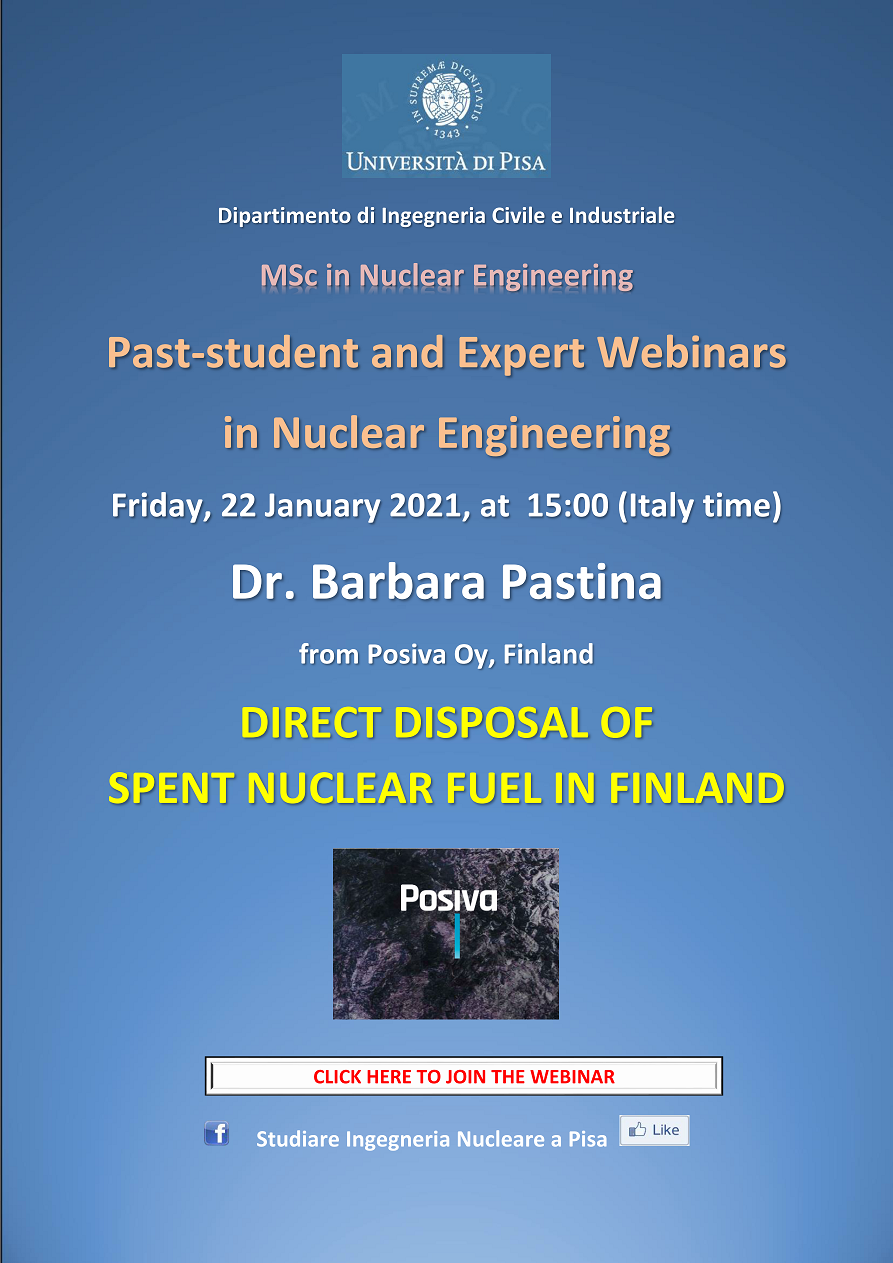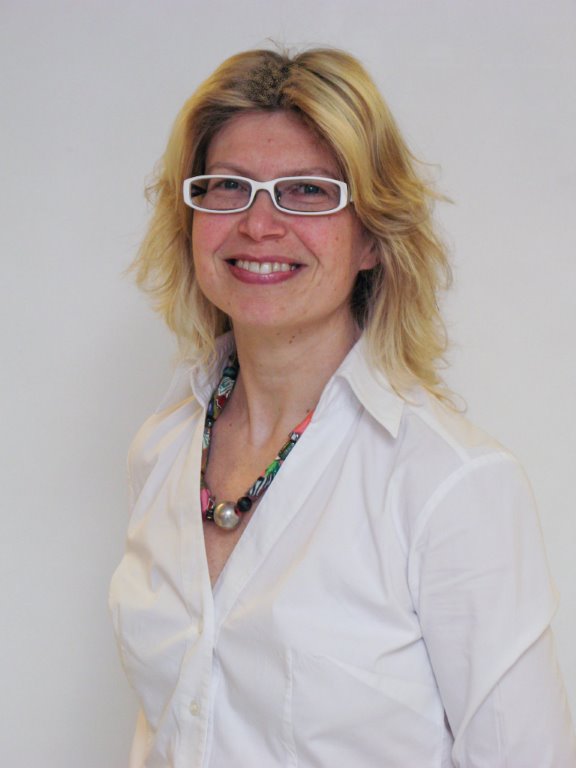 Barbara holds a PhD in Physical Chemistry (subject: Water radiolysis in the primary cooling circuit of a PWR reactor) from the University of Paris carried out at the Commissariat à l'Energie Atomique/Saclay.
Her research activities continued at the Notre Dame Radiation Laboratory under the sponsorship of Electricité de France. In 2000, she transitioned from research to science policy, working on nuclear waste-related issues for the U.S. National Academy of Sciences in Washington, DC.
In 2006, she moved to Finland to join Posiva's safety case team. Since 2014, she manages the project producing the safety case for the operational license application.
Webinar by Alessandro Petruzzi on Friday January 29, 2021 at 15:00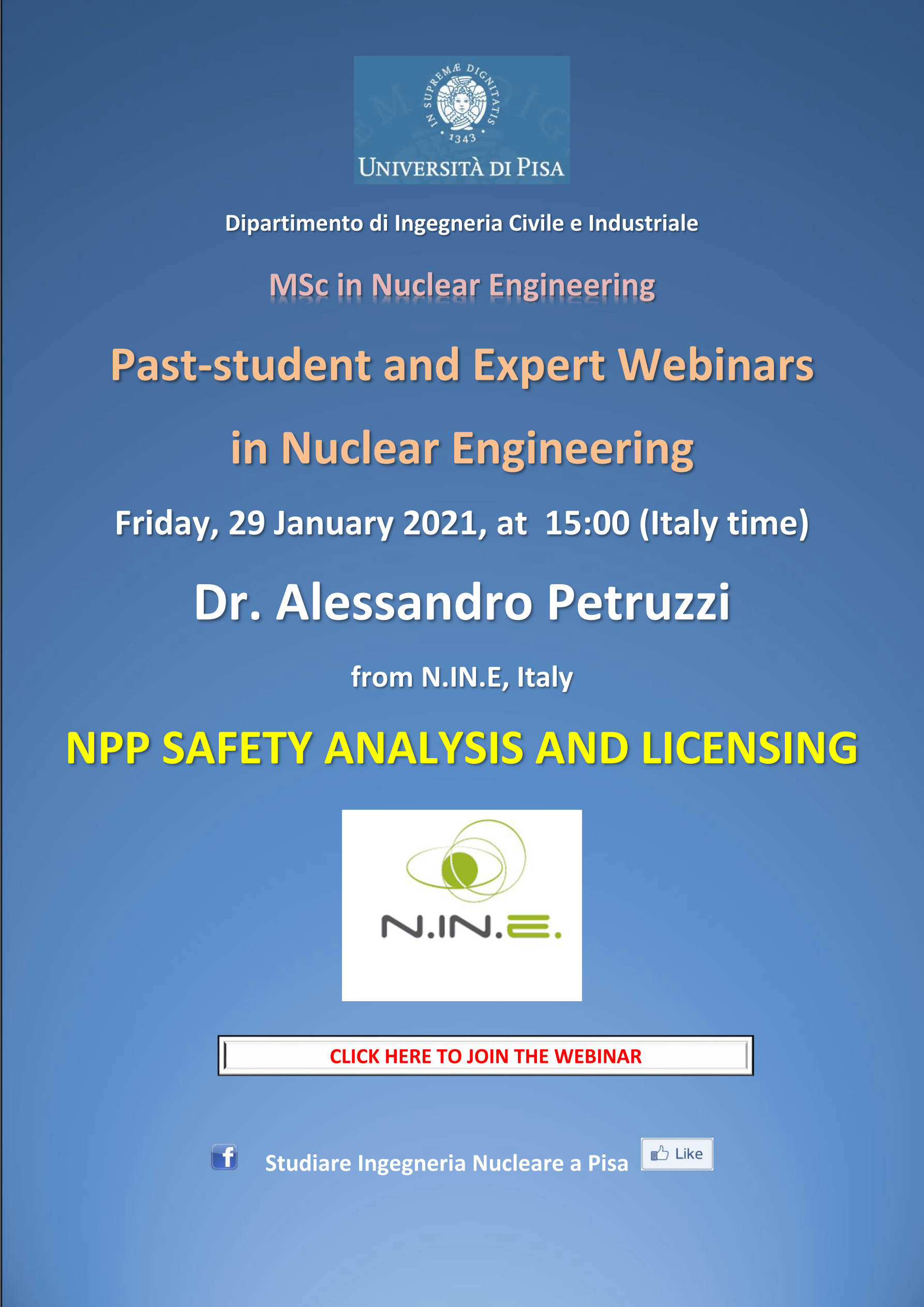 Alessandro Petruzzi is the President of NINE and current Head of the Plant Thermal-Hydraulics Area devoted to safety analysis and licensing of NPP.
Prior to join NINE, he worked over 9 years in the Nuclear Research Group of San Piero a Grado (GRNSPG) and he spent the year 2004 working as an intern-assistant in the Pennsylvania State University (USA).
He got his PhD Degree in "Nuclear and Industrial Safety" Course of the "Leonardo da Vinci" Doctoral Engineering School in 2008, discussing the thesis titled "Development and Application of Methodologies for Sensitivity Analysis and Uncertainty Evaluation of the Results of the Best Estimate System Codes applied in Nuclear Technology".
The methods for uncertainty and sensitivity analysis applied to thermal-hydraulics system codes constitute his main interest as well as the assessment of computer codes and the development of sensitivity and uncertainty methods.
He was involved in several activities connected with safety and licensing process, including the preparation of Chapter 15 of Final Safety Analysis Report (FSAR) of Atucha-2 NPP (Argentina), Hanhikivi-1 NPP (Finland) , the support to the Generic Design Assessment (GDA) Step-3 and 4 for the HPR-1000; the participation as expert to the Generic Reactor Safety Review (GRSR) service organized by IAEA for several NPP design (more than 10 different NPP).
He is the founder and director of the NINE Multi-Level Training Program which includes several courses organized each year and devoted to Scaling, Uncertainty and 3D COuPled Code Calculation, Models and Methods for Advanced Reactor Safety Analysis, Nuclear Reactor Safety Hand-On Training. He was involved also as expert in the Safety Assessment Education and Training (SAET) Programme of IAEA which has been designed to support IAEA Member States with development of required safety assessment capacity and competency.
Webinar by Luis E. Herranz on Friday February 5, 2021 at 16:00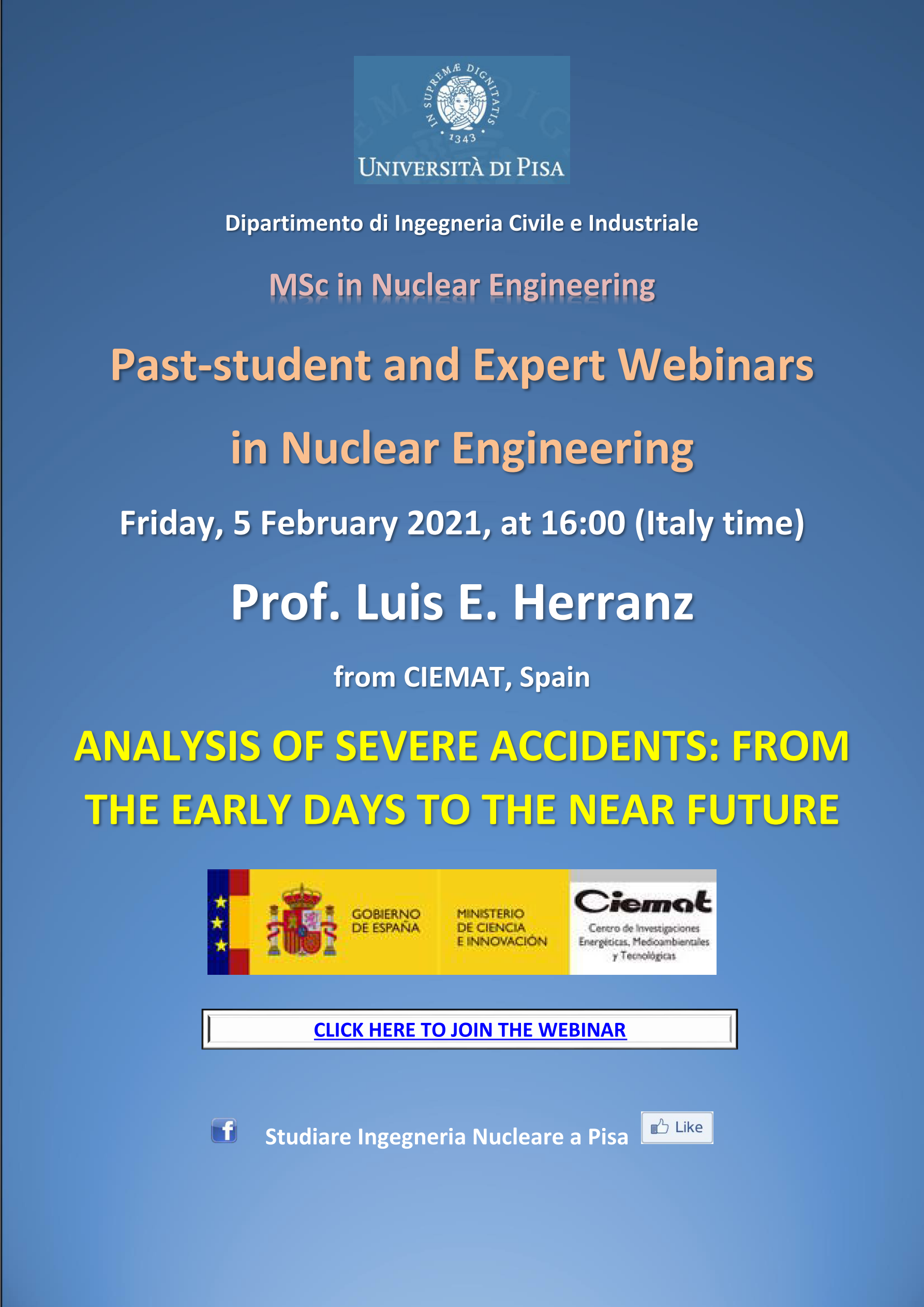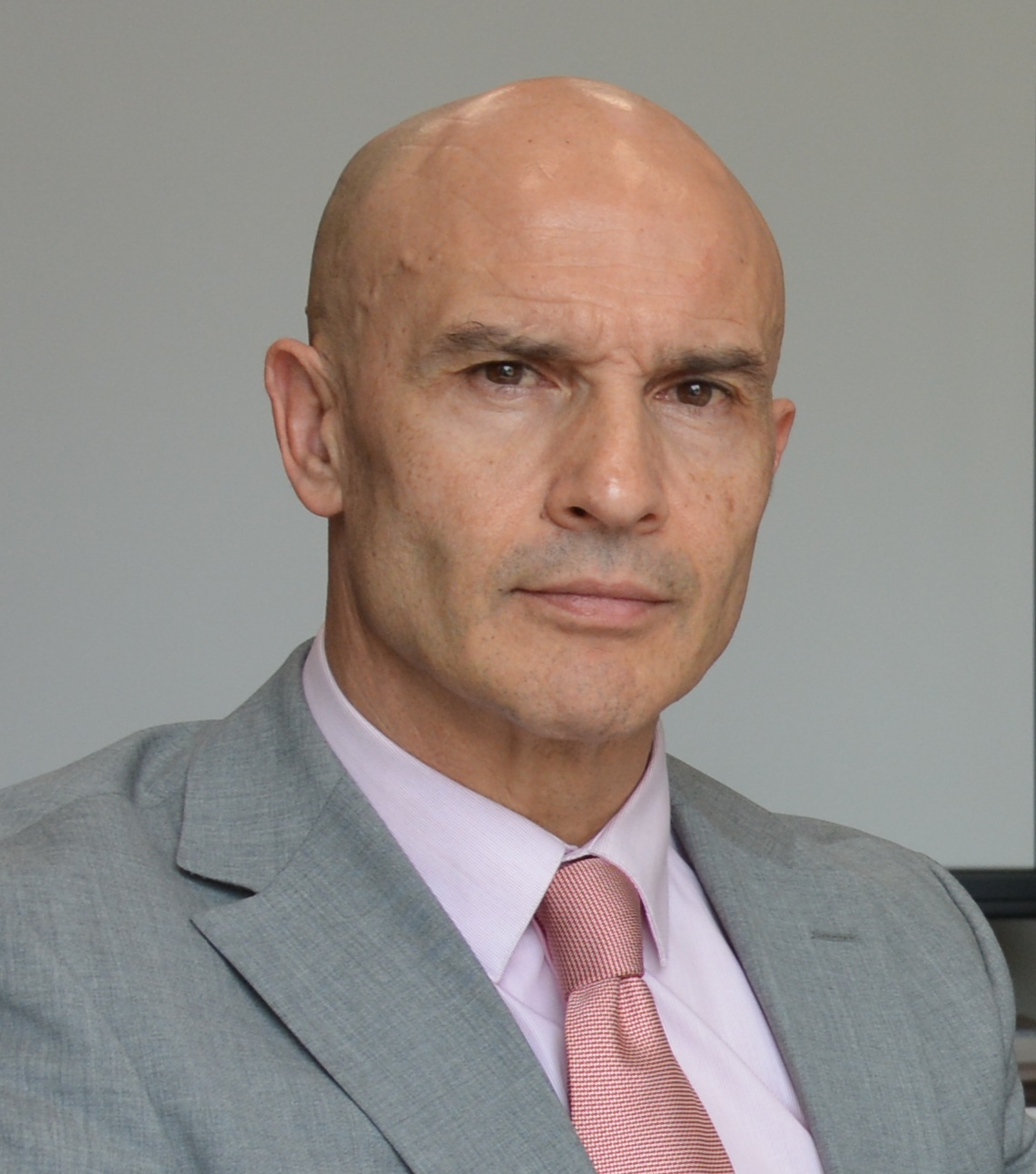 Luis E. Herranz has led the research group on Nuclear Safety in CIEMAT since 1999. He graduated in Quantum Chemistry (1986) and did a master on Nuclear Engineering at the Instituto de Estudios de la Energía in 1987. He defended his PhD thesis on Thermal-hydraulics of passive systems in 1996 and in 2016 he became Research Professor on Nuclear Safety, the highest category in Spanish research scale. Among his fields of interest are: Severe Accidents, Thermal-hydraulics of advanced nuclear systems, Thermo-mechanics of nuclear fuels and Safety and power cycles of IV Gen reactors. As a result of his research he's published more than 100 papers in refereed journals and has made more than 200 contributions to international conferences and congresses.
At present, after more than 30 years of professional career, he has been Chairman of the OECD-NEA Working Group on Analysis and Management of Accidents (WGAMA) since 2015 and after several years coordinating the Sub-Technical Area on Source Term within SNETP/NUGENIA, he became Leader of the entire Technical Area 2 on Severe Accidents in 2018. In addition, he is a member of several expert groups of OECD/NEA on Fuel Safety (WGFS) and Reactor Fuel Performance (EGFRP).
Along his career, Luis E. Herranz has collaborated in Universities and national and international graduate, masters and post-graduate courses. He was Co-Director of the Master on Nuclear Engineering and Applications (MINA) for 10 years, organized by UAM/CIEMAT, Professor at the Department of Mechanical Engineering of UPCO (ICAI) on Heat Transfer and on Energy Technologies for another 10 years. Presently, he is a lecturer in a number of masters and post-graduate courses related to nuclear energy and energy technologies.
Webinar by Iztok Tiselj on Friday February 19, 2021 at 14:30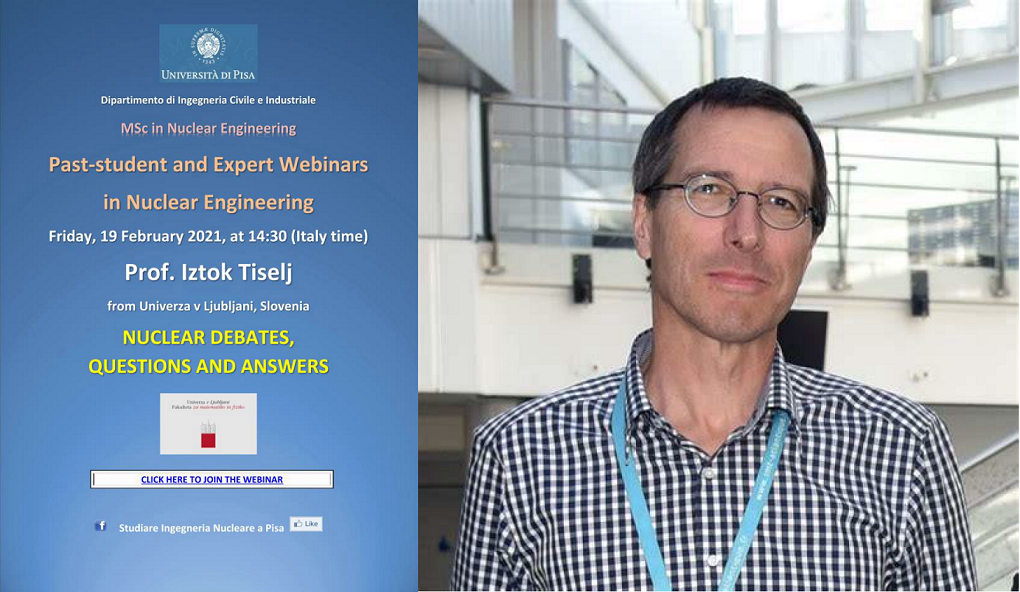 Personal: Born 1966, Slovenia
Education:
1991: Dipl. Ing. - Univ. Ljubljana, Dept. Physics
1997: PhD - Univ. Ljubljana, Dept. Physics - Nuclear Eng.
Employment
July 1991 to present: Researcher at "Jožef Stefan" Institute.
(1999 - 1-year postdoc at Technion - Israel Institute of Technology)
Since 2012 full professor of Nuclear engineering at Faculty of Mathematics and Physics, Univ. Ljubljana.
Major Research interests:
1D/2D/3D Simulations of two-phase flows.
Direct Numerical Simulation of heat transfer in near-wall turbulent flow.
Analyses of turbulent flows in complex geometries (LES methods).
High performance computer simulations in fluid mechanics.
Webinar by Mariano Tarantino on Friday February 19, 2021 at 16:30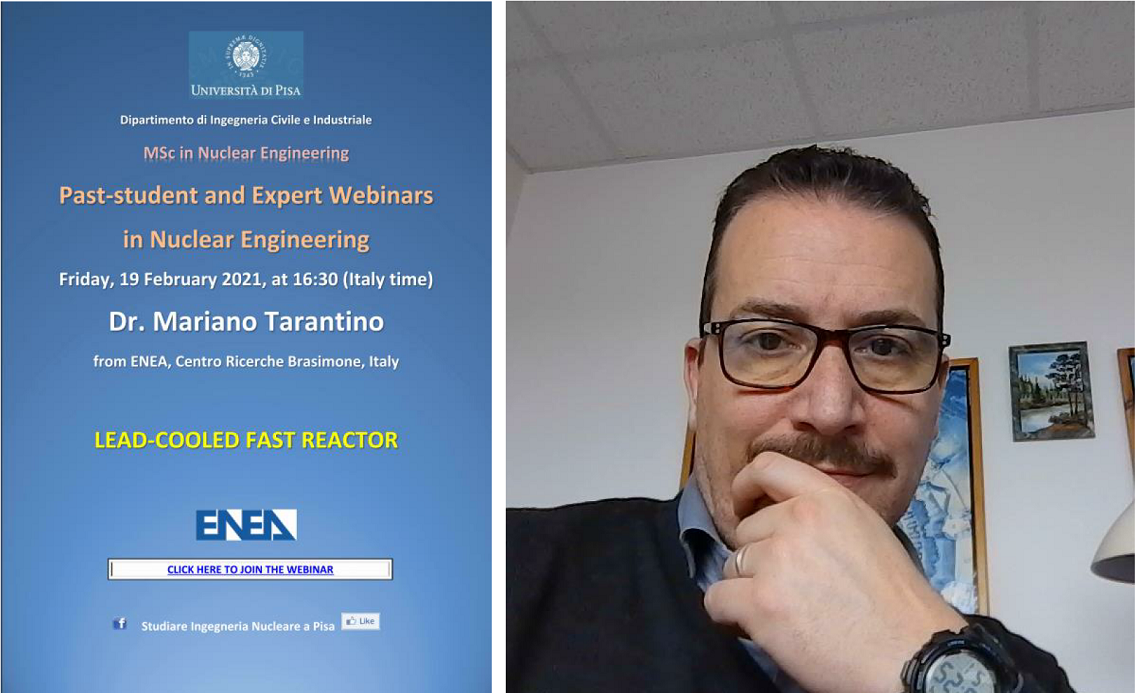 Mariano Tarantino got his PhD degree in "Industrial and Nuclear Safety Course" of the "Leonardo da Vinci" Doctoral Engineering School in Pisa in 2008, discussing a thesis work on "Experimental Investigation of the Thermal Hydraulic Behaviour of Heavy Liquid Metal Cooled Reactors".
From November 2010 to December 2018 he acted as Scientific Advisor of Gen. IV R&D domain in the frame of the Research Program Agreement (ADP) between ENEA and Italian Minister for the Economic Development (MiSE).
Mariano Tarantino has been involved in heavy liquid metal technology development since 2003, leading numerous programs at national and international level. In this frame, he worked on heavy liquid metal heat transfer, prototypical components design, operation and experimental characterization of innovative solutions for LFRs, experimental infrastructures implementation, coolant chemistry assessment and material development and qualification.
Mariano Tarantino is also a member of the FALCON Consortium for the ALFRED (DEMO LFR) promotion, design, construction and operation in Romania. Specifically, he is responsible of the RD& Qualification Task Force in FALCON.
He is author of more than 50 papers in international journals and more than 80 papers in peer-reviewed international conferences.
Presently he is the head of Innovative Projects Section in the Department of Fusion and Technologies for Nuclear Safety and Security, ENEA.
Webinar by Sergio Orlandi on Friday February 26, 2021 at 14:00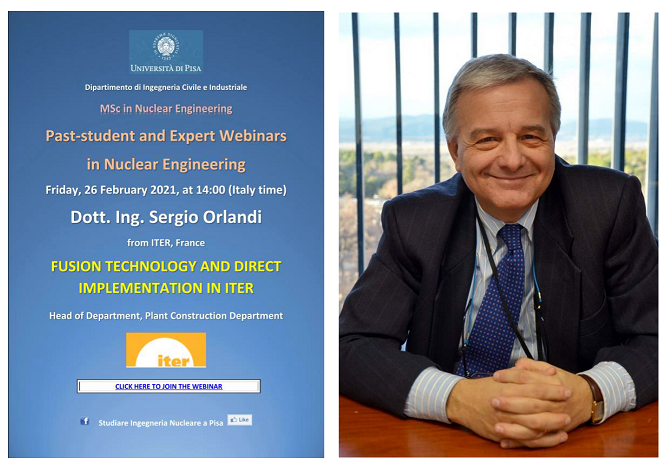 Sergio Orlandi graduated in Nuclear Engineering from the University of Pisa and is fluent in three languages. After a long experience in the Ansaldo Group, he was also general manager of Ansaldo Nucleare. Since 2013 he has been central director of the "Plant Engineering and Construction" Department of the ITER project for the construction of the Fusion Nuclear Plant in Saint Paul Lez Durance, France.
Webinar by Alessandro Del Nevo on Friday February 26, 2021 at 15:30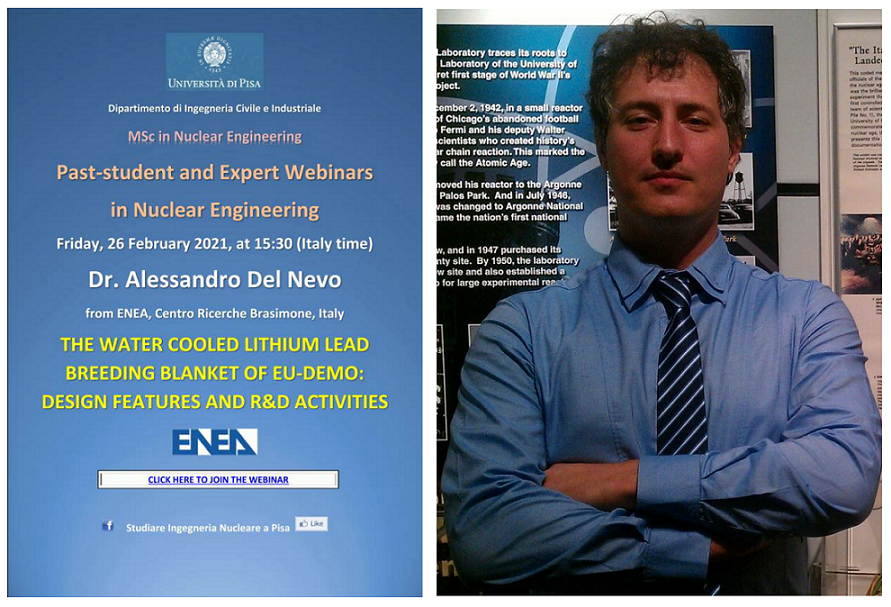 Alessandro DEL NEVO. Nuclear Engineer (2002) and PhD in Nuclear Safety (2007) at University of Pisa. He worked for the San Piero a Grado Nuclear Research Group (2003-2010) of University of Pisa and, then, for ENEA. . Currently, he is the Head of Systems and Components Design Laboratory at ENEA, Research Center Brasimone.
Technical skills: thermal-hydraulics, design of systems and components, design of experimental facilities and experiments, code model development and validation, fuel pin mechanics. Co-author of 98 publications in International Journals; 104 papers in peer-reviewed International Conferences; 8 contributions in published content books and International Technical Reports (e.g. IAEA, NEA); and more than 300 research reports.
Since 2013, he contributes to Nuclear Fusion Technology design and R&D activities through the participation in the EUROfusion Project: responsible of the heavy liquid metals/water safety issue (since 2013); leader of the WCLL Breeding Blanket design (2014-2020); scientific manager of the working package Balance of Plant (2014-2020); currently, deputy project leader and scientific manager of the working package Breeding Blanket.
Webinar by Behrooz Bazargan-Sabet on Friday March 5, 2021 at 14:30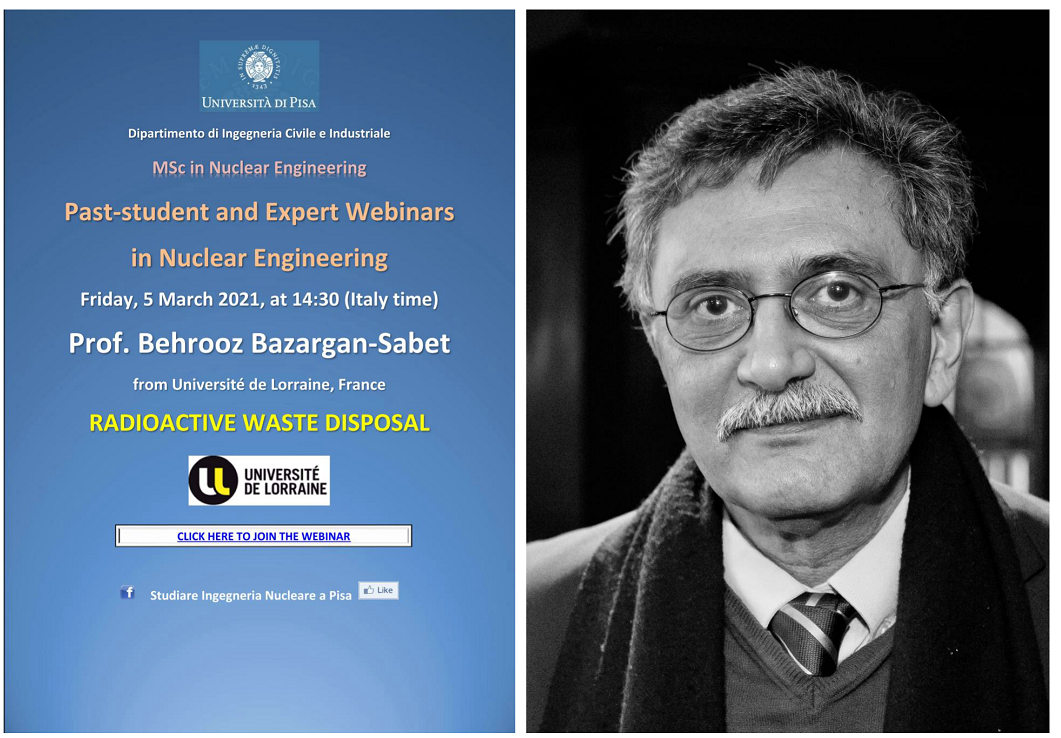 Prof. Behrooz Bazargan-Sabet has 36 years of experience in Geological Disposal of Radioactive Waste and site investigations. He extensively involve in both fundamental and experimental research on geomechanics and fluid-rock interactions. He was member of the IAEA expert group on radioactive waste knowledge management. Since 2003, he is appointed as Professor at the University of Lorraine (France). He is member of Standing Advisory Group of the French Nuclear Safety Authority (ASN).
Webinar by Angelo Paratore on Friday March 5, 2021 at 16:30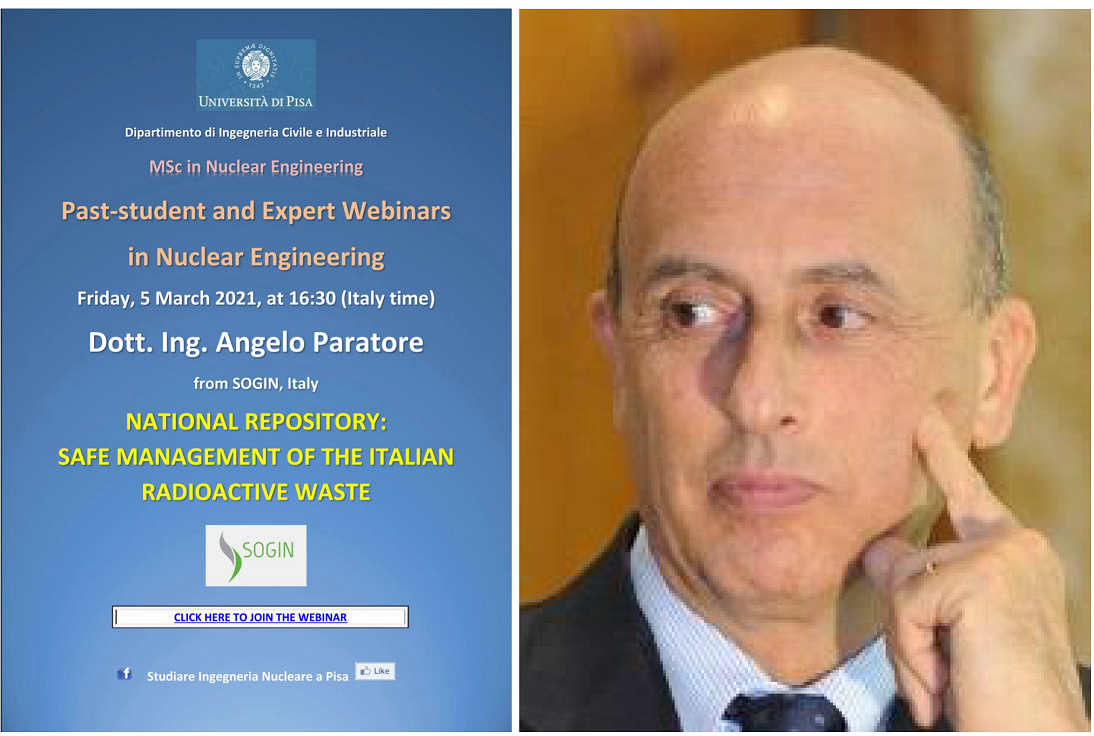 Angelo Paratore has been working since the early 80's in the nuclear industry, participating in the Caorso NPP refueling outages. In 2001 he joined the Engineering Dpt. of SOGIN where he covered positions of increasing responsibility, being involved in the decommissioning activities of the Italian NPP's and Fuel Cycle Facilities. In 2011 he was appointed Responsible of the National Repository & Technology Park Division following the activities aimed at siting, designing and realizing a centralized surface repository for the final disposal of short-lived radioactive waste and the interim storage of long-lived radioactive waste generated in Italy. From 2013 he's been involved with different roles and responsibilities in the same activities and in the international benchmark on pre-disposal management of radioactive waste.
Webinar by Elio D'Agata on Friday March 12, 2021 at 15:00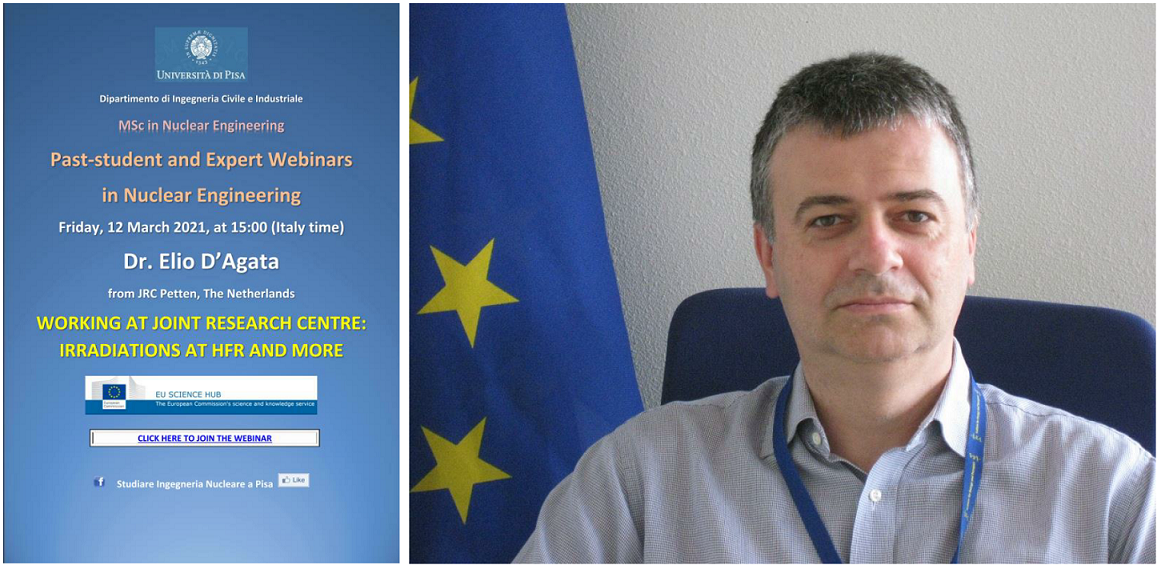 Dr. E. D'Agata. Graduated in Nuclear engineering, he has obtained his PhD in Mechanical engineering at University of Pisa. He worked first as consultant at the University of Pisa in order to develop deterministic neutronic codes then as design and analyst engineer in the design of the Divertor of the ITER machine and after in the integration unit of ITER project dealing whit the integration of the whole Tokamak. As scientific officer and project leader, in the Joint Research Center of Petten, he has been responsible for several irradiation campaigns related to transmutation of Minor Actinide, Reactor Pressure Vessel material aging and Molten Salt. He (was) is involved in several European Projects (EUROTRANS, FAIRFUELS, PELGRIMM, ARCHER, MATISSE, INSPYRE, PUMMA, PATRICIA, JHOP2040). He is author and co-author of more than 50 peer review papers in international journal. He is member of the working group on material of the Jules Horowitz Reactor and recently he has been nominated member of the scientific committee of the JRC.
Webinar by Charles Casto on Friday March 19, 2021 at 14:00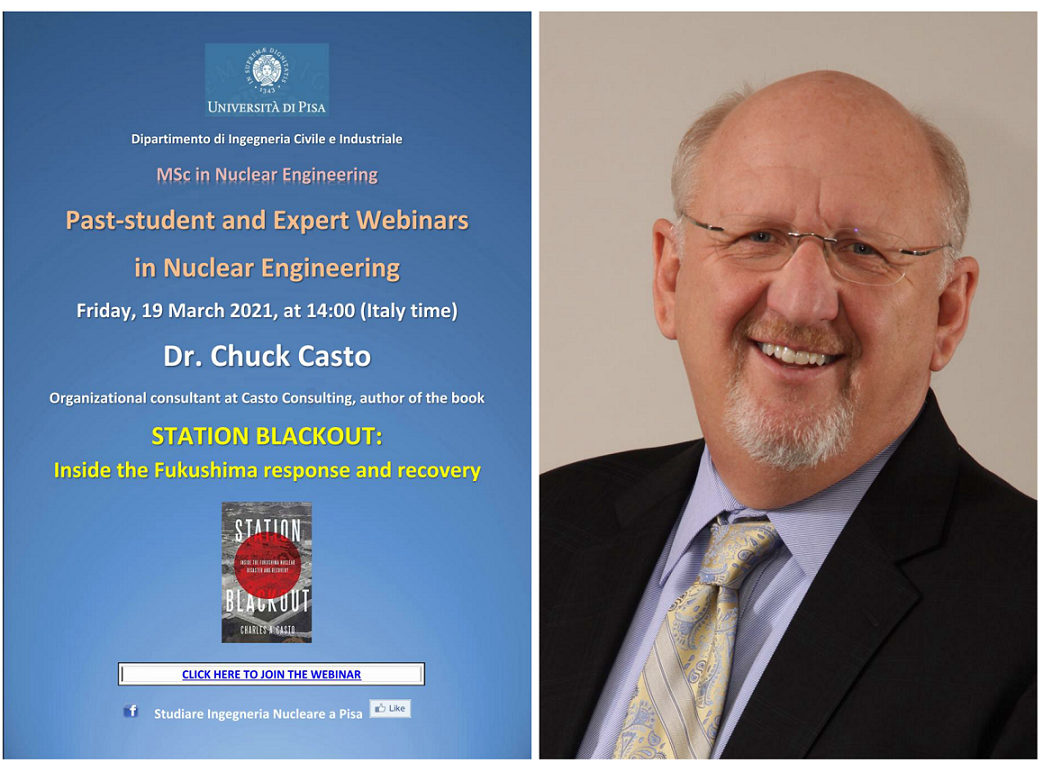 Charles A. Casto is a safety and regulatory professional with over 45 years of experience consisting of positions of iincreasing responsibility including executive, regulatory, technical, and operational areas of responsibility. He was a member of the U.S. Federal Government's Senior Executive Service and served at the Nuclear Regulatory Commission (NRC) for 28 years, where he last held the position of Regional Administrator, U.S. NRC Region III.
As an extreme crisis leader, Dr. Casto led the integrated United States Government and NRC effort in Japan during the Fukushima nuclear accident for 11 months working directly with Ambassador Roos. He represented the United States Government to the Prime Minister's Cabinet. Dr. Casto received both Presidential Distinguished Award (2012) from President Obama and the Meritorious Rank Award (2009) from President Bush. Chuck authored a retrospective book on his experiences in Japan called, Station Blackout – Inside the Fukushima Nuclear Disaster and Recovery, (2018) Radius Publishing. Previously he authored a Harvard Business Review article on leadership successes at Fukushima Daini (2014), How the Other Fukushima Plant Survived, HBR Press, July/August 2014.
Webinar by Carl W. Myers on Friday March 19, 2021 at 16:00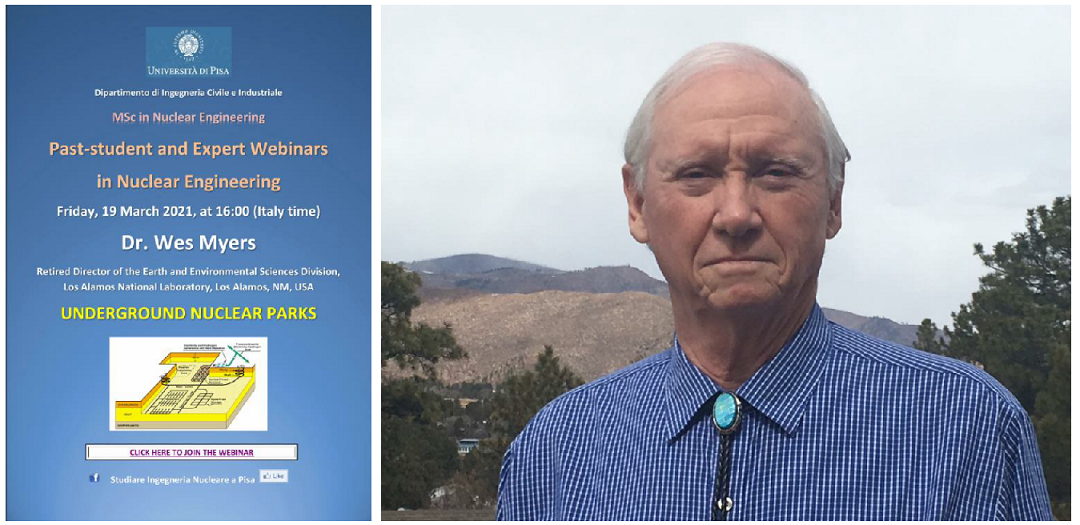 Carl Weston (Wes) Myers is an advocate for greater use of underground space. Since the early 2000s his work has focused on underground nuclear power reactors and the underground nuclear park, which is a concept for co-locating multiple underground nuclear power reactors and the back-end fuel cycle facilities supporting those reactors in tunnel-interconnected caverns constructed in competent, high-quality bedrock. He retired from Los Alamos National Laboratory in 2005 where he worked for 25 years in several management and technical positions, including Geology Group Leader, Earth and Environmental Sciences Division Leader, senior technical advisor for the Office of Civilian Radioactive Waste Management, U.S. Department of Energy, and oversight responsibility for the Yucca Mountain Project and Oil Recovery Technology Partnership. He has a BS (1966) and MS (1968) in Geology from the University of Georgia; Ph.D. (1973) in Earth Sciences from the University of California, Santa Cruz; and completed a post-doctoral fellowship (1976) at the State University of New York, Stony Brook. He is a member of the International Society of Rock Mechanics Commission on Underground Nuclear Power Plants, member of the American Nuclear Society, and Fellow in the Geological Society of America.
Webinar by Yves Desbazeille on Friday March 26, 2021 at 14:00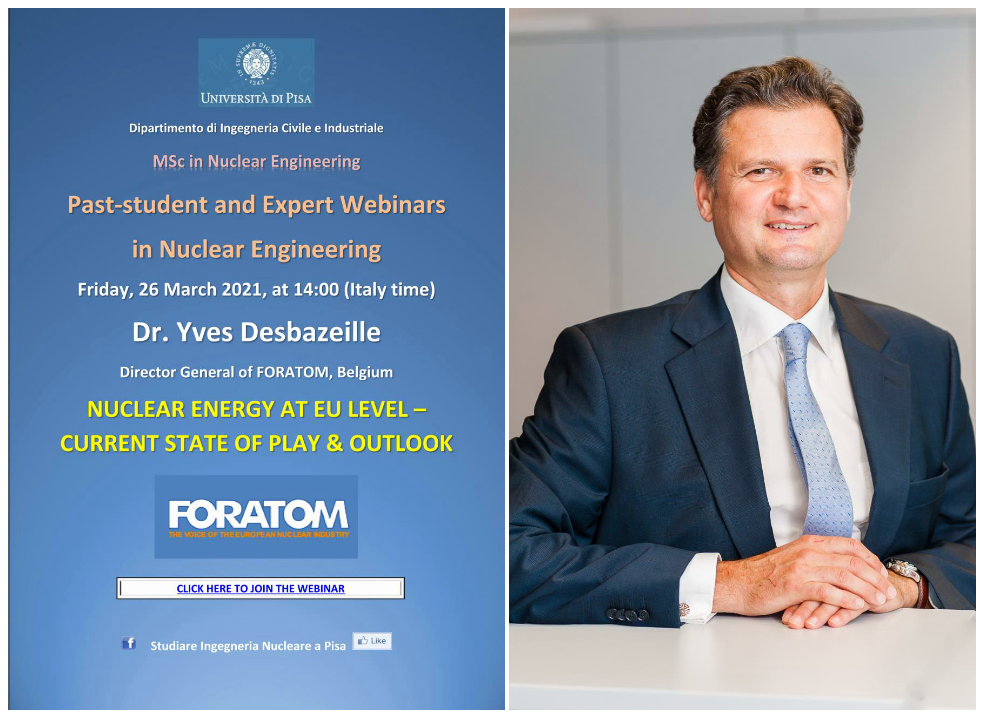 Yves Desbazeille, Director General of FORATOM.Yves Desbazeille is French and graduated in electrical engineering from the Ecole Supérieure d'Electricité ("SUPELEC") in France in 1991 and studied on an MBA program in the early 2000s. During his successful career, he has been involved in different businesses and responsibilities at EDF: nuclear engineering, hydro and thermal power projects management in France, USA as well as in Asia, where he was for 5 years. His previous position as EDF representative for energy in Brussels has provided him with an in-depth knowledge of the EU institutions and Brussels' stakeholders and of the energy and climate stakes for Europe.
FORATOM is the Brussels-based trade association for the nuclear energy industry in Europe. FORATOM acts as the voice of the European nuclear industry in energy policy discussions with EU institutions and other key stakeholders. The membership of FORATOM is made up of 15 national nuclear associations.
Webinar by Yassin Hassan on Friday March 26, 2021 at 16:00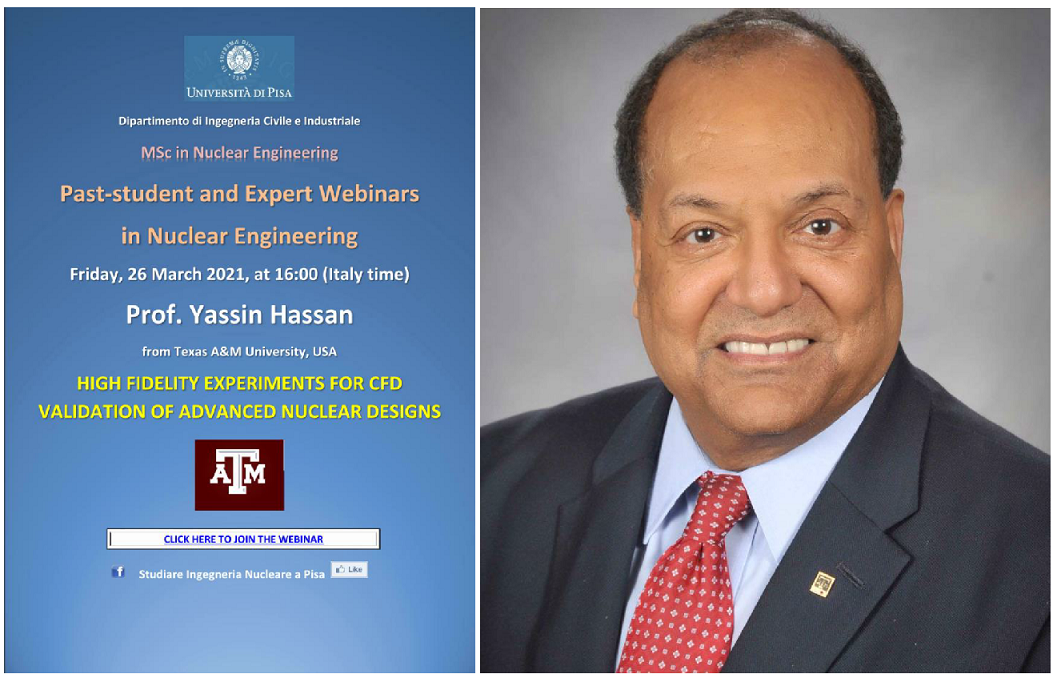 Yassin A. Hassan is University Distinguished Professor and Regents Professor at Texas A&M University, US. He is L.F. Peterson '36 Chair II and Professor in the Department of Nuclear Engineering and the Department of Mechanical Engineering. He is a Member of the US National Academy of Engineering (NAE) and Fellow of the ANS, and the American Society of Mechanical Engineers (ASME). His research interests include computational and experimental thermal hydraulics; reactor safety; two-phase flow; turbulence and laser velocimetry and imaging techniques.
Prof. Hassan is also Editor in Chief of the prestigious Nuclear Engineering and Design journal.
Webinar by Annalisa Manera on Friday April 9, 2021 at 14:00
Dr. Annalisa Manera is a Professor in the Nuclear Engineering Department at the University of Michigan, where since September 2011 she has established a research and teaching program in nuclear systems thermal-hydraulics. She is the director of the Experimental and Computational Multiphase Flow Laboratory (ECMF) and the High Resolution Imaging Lab. Her group focuses on high-resolution experimental techniques and high-fidelity multiphysics simulations of nuclear systems. She holds a M.Sc. in Nuclear Engineering (110/110 cum laude) from the University of Pisa and a Ph.D. in Nuclear Engineering from the Delft University of Technology. Prior to her appointment at the University of Michigan, she was the Head of the Group of "Nuclear Systems Behavior" in the Laboratory of Reactor Physics at the Paul Scherrer Institute (PSI, Switzerland), and she worked as Research Scientist in the Research Center Rossendorf (Dresden, Germany)
Webinar by Brent Wanner on Friday April 9, 2021 at 16:00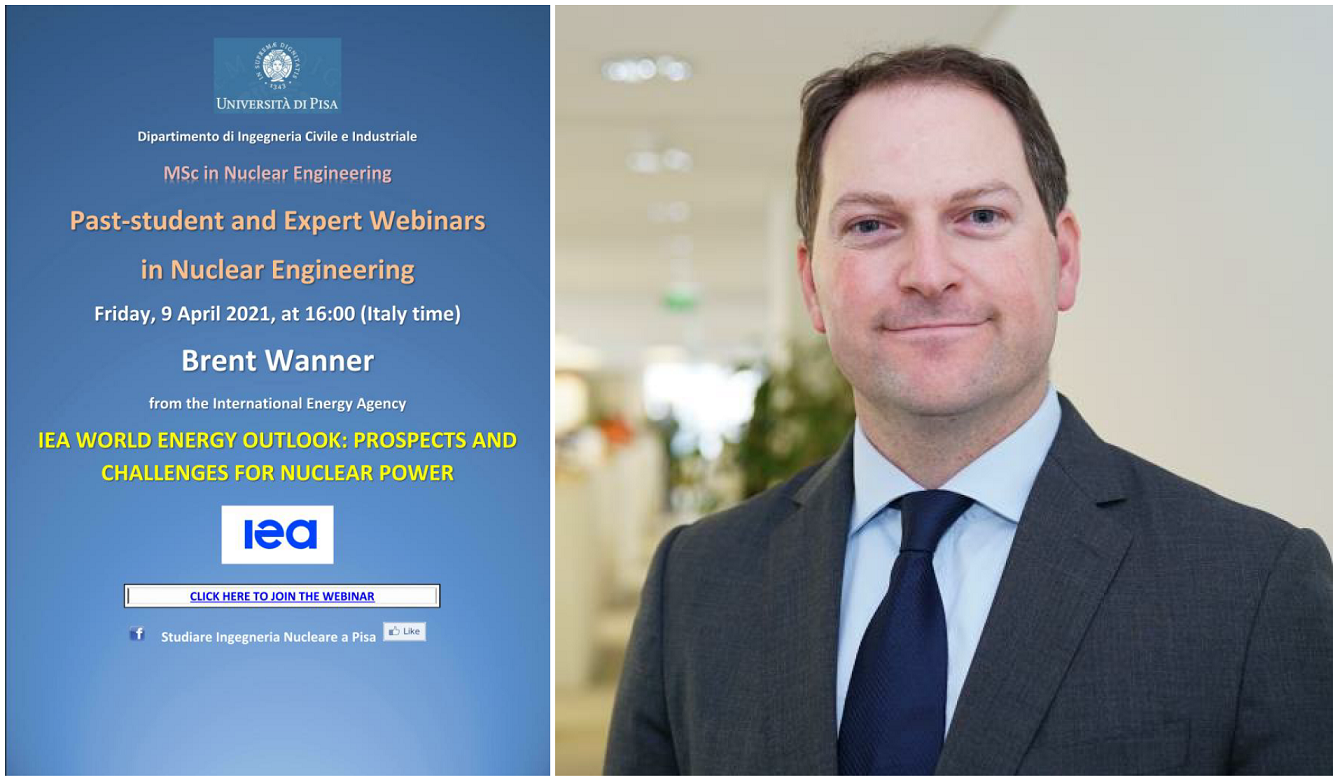 Brent Wanner is a Senior Energy Analyst at the International Energy Agency (IEA) and Lead of Power Sector Modelling and Analysis for the World Energy Outlook (WEO).
Most recently, he led the electricity modelling and analysis for World Energy Outlook 2020, the IEA Sustainable Recovery report and 2020 Global Energy Review, and co-directed the IEA Offshore Wind Outlook 2019.
Mr Wanner has contributed to 10 editions of the World Energy Outlook, as a lead analyst and author on the long-term outlook for electricity and renewables, in addition to in-depth electricity analysis in the United States, Brazil, sub-Saharan Africa, Mexico, and China.
Prior to joining the IEA in 2012, Brent was an analyst at the US Department of Energy.
With degrees in mathematical economics and energy economics, Mr. Wanner's areas of expertise include energy policy analysis, the competitiveness of power generation technologies and electricity market designs, and the integration of variable renewables.
Webinar by Lucia Sargentini on Friday April 16, 2021 at 16:00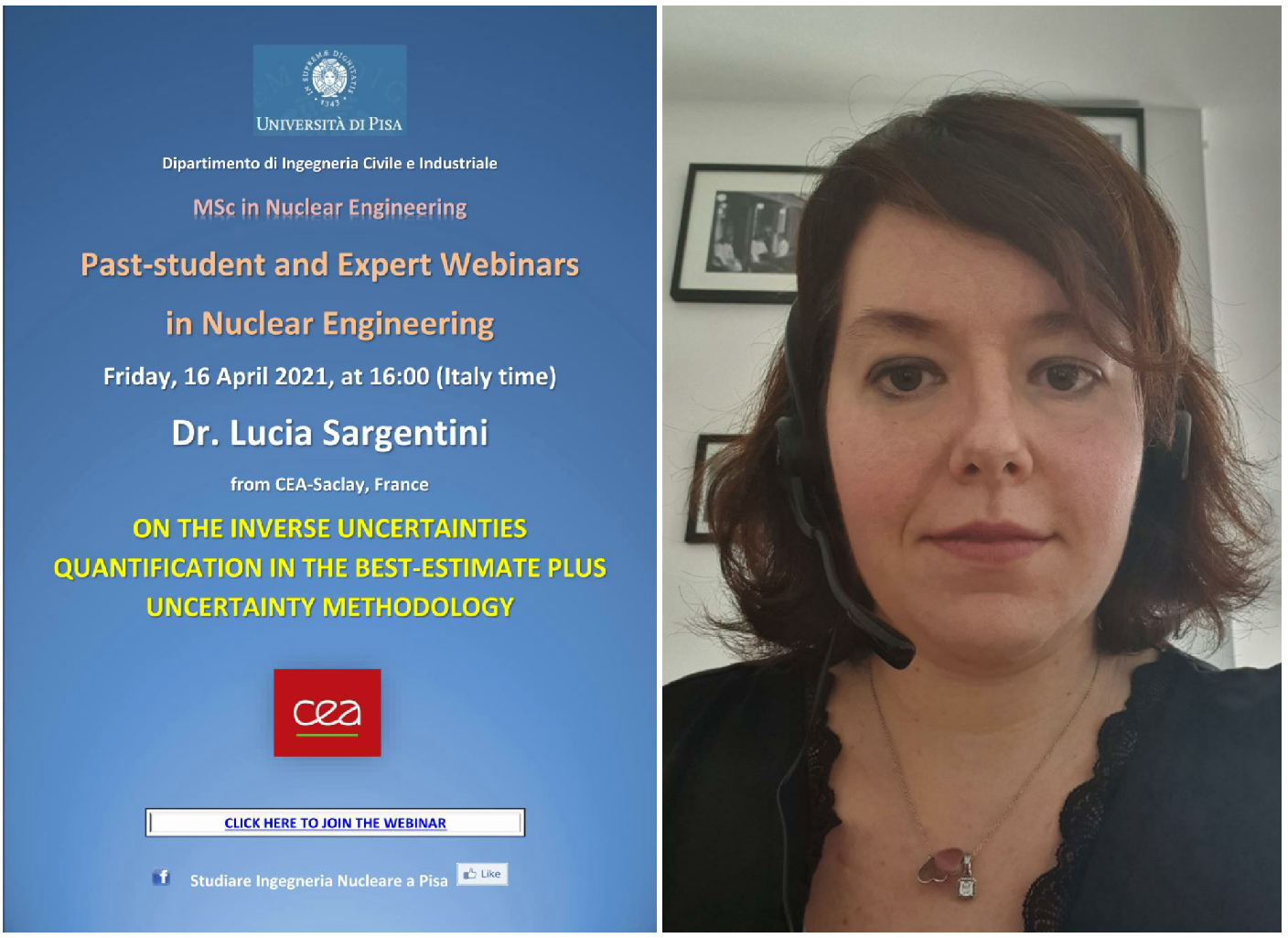 Dr. Lucia Sargentini is a research-engineer at Commisariat à l'Energie Atomique et aux Energies Renouvables (CEA) in Saclay. Since 2015 she has been involved in safety studies for CEA's research reactors, in experimental analysis for physical modelling and validation of T-H system codes and in the inverse uncertainties quantification in Best-Estimate Plus Uncertainty methodologies. She graduated in Nuclear Engineering at University of Pisa in 2011, after an intership at CEA-Saclay on heat transfer transient during reactivity accident in research reactors. She holds a PhD (2014) in Fluid Mechanics at Université Pierre et Marie Curie (UPMC) in Paris on fluid-structure interaction for sodium reactor assemblies.
Webinar by Evgeniy Kulikov on Friday April 23, 2021 at 14:30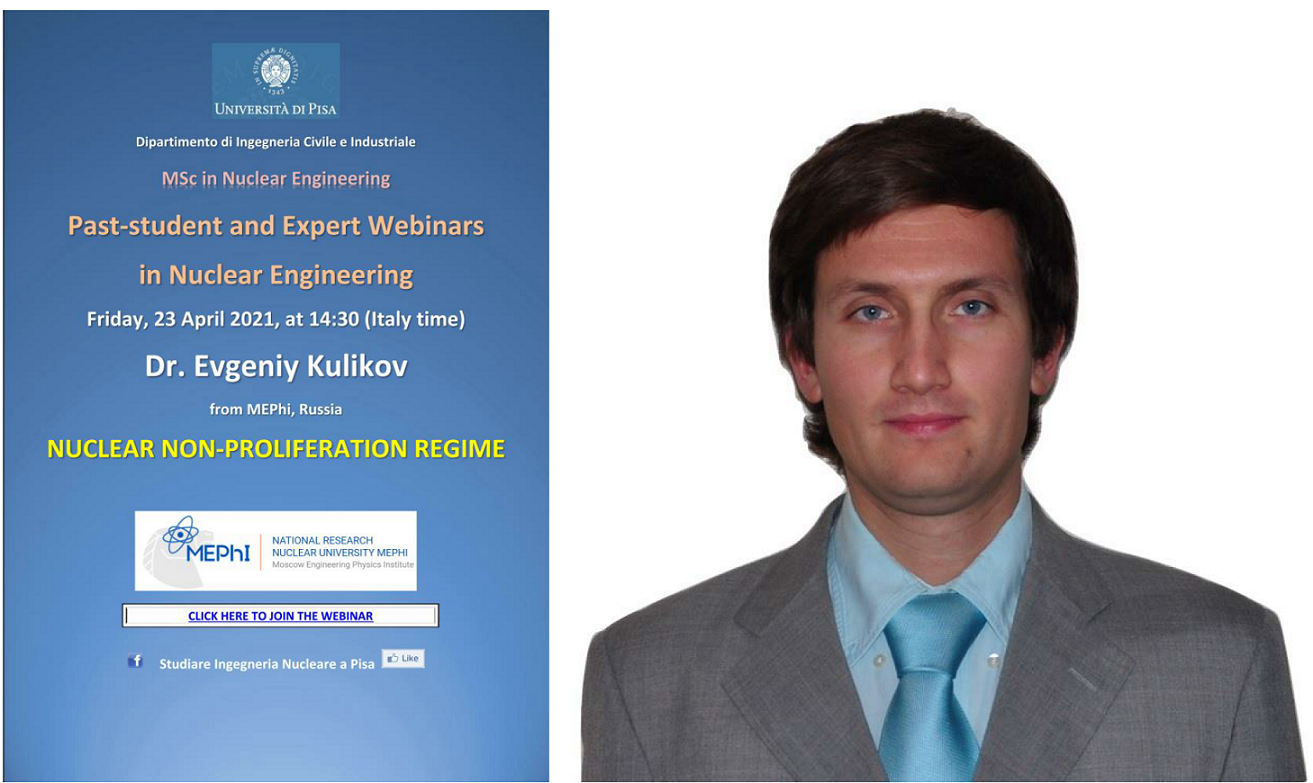 Dr. Evgeny Kulikov is Associated Professor at the Department of Theoretical and Experimental Physics of Nuclear Reactors at the National Research Nuclear University MEPhI.
He holds PhD in Technical Sciences («An improvement of neutron-physical characteristics and non-proliferation of (U-Th)-fuel of light-water reactor with supercritical coolant») from the NRNU MEPhI.
His research and teaching activities are related to nuclear fuel cycle, non-proliferation and nuclear safety of fast reactors.
He is an invited lecturer at the IAEA activities on nuclear knowledge management, a member of the PhD Council at the NRNU MEPhI, and a representative of the Russian Federation at the Generation IV Forum regarding educational issues.
Webinar by Antonio Di Buono on Friday April 23, 2021 at 16:00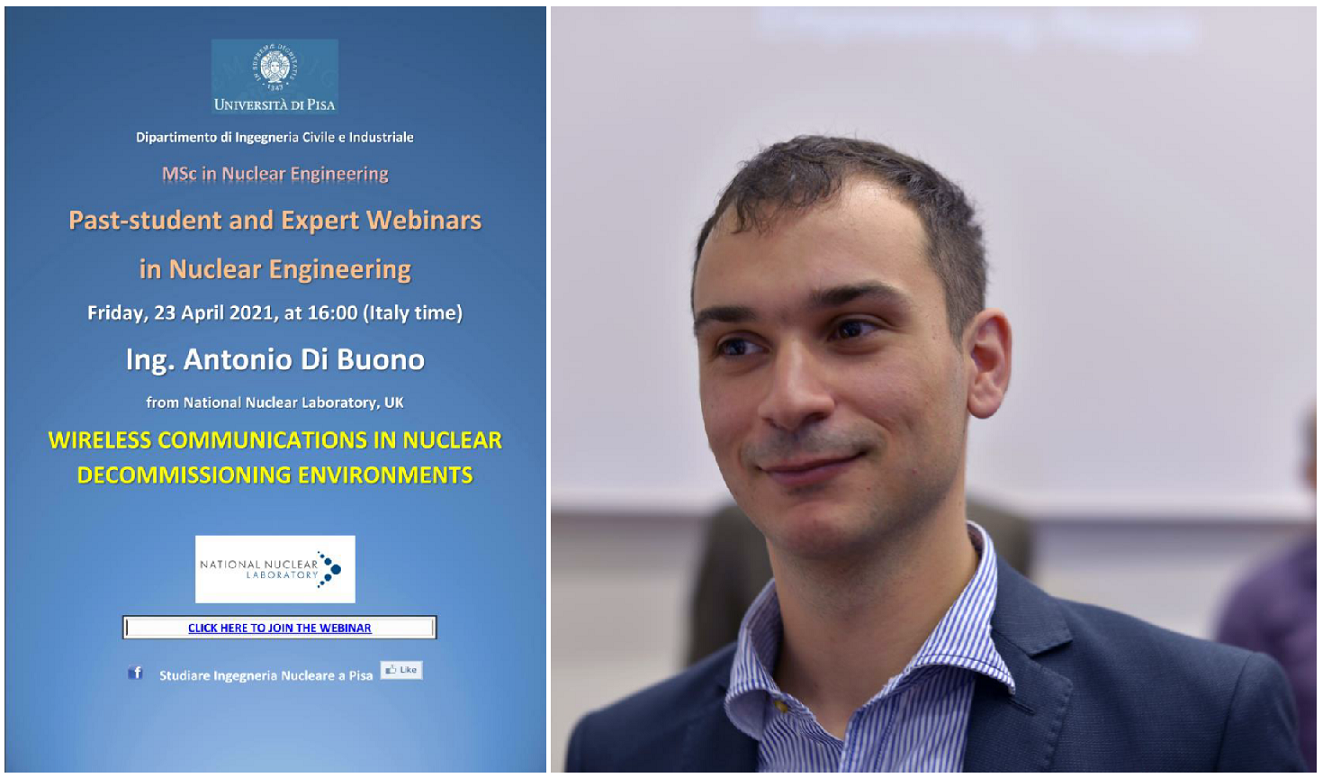 Antonio Di Buono completed his Master of Science in Nuclear Engineering at the University of Pisa with an internship at the University of Birmingham working on the development of a prototype drone for nuclear decommissioning and radiation surveys.
Antonio is in the final year of a PhD project with The University of Manchester and the National Nuclear Laboratory at the Centre for Innovative Nuclear Decommissioning (CINDe). The aims of his PhD project are to design, prototype and experimentally evaluate a Wireless Sensor Network with the capability to communicate through reinforced concrete wall and floor structures in nuclear decommissioning environments.
Antonio joined the Instrumentation and In-Situ Analysis team at National Nuclear Laboratory in 2020. In his recent role as Research Technologist, Antonio is working on several aspects of instrumentation development, focusing on wireless communications. He is supporting the Remote Engineering team to identify innovative solutions for automation in nuclear environments.
Antonio is an active member of the European Nuclear Society Young Generation Network (ENS-YGN) and a member of the European Nuclear Society - High Scientific Council.
Webinar by Pavel Struchalin on Friday April 30, 2021 at 14:00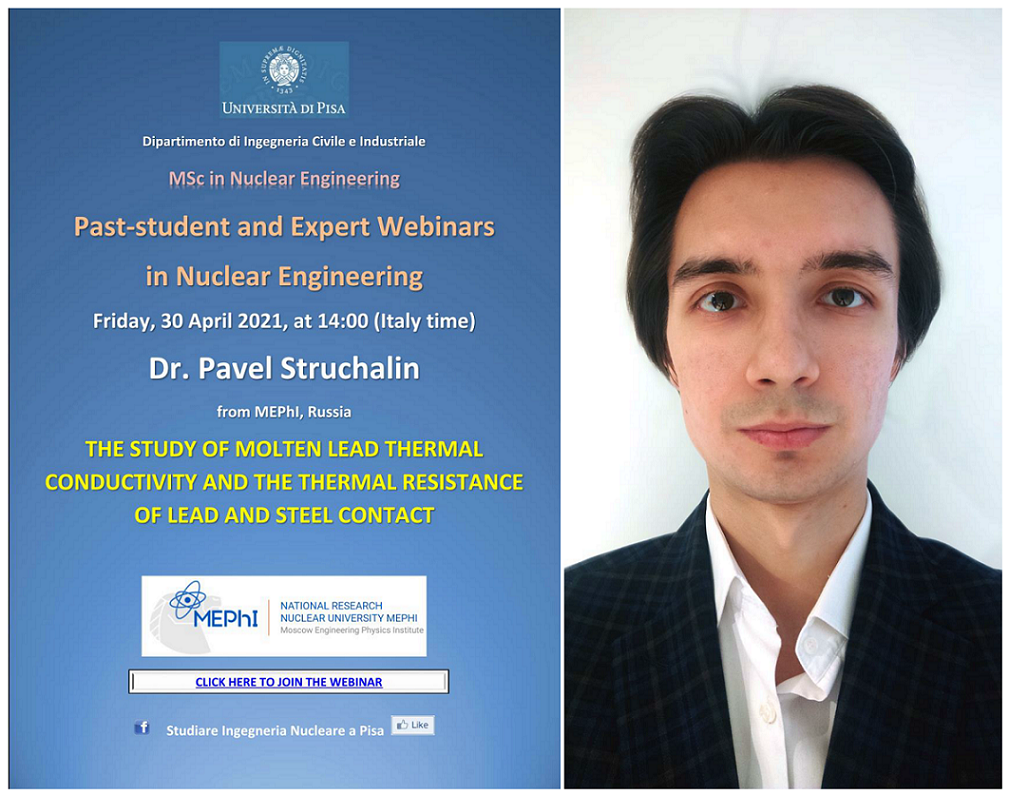 Pavel Struchalin graduated the Department of Thermal Physics of the National Research Nuclear University "MEPhI" (Moscow). For a long time as an engineer and lecturer at the Department of Thermal Physics, he was engaged in measuring the thermall properties of promising materials for nuclear power, such as structural steels, liquid metal coolants, their alloys, and ceramics. Pavel Struchalin also took part in the development of methods for studying the properties of materials, including non-destructive and non-contact methods for determining the effect of burnout on the heat-conducting properties of fuel elements. Based on the research carried out, Pavel Struchalin defended his Ph.D. thesis in 2020 with the topic "Thermal properties of the fuel rods with the dense fuel for the reactors with the heavy liquid metal coolant". Recently, he has also interest in solar thermal energy and is conducting topical research on the use of nanofluids in solar collectors.
Webinar by Bojan Petrovic on Friday April 30, 2021 at 16:00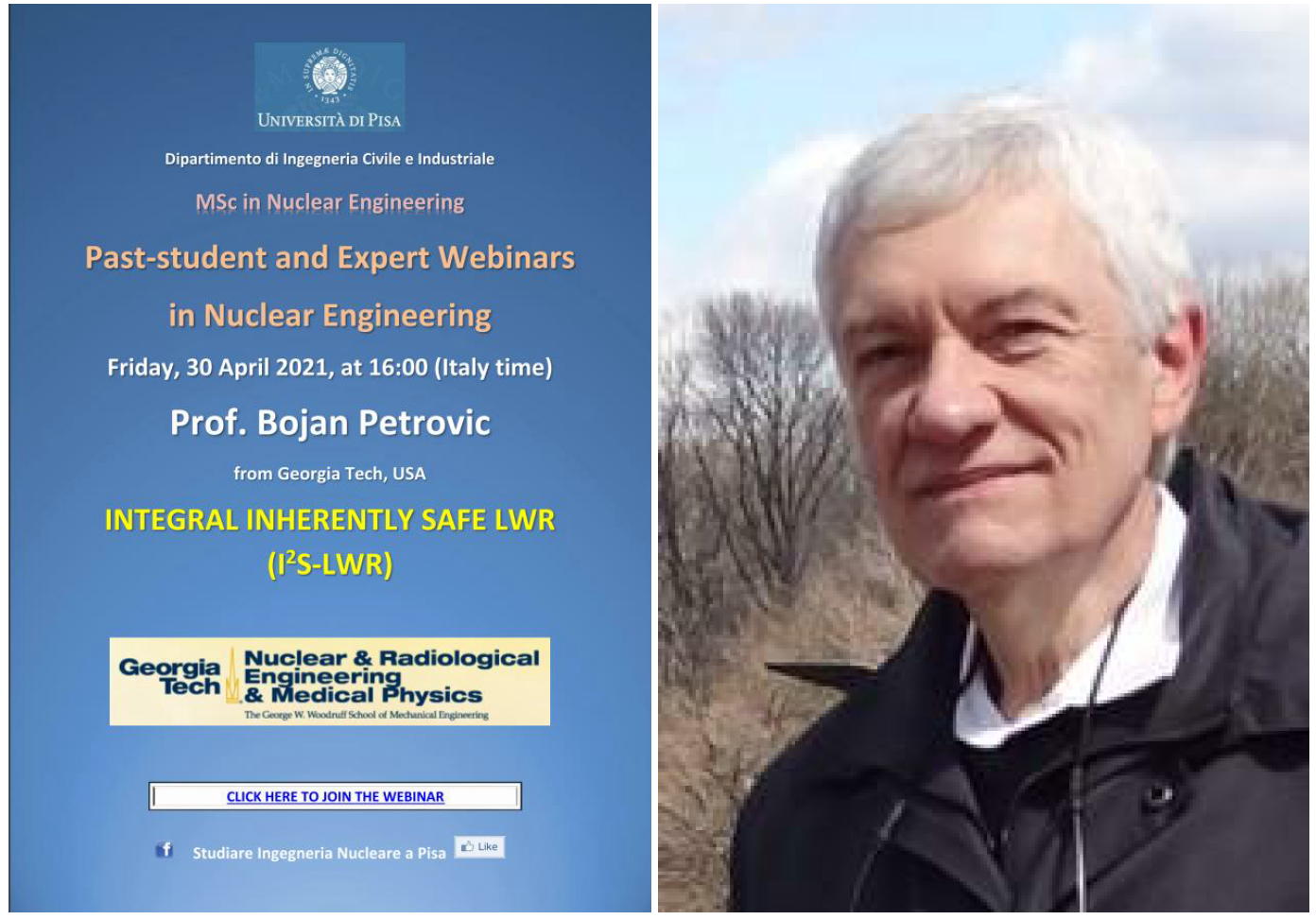 Dr. Bojan Petrovic joined Georgia Institute of Technology (Atlanta, Georgia, USA) in 2007 as Professor of Nuclear and Radiological Engineering. His research interests include advanced reactors design, reactor physics, fuel cycle, shielding, and numerical simulations of nuclear systems, with the overarching theme of the role of nuclear power in sustainable development. Prior to joining Georgia Tech, Prof. Petrovic was Fellow Scientist at Westinghouse R&D where he was the Deputy Director of the IRIS Reactor development project and was awarded the 2006 George Westinghouse Corporate-Level Signature Award, the highest Westinghouse Electric Company recognition for technical innovation and excellence. Prof. Petrovic is Fellow of the American Nuclear Society, Fulbright Scholar and International Member of the Croatian National Academy of Engineering; he has authored or coauthored over 300 peer-reviewed publications, 2 patents, and over 100 technical reports.
Webinar by Dario Carloni on May 7, 2021 at 15:00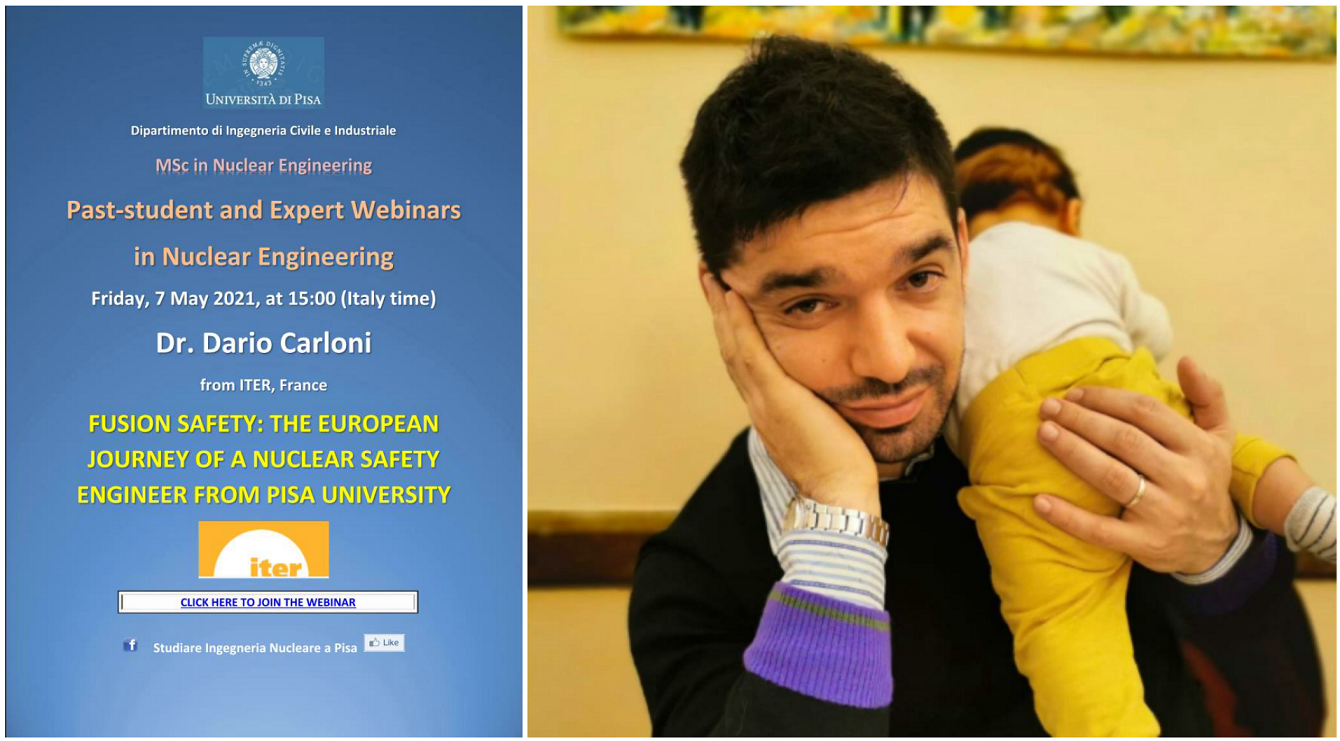 Dr. Dario Carloni. In 2010, Dario was the first internship student at ITER, in the south of France: he started his career in July working for the Tokamak Cooling Water System and, in November, graduated with a MSc in Nuclear Engineering from Pisa University. Since December 2012, he joined the Institute for Neutron Physics and Reactor Technology (INR) at KIT, Germany, to develop the design of the DEMO breeding blanket and act as safety liaison officer; in parallel he started his PhD at Pisa University on Thermal-hydraulic Analyses for fusion reactors cooling systems.
After finishing the PhD (he graduated from Pisa University) in December 2015, he took a break from Fusion but not from safety: he moved to Geneva and joined CERN Beam Department in 2016 to work as Safety Engineer on the LHC Injectors Chain.
He went back to fusion business in 2018: UKAEA recruited him as Fusion Safety and Environmental Technologist to coordinate the UK safety activities on DEMO.
In August 2020 he joined ITER as a staff member: currently, his job title is Radiation Safety and Contamination Engineer within the ITER Safety and Quality Department.
Webinar by Stavros Tavoularis on May 14, 2021 at 16:00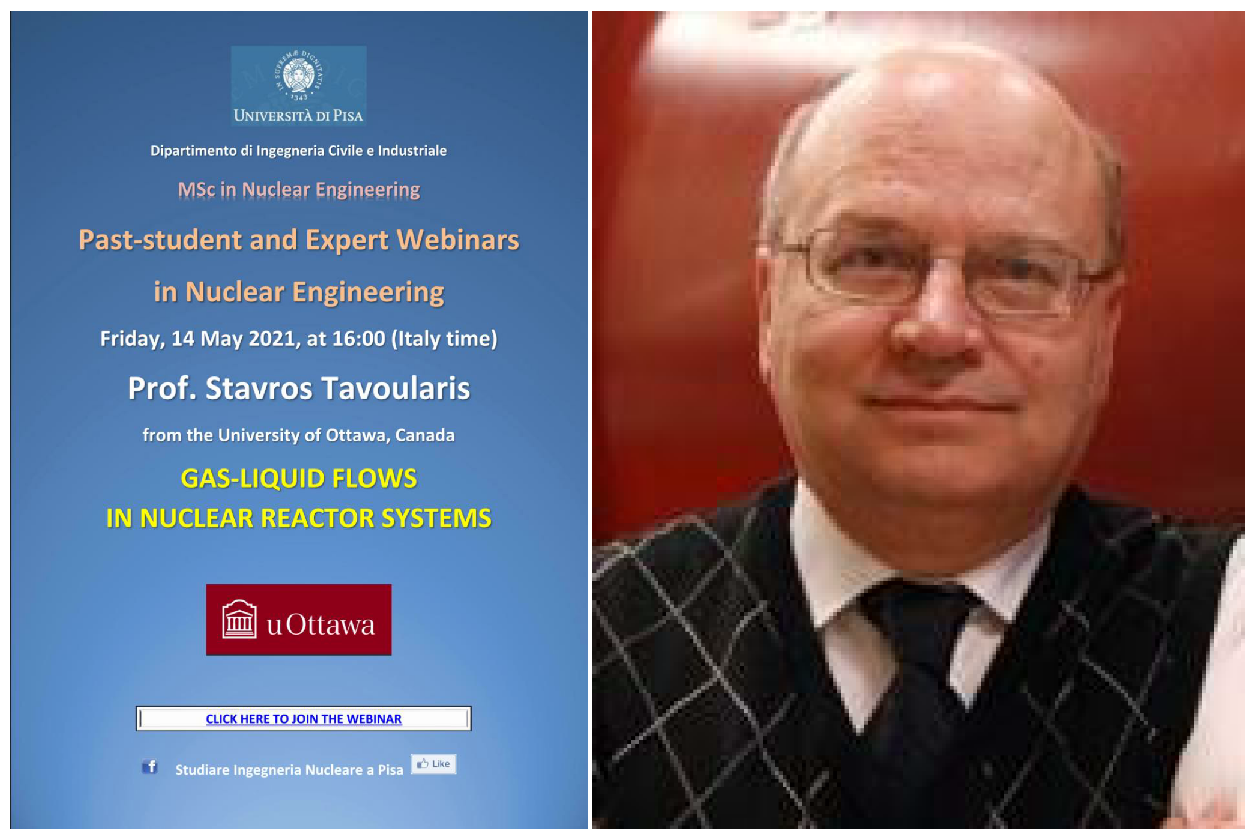 Prof. Stavros Tavoularis. Following doctoral studies and a research appointment at The Johns Hopkins University, Professor Stavros Tavoularis has, since 1980, been a member of the Department of Mechanical Engineering at the University of Ottawa. He is Director of the uOttawa Fluid Mechanics Laboratory, supervising a team of researchers on turbulence, turbulent mixing, vortex dynamics, aerodynamics, nuclear reactor thermalhydraulics, cardiovascular mechanics and design of flow apparatus and instrumentation. Stavros Tavoularis has been elected as a Fellow of the Canadian Academy of Engineering, a Fellow of the Engineering Institute of Canada, a Fellow of the Canadian Society for Mechanical Engineering and a Fellow of the American Physical Society and is a recipient of the George S. Glinski Award for Excellence in Research and the 2017 Medal of the Canadian Congress for Applied Mechanics. He is the author of the graduate textbook Measurement in Fluid Mechanics, published by Cambridge University Press, and numerous research articles and reports in fluid mechanics and heat transfer.
Webinar by Igor Pioro on May 21, 2021 at 15:00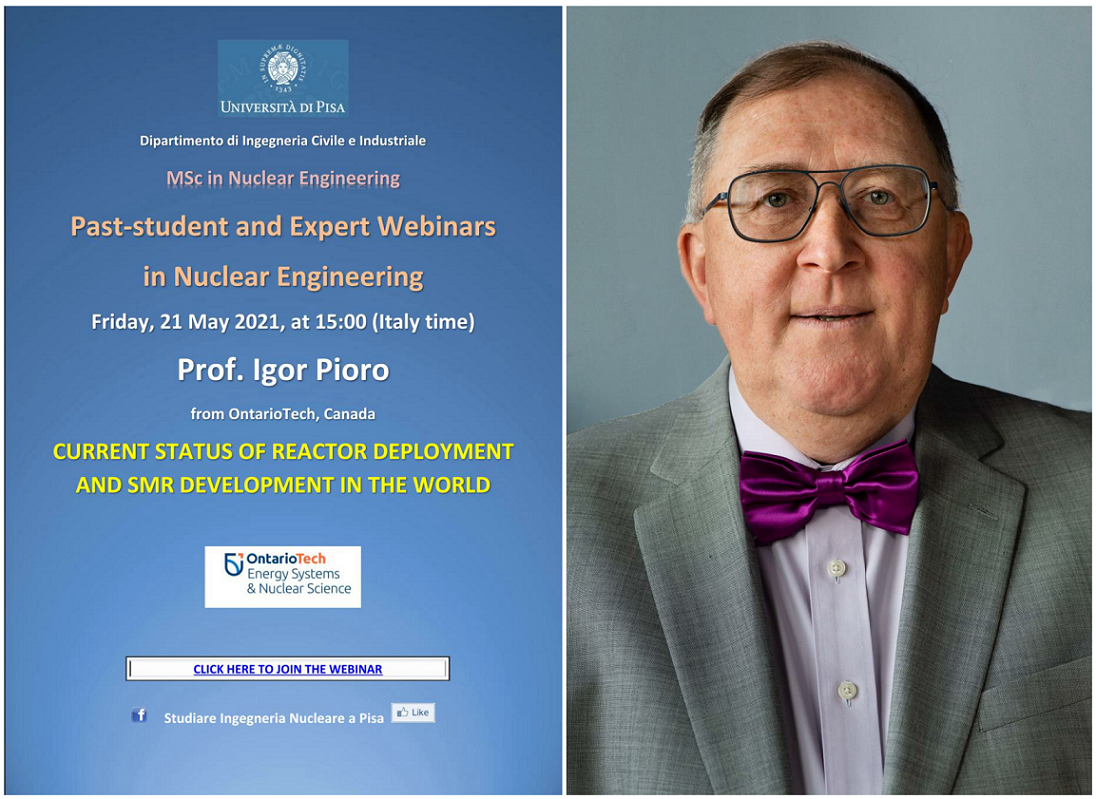 Professor Igor Pioro – Ph.D. (1983); Doctor of Technical Sciences (1992); Professional Engineer (Ontario, Canada) (2008); Fellow of the American Society of Mechanical Engineers (ASME) (2012), Canadian Society of Mechanical Engineers (CSME) (2015), and Engineering Institute of Canada (EIC) (2013); member of the American Nuclear Society (ANS) (2004) and Canadian NS (CNS) (2010); is an internationally recognized scientist within the areas of nuclear engineering (thermalhydraulics of nuclear reactors, Generation-IV nuclear-reactor concepts, etc.) and thermal sciences / engineering (boiling, forced convection including supercritical pressures, etc.) (https://nuclear.ontariotechu.ca/people/faculty/dr-igor-pioro.php).
He is author/co-author of more than 500 publications ‑ 12 technical books, 32 chapters in encyclopedias, handbooks and books, 99 papers in refereed journals, 286 papers in refereed proceedings of international and national conferences / symposiums, 26 patents and inventions, and 47 major technical reports.
Dr. Pioro has supervised / co-supervised 3 Ph.D., 17 M.A.Sc., 4 M.Eng. students with projects, 75 design-group students and 22 summer students, who have completed their studies successfully.
Dr. Pioro has graduated from the National Technical University of Ukraine "Kiev Polytechnic Institute" with M.A.Sc. in Thermal Physics in 1979. After that, he worked on various positions including an engineer, senior scientist, deputy director, professor, director of a graduate program in nuclear engineering, and associate dean. Currently, he is associated with the Faculty of Energy Systems and Nuclear Science, University of Ontario Institute of Technology (Oshawa, Ontario, Canada).
Dr. Pioro is a Founding Editor – Editor-in-Chief of the ASME Journal of Nuclear Engineering and Radiation Science. He was a Chair of the Executive Committee of the Nuclear Engineering Division (NED) of the ASME (2011-2012) and a Chair of the International Conference On Nuclear Engineering (ICONE-20) (2011-2012).
Professor Pioro has received many international and national awards and certificates of appreciation including Harold A. Smith Outstanding Contribution Award from CNS (2017), Medal 60th Anniversary of NED (ASME) (2016); Service Recognition Award from the ASME (2014); Honorary Doctor's Degree from National Technical University of Ukraine "Kiev Polytechnic Institute" (2013); The CNS Education and Communication Award (2011); UOIT Research Excellence Award (2011); ICONE Award from ASME (2009); etc.
Webinar by Bogdan Buhai on May 28, 2021 at 14:00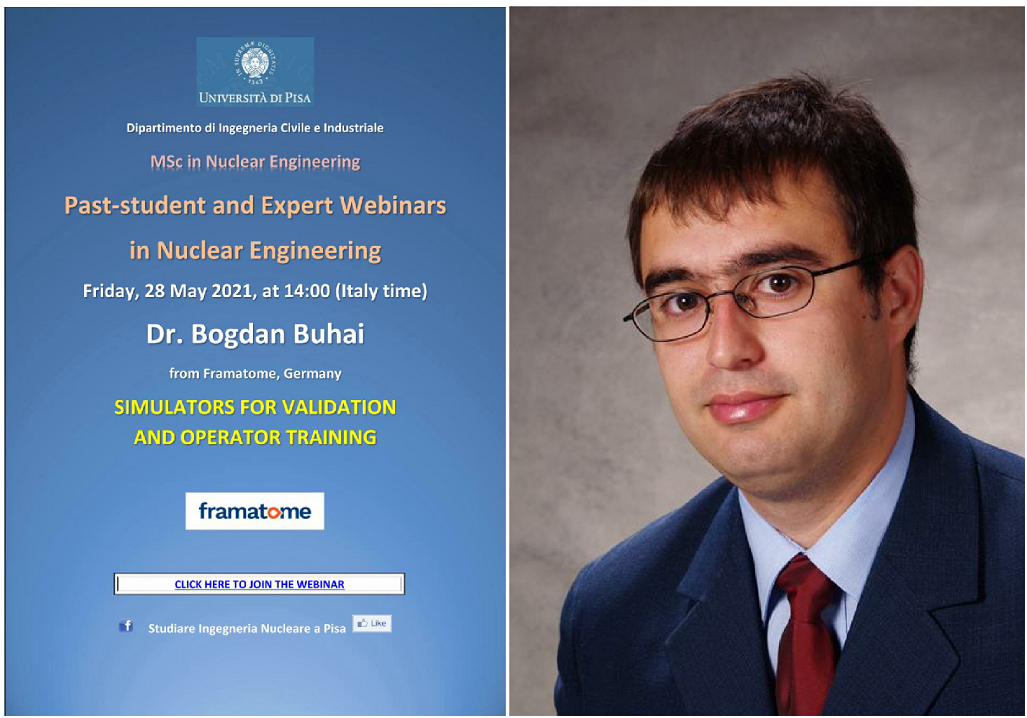 Webinar by Ralph Hania on May 28, 2021 at 16:00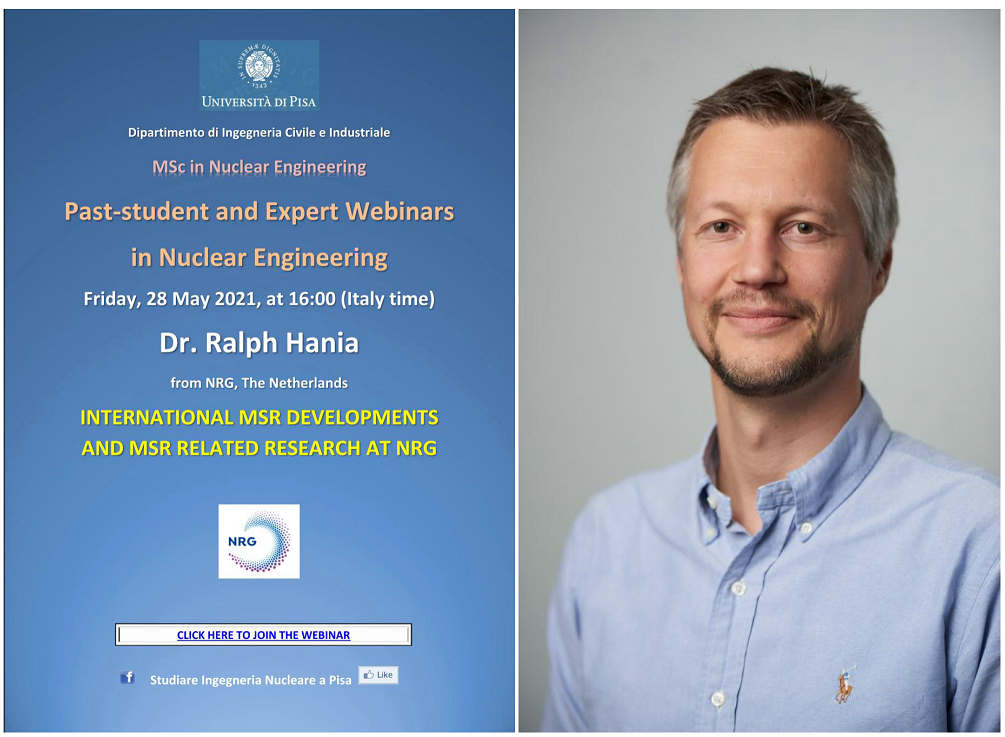 Ralph Hania obtained a Ph.D. in chemical physics from the University of Groningen (the Netherlands) in the field of time-resolved molecular UV-VIS spectroscopy. Following a post-doctoral research position at the University of Lund (Sweden) he has worked as a research consultant at NRG Petten (the Netherlands) for the last 13 years, carrying out fuel irradiations at the HFR Petten and related post-irradiation examinations. Since roughly 2015 most of his time is spent on molten (fuel) salt related work (also the topic of the current talk).
Webinar by Simone Gianfelici on June 4, 2021 at 15:00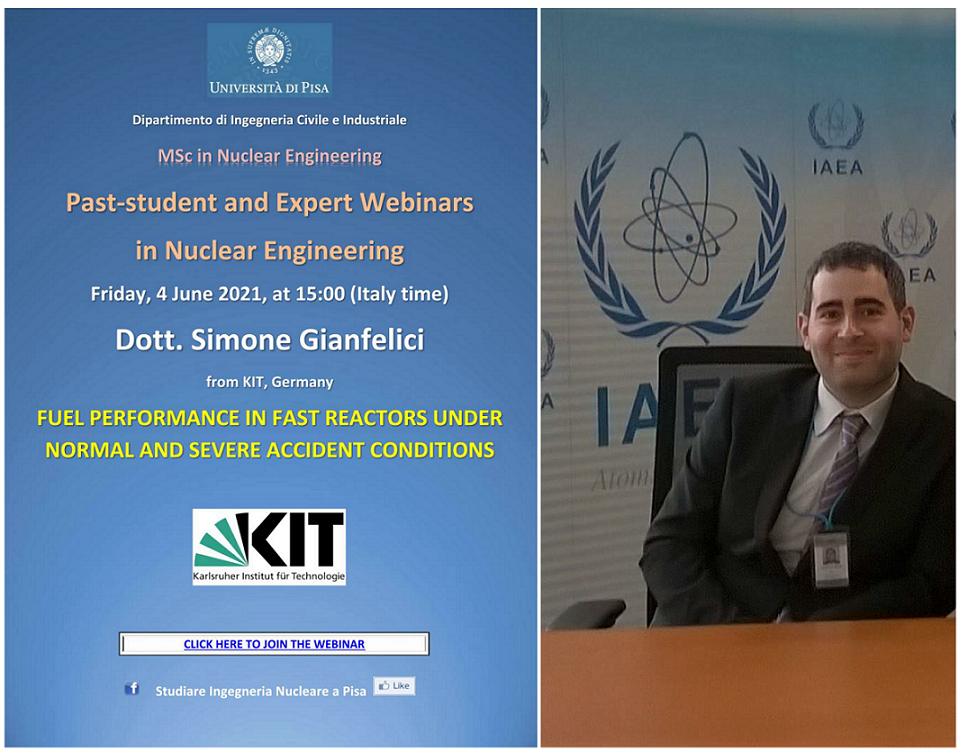 Simone Gianfelici holds a Master of Science in Nuclear and Industrial Safety Engineering from the University of Pisa. Since 2014 he is a Scientist for the Karlsruhe Institute of Technology, where he is also completing a PhD work on fuel modelling and safety analysis for transmutation system. His areas of expertise include numerical methods, fuel behavior simulation and safety studies for advanced nuclear reactors. He is involved in several international collaborations and European Projects (SAMOSAFER, ESFR-SMART, PUMMA, PATRICIA) and currently member of the OECD/NEA Expert Group on Innovative Fuels Elements (EGIFE).
Webinar by Barbara Vezzoni on June 11, 2021 at 14:00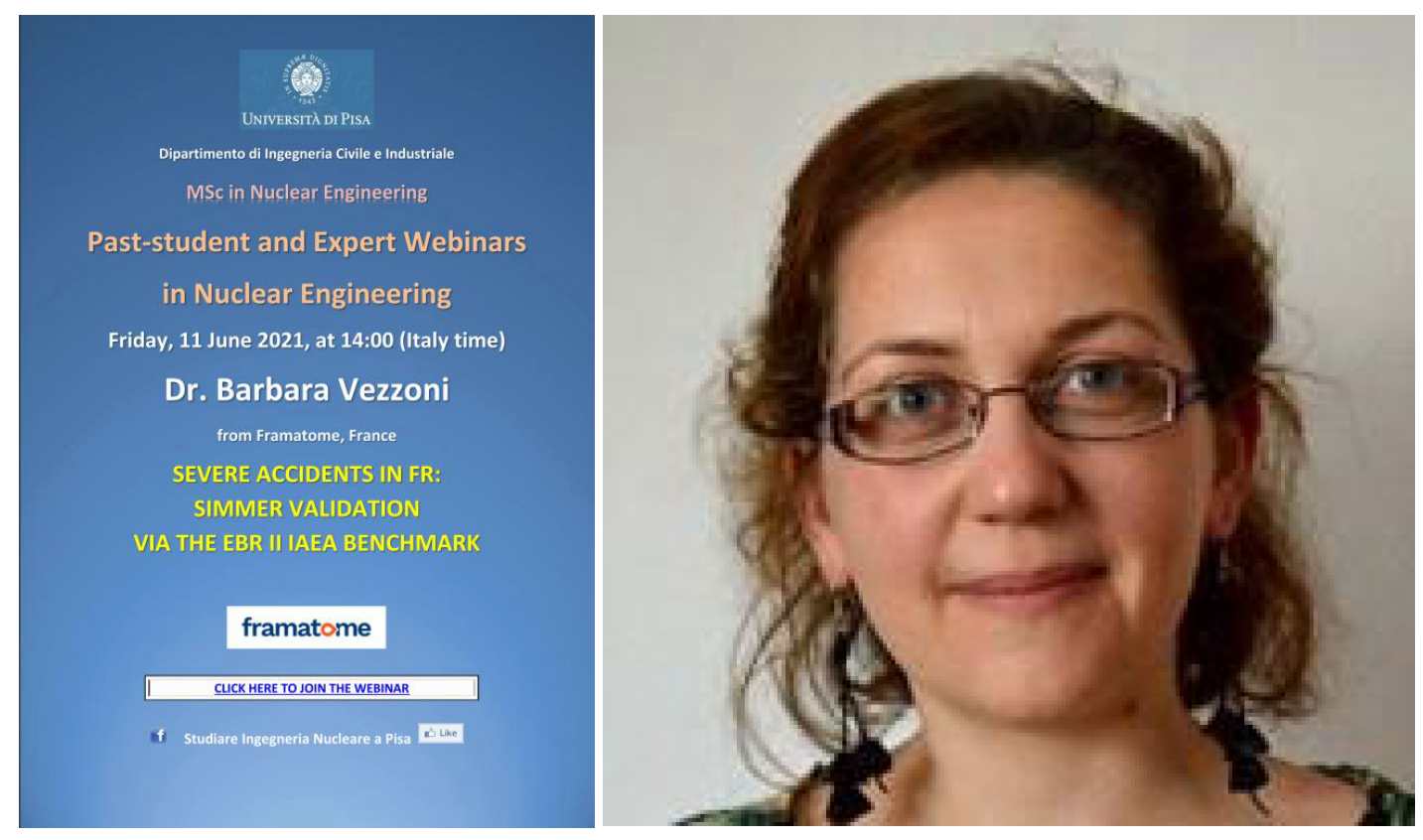 Barbara VEZZONI graduated in 2006 in Nuclear and Industrial Safety Engineering from University of Pisa (Italy) with a Master in collaboration with SCK-CEN, Mol (Belgium). In 2007, she obtained the EMSNE (ENEN) certificate and in 2011, she got her Ph.D. from the University of Pisa (Italy) with a thesis on Transition Nuclear Fuel Cycles from LWRs to Gen-IV Reactors carried out in collaboration with the Karlsruhe Institute of Technology (KIT, Germany).
In the period 2009-2017, she worked as full researcher at KIT (Germany) and she was involved in few international activities related to several reactor concepts (FR, LWR, SMR, FFHR, ADS, ..). She contribute to several EU projects (LWR-DEPUTY, CP-ESFR, ARCAS, PELGRIMM, MARISA), to the AFCS OECD/NEA Expert group (senior member since 2013 in charge of fuel cycle and scenario calculations) and to the IAEA CRP on EBR-II (chief scientific investigator for Germany for neutronics and neutronics/thermal hydraulic calculations). During this period, she co-published 9 peer review papers and more than 40 congress papers.
Since April 2017 she joined the neutronics codes development and validation team of Framatome (Paris, France). At present, she is in charge of Framatome technical and strategic coordination of the EDF/CEA/Framatome collaboration project dedicated to neutronics (codes, nuclear data, experiences and applications), she is deputy coordinator of the Advanced Neutronic Schemes project of the new EDF/ Framatome core calculation chain and she is contributing to the activities of the H2020 CAMIVVER project.
Webinar by Stefano Monti on June 11, 2021 at 16:00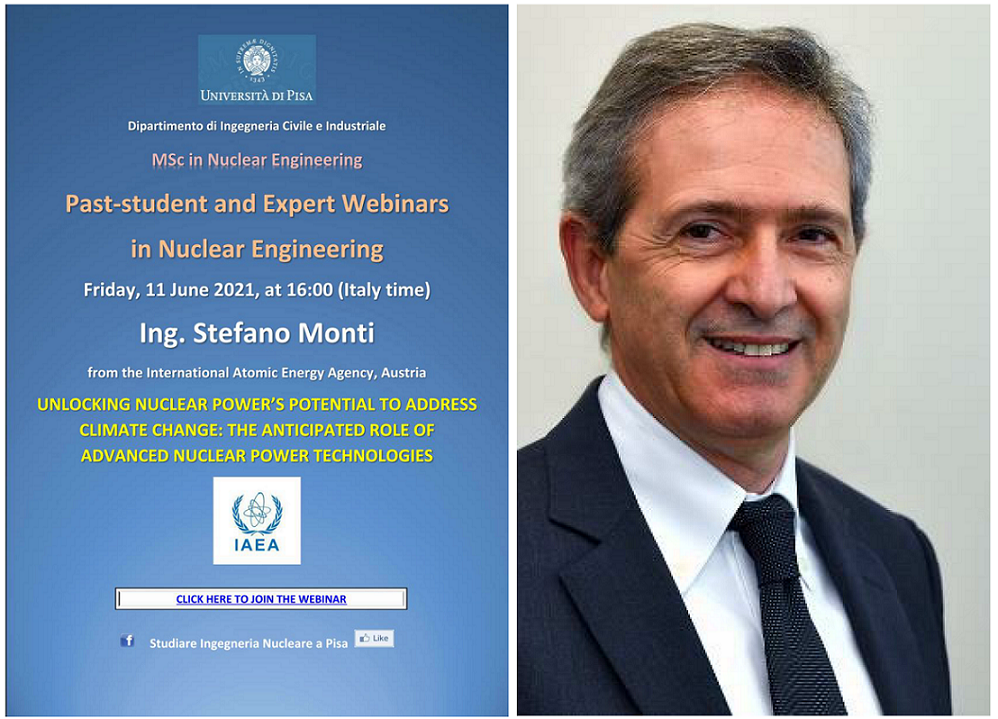 Stefano Monti is the Head of the Nuclear Power Technology Development Section in the Department of Nuclear Energy of the International Atomic Energy Agency in Vienna. The Section provides support to Member States and stakeholders for the technology development and deployment of advanced nuclear reactors, including Small Modular Reactors, as well as non-electric applications of nuclear power, including hydrogen production, district heating and water desalination. For more than 35 years Stefano has been working on and coordinating several national and international projects and programs on advanced nuclear systems and related fuel cycles. Before joining the IAEA, as Director of Research at the Italian ENEA, he was Head of the Division Reactor and Fuel Cycle Safety and Security Methods, and Scientific Coordinator of the Italian R&D program on nuclear fission. From 1999 to 2007 he was scientific advisor to the President of ENEA, Nobel Laurate prof. Carlo Rubbia. From 2007 to 2013, he was President of the SIET company, an Italian SME carrying out safety tests to support the safety case of advanced reactors and SMRs. In 2019 he was the co-Scientific Secretary of the first International Conference on Climate Change and the Role of Nuclear Power. Dr. Ing. Monti has been serving in a number of national and international nuclear committees, including the Board of Directors of the Italian National Institute for Nuclear Physics INFN, the Steering Committee of the OECD Nuclear Energy Agency, the Executive Committee of the European Sustainable Nuclear Energy Technology Platform.
Webinar by Xu Cheng on June 18, 2021 at 14:00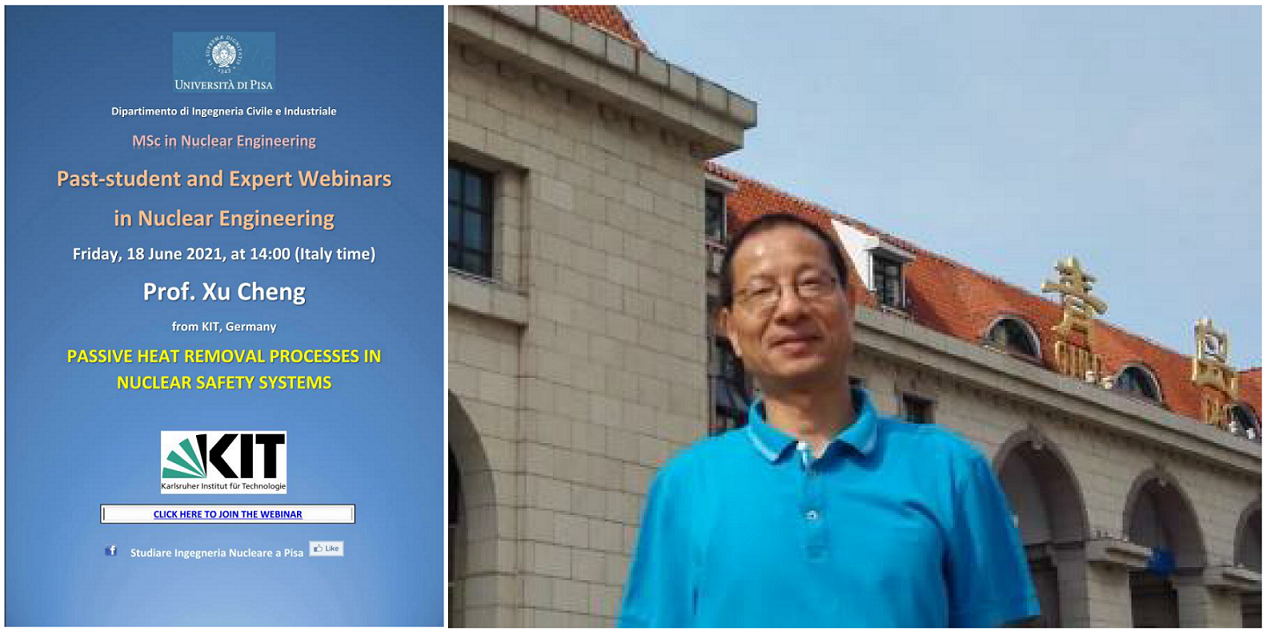 Xu Cheng completed his B.Sc. in Nuclear Engineering at the Xi'an Jiao Tong University in China, Dipl.-Ing. and Ph.D in Mechanical Engineering at the Technical University Braunschweig in Germany. Since then he has been working at the Research Center Karlsruhe (FZK) and the Karlsruhe Institute of Technology (KIT) for about 30 years, except in the time period from 2006 to 2008, where he worked at the Shanghai Jiao Tong University. The main subjects of his education and research activities are nuclear safety, nuclear thermal-hydraulics and advanced nuclear systems.
At present, he is head of the institute of applied thermofluidics (IATF) at KIT and chairing the professorship of innovative reactor systems.

Webinar by Ferry Roelofs on June 18, 2021 at 16:00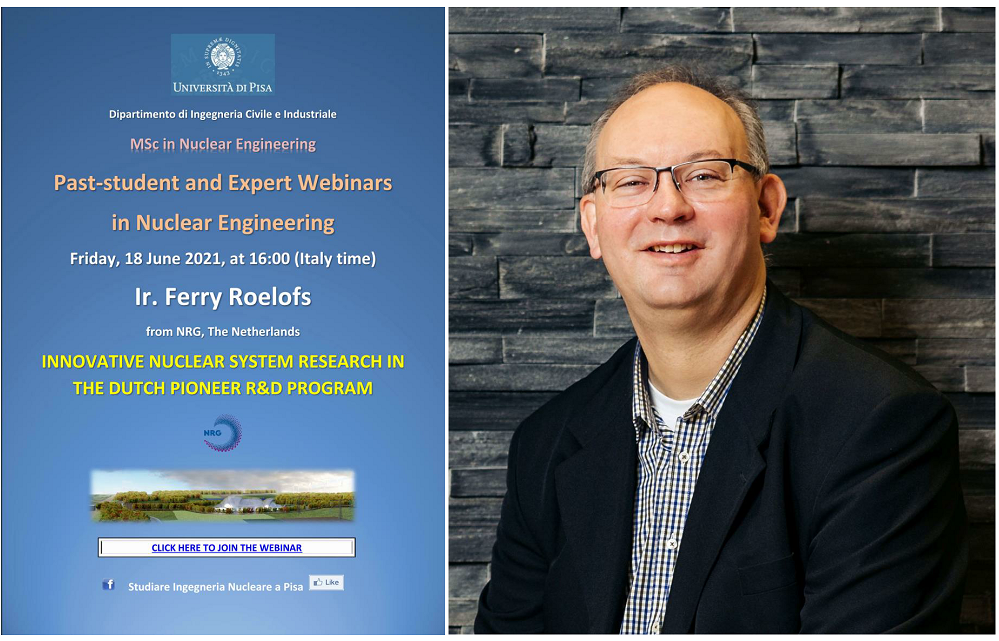 Ferry Roelofs obtained his MSc in mechanical engineering from the Technical University in Eindhoven (Netherlands). Since 1997 he is employed at NRG Petten in the Netherlands. He has a background in thermal hydraulics. With this background, he performed design support and safety analyses on various types of nuclear reactors, ranging from contemporary light water reactors to innovative nuclear reactors. Using his knowledge on innovative reactors he embarked on technical-economic nuclear fuel cycle studies. He has been involved in many European collaborative projects and is well known for his expertise on liquid metal nuclear thermal hydraulics being the editor of the book 'Thermal Hydraulics Aspects of Liquid Metal Cooled Nuclear Reactors'. He authored more than 70 papers in scientific journals as well as more than 110 in peer-reviewed conference proceedings. Currently, he acts as account manager research and is responsible for international contacts. As such he is a member of the governing board and chair of the scientific committee of the Sustainable Nuclear Energy Technology Platform (SNETP). As account manager research he works closely together with the manager of the government funded PIONEER research program in establishing and carrying out the program content.

Webinar by Emilio Mínguez and Emilia Janisz on June 25, 2021 at 15:00

Prof. Emilio Mínguez is Emeritus Professor in Nuclear Engineering at Universidad Politécnica de Madrid and he is President of the European Nuclear Society (January 2020 – December 2021). He is also Vice President of the Spanish Nuclear Society (March 2021- March 2023, then President for two years) and was Dean of College of Industrial Engineering at UPM (April 2014 – April 2018), Vice-Rector for Academic Degrees and Doctorate at UPM (2012-2014), Vice–Rector for Academic Management and Professors at UPM (2004-2012), Vice-President of ENEN (2009-2012), Member of the Scientific Technical Committee of Euratom (2014- 2018) on behalf of Spanish Government for Nuclear Fission.
Emilia Janisz is ENS External Relations Manager, maintaining networks of European Nuclear Society (ENS); developing and implementing partnership strategies with the European institutions and scientific stakeholders; attracting research and industry organizations to become ENS partners; leading communications campaigns, highlighting the nuclear research and industry success stories towards society; playing a role of secretary of the ENS High Scientific Council and co-leading international "Nuclear for Climate" initiative. Emilia Janisz became recently the chairperson of the European Human Resources Observatory in Nuclear Advisory Body working group of the European Commission Joint Research Centre.
Webinar by Sama Bilbao y Leon on July 2, 2021 at 15:00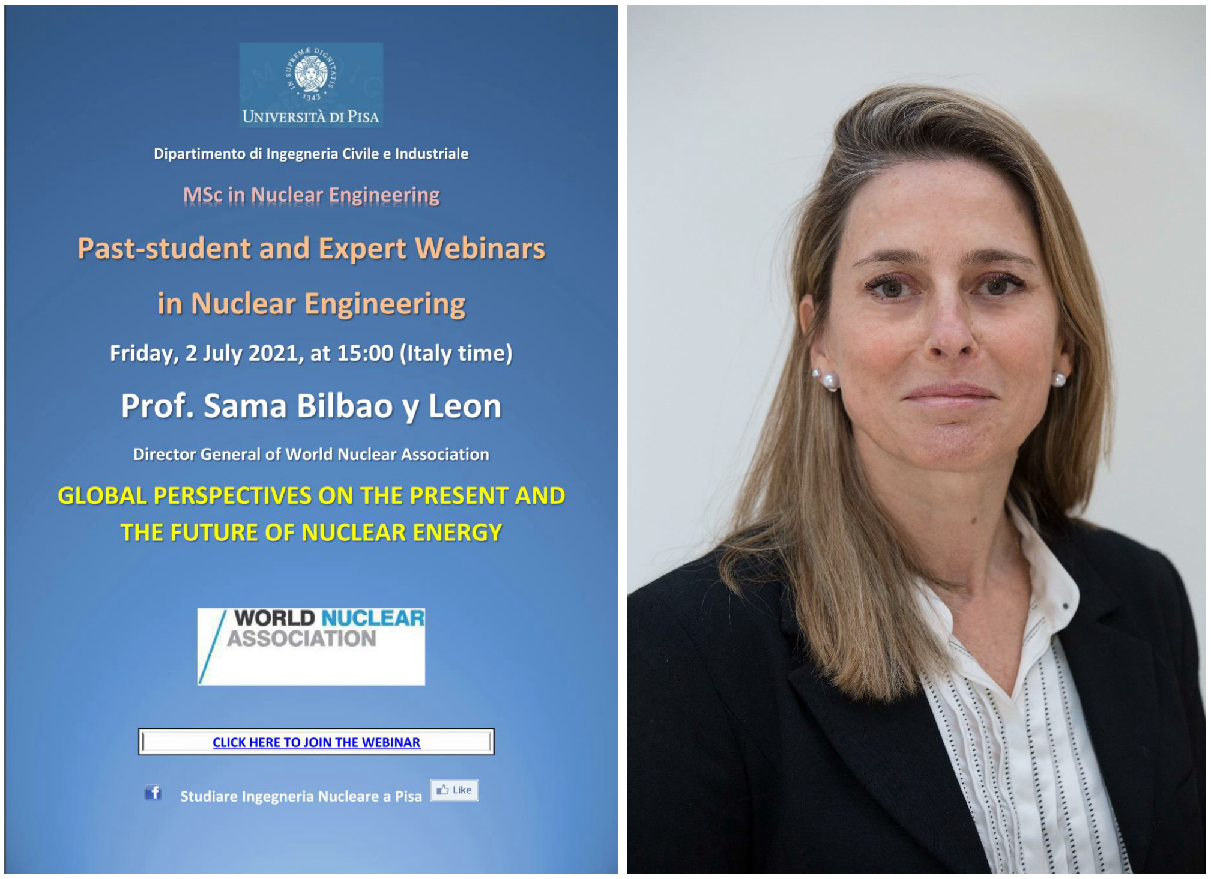 Sama Bilbao y León became the Director General of the World Nuclear Association in October 2020. Previously, and since June 2018, she was Head of the Division of Nuclear Technology Development and Economics at the OECD Nuclear Energy Agency. In her role at the NEA, she led a team of analysts responsible for providing Member Countries with authoritative studies in the intersection of technology, innovation and economics in support of their energy policy decision-making. Since January 2020, she was also Head of the Technical Secretariat for the Generation IV International Forum (GIF).
From 2011, she was the Director of Nuclear Engineering Programs and Associate Professor at the Department of Mechanical and Nuclear Engineering at Virginia Commonwealth University (VCU). She was one of the key individuals involved in the creation and development of this thriving new Nuclear Engineering program. Sama was responsible for the academic and research aspects of the new VCU nuclear engineering program, including student and faculty recruitment, curriculum development, accreditation, funding, research collaborations, industrial partnerships, marketing, outreach, etc.
She also taught undergraduate and graduate courses in areas such as thermal-hydraulics, heat transfer, multi-phase flow, nuclear reactor design, energy and environmental policy, economics of electricity production, etc. At VCU, she led an active research group including post-doctoral research associates, PhD, MS and undergraduate students, and was the principal investigator in several research and development, as well as educational grants, totalling about $4M. At her departure from VCU in May 2018, Sama was also a member of the Institute of Nuclear Power Operations (INPO) National Accreditation Board, and the Chairman of the Board of the Virginia Nuclear Energy Consortium (VNEC).
From 2008, Sama was the Technical Head of the International Atomic Energy Agency (IAEA) Water Cooled Reactors Technology Development Unit and she was responsible for IAEA activities in support of the development and near term deployment of advanced water cooled reactors and their associated fuels. From February 2001 until March 2008, Sama was a Nuclear Safety Analysis Engineer at Dominion Energy, where she worked on the development and licensing of new methodologies in core thermal-hydraulics and nuclear safety analysis in support of Dominion's nuclear power stations.
Sama is one of the seven founders of the North American Young Generation in Nuclear (NA-YGN), and served as Public Information Chair since its creation in 1999 until May 2005. Sama is also an active member of the American Nuclear Society (ANS) since 1995, both nationally and locally (VCU student section and Virginia local section). Her dedication to spreading the good news about nuclear earned her the ANS 2002 Public Communications Award. In 2007 she received the NA-YGN Founder Award, the highest award given to an NA-YGN member, which rewards leadership, vision and dedication. In 2007, and again in 2010, Sama was elected to the national Board of Directors of the American Nuclear Society. In 2011, she received the ANS Mary Jane Oestmann Women's Achievement Award. In 2014 she received an ANS Presidential Citation for her continuous dedication to ANS. In 2018 she was presented with the W. Reed Johnson Award for Extraordinary Contributions to the Virginia Section of the ANS. Sama is also a member of SNE, ASME, ASEE, SWE and WiN.
Sama, who is originally from Spain, holds a bachelor's degree in Mechanical Engineering and a master's degree in Energy Technologies from the Polytechnic University of Madrid; a master's degree and a PhD in Nuclear Engineering and Engineering Physics from the University of Wisconsin – Madison; and an MBA from Averett University.
Webinar by Carlo Parisi on July 9, 2021 at 16:00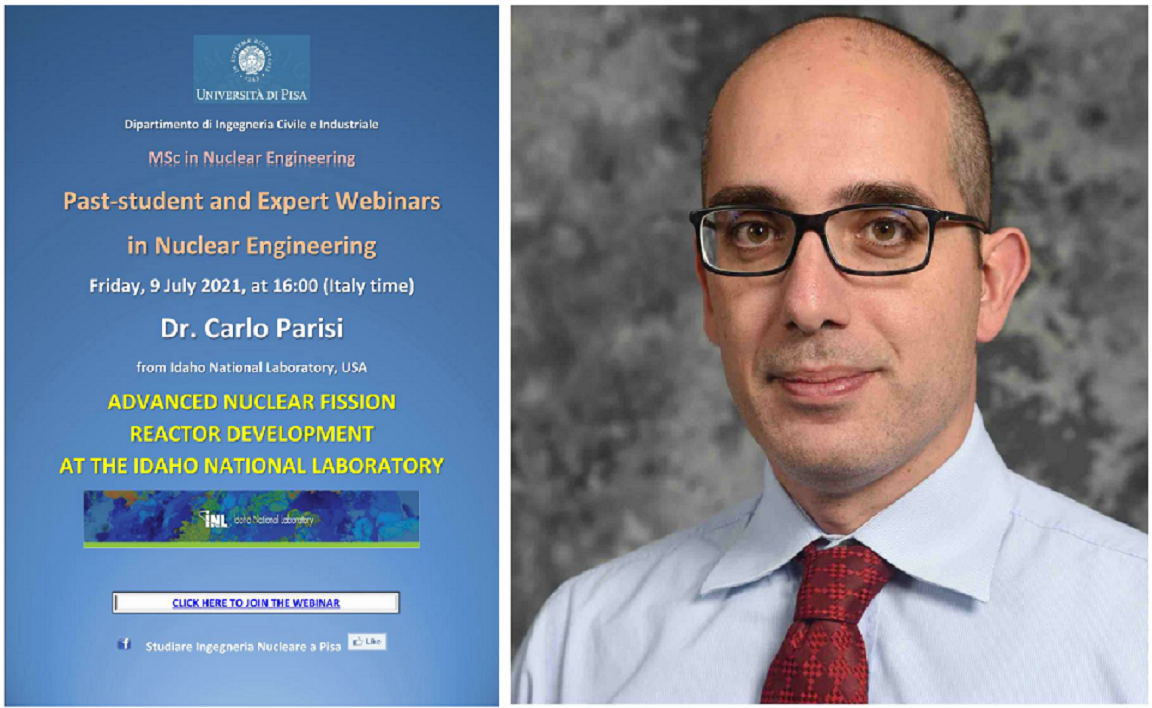 Dr. Carlo Parisi is a scientist with over 18 years of experience in academics and government laboratories. In 2004 he got a M.Sc. and in 2008 a Ph.D. in Nuclear Engineering at University of Pisa, Italy. In 2003 he has been visiting scholar at the Pennsylvania State University, USA. His area of expertise includes thermal hydraulics, neutronics and uncertainty quantification. He completed his postdoctoral appointments at University of Pisa in 2010, where he contributed to the development of best estimate plus uncertainty models for the analysis of nuclear power plants in operation and under construction. From 2011 to 2015 he has been researcher at ENEA "Casaccia" Research Center, Rome, Italy, where he worked on Generation IV Sodium Fast Reactors in the framework of different EU-sponsored projects. Since October 2015 he is a scientist at the Idaho National Laboratory, USA. He works on risk-informed methods development for the US light water reactors fleet, SAS4A/SASSYS-1 thermal hydraulic code V&V (Versatile Test Reactor project), and on the development of new microreactor and test reactor concepts (MARVEL microreactor and ATR replacement projects). He is the technical lead of the INL RELAP5-3D system thermal hydraulic code. He is member of the American Nuclear Society and licensed Italian Professional Engineer since 2004.
Webinar by Barbara Calgaro on July 16, 2021 at 15:00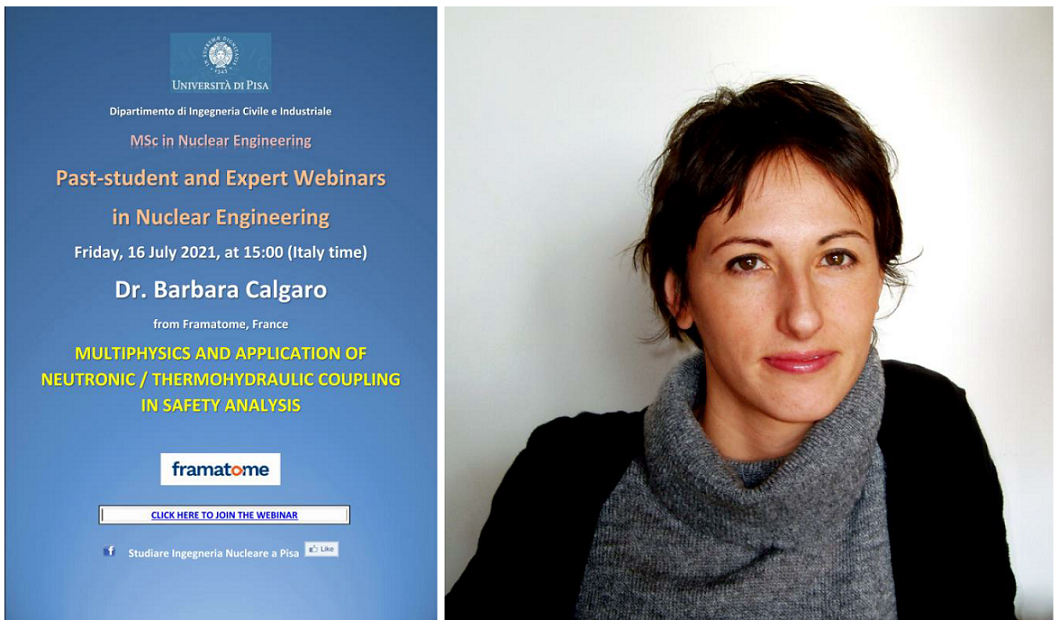 Barbara Calgaro completed the B.Sc and M.Sc. program in Nuclear Engineering offered by the University of Pisa in 2006. From December 2005 to June 2006, she was intern at the SCK-CEN Centre in Belgium, where she contributed to the analysis of minor actinides transmutation in Myrrha lead-bismuth cooled fast reactor with MCNP/ALEPH calculations. She fulfilled the Master ENEN form in 2007.
Barbara holds a PhD in Nuclear and Industrial Safety Engineering (subject: Development of closure relationships for advanced two-phase flow analysis) from the University of Pisa.
From 2010 to 2016 she worked in AREVA NP as research engineer focusing on development and validation of core thermal-hydraulic codes and departure from nucleate boiling issues in support to industrial needs for French fleet and EPR reactors.
Barbara is now expert for Framatome in thermal-hydraulics and heat exchange domain.
Since its creation in 2017, for EDF and Framatome she integrated a co-development program of a new core calculation chain, ODYSSEE, focusing on the development of innovative Multi-physics, multi-scale simulation tools.
Since 2019 for EDF and Framatome, Barbara is team leader and technical responsible for the development and validation of advanced Multi-physics couplings and contributes to other international R&D activities (ex. H2020 Eu Project CAMIVVER).