Short video summarising the event (click here)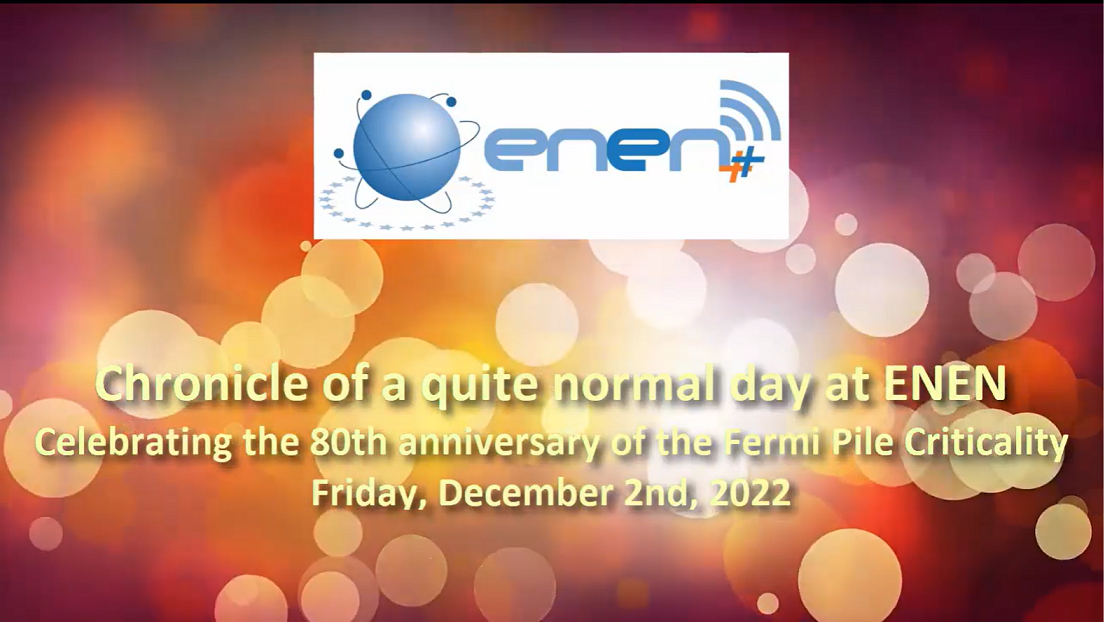 CELEBRATING THE 80th ANNIVERSARY OF THE FIRST CRITICALITY OF THE FERMI PILE
On December 2nd, 1942, Enrico Fermi and his collaborators succeeded in achieving the first critical assembly with a fission chain reaction. Nowadays, more than 440 power reactors are running worldwide and several non-power applications of nuclear energy were made possible from that event.

The Celebration of that memorable event, organised by the University of Pisa in the frame of the ENEN++ project, will start at 14:00 (Italy time) of December 2nd 2022, with connections to operating research reactors, it will continue with an interview to the historian and Pulitzer Prize winner Richard Rhodes and with a panel discussion on "Nuclear Energy for a Cleaner Future". It will then end with a Career Event led by the European Nuclear Society with the participation of Thomas Thor.
You are warmly invited to attend the meeting !

Please, give notice of your planned attendance at the link: https://docs.google.com/forms/d/1Vn6UjL2EUYC0FfOuerW2nlR-_oZwowcGxOYOo3FgYNg/edit
The link for attending the event is:
https://teams.microsoft.com/l/meetup-join/19%3af76e2f71ec314a81952c1896024bcf94%40thread.tacv2/1665657036119?context=%7b%22Tid%22%3a%22c7456b31-a220-47f5-be52-473828670aa1%22%2c%22Oid%22%3a%22aff32107-dd51-418a-b5f4-98a616d75be9%22%7d
Il 2 dicembre 1942 Enrico Fermi e i suoi collaboratori riuscirono a realizzare il primo assemblaggio critico con una reazione a catena di fissione. Oggi, più di 440 reattori di potenza sono in funzione in tutto il mondo e diverse applicazioni non di potenza dell'energia nucleare sono state rese possibili da quell'evento.
La celebrazione di quel memorabile evento, organizzata nell'ambito del progetto Europeo ENEN++, inizierà alle ore 14:00 (ora italiana) del 2 dicembre 2022, con collegamenti a reattori di ricerca operativi, proseguirà con un'intervista allo storico e premio Pulitzer Richard Rhodes e con una tavola rotonda su "Energia nucleare per un futuro più pulito". Si concluderà poi con un Career Event guidato dalla European Nuclear Society con la partecipazione di Thomas Thor.

Siete caldamente invitati a partecipare all'incontro!

Si prega di comunicare la partecipazione al link: https://docs.google.com/forms/d/1Vn6UjL2EUYC0FfOuerW2nlR-_oZwowcGxOYOo3FgYNg/edit
Il link per partecipare all'incontro è invece:
https://teams.microsoft.com/l/meetup-join/19%3af76e2f71ec314a81952c1896024bcf94%40thread.tacv2/1665657036119?context=%7b%22Tid%22%3a%22c7456b31-a220-47f5-be52-473828670aa1%22%2c%22Oid%22%3a%22aff32107-dd51-418a-b5f4-98a616d75be9%22%7d