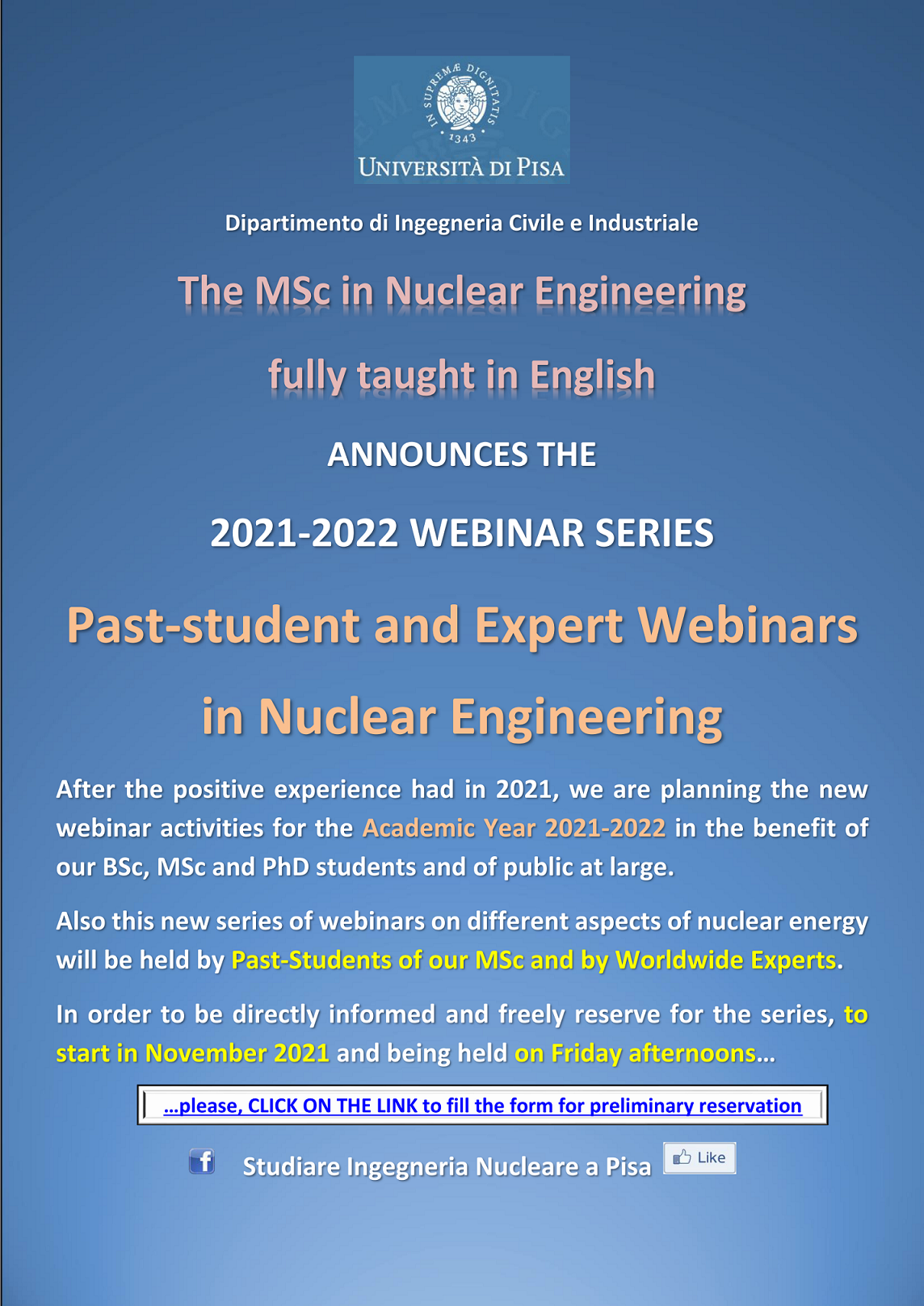 NOTE: The webinars are free and open to students of any home institutions as well as to the general public.
Feel free to spread the announcements and the links to anybody possibly interested.
Preliminary list of planned webinars with links to lecturers CV (click on each line)
Date (Friday)
Lecturer Name and SURNAME
Institution and Country
Starting time
Proposed Subject
12 Nov 2021
Enrico Deri
EDF, France
15:00
Digital twins of PWR steam generators
19 Nov 2021
Luis Enrique HERRANZ
CIEMAT, Spain
15:30
Lessons learned from Fukushima-Daiichi: From scenarios to modelling
26 Nov 2021
Henri Paillere
IAEA, Austria
16:00
Nuclear Energy for a Net Zero World
03 Dec 2021
15:00
10 Dec 2021
15:00
17 Dec 2021
15:00

24 Dec 2021

MERRY CHRISTMAS

31 Dec 2021

AND

07 Jan 2022

HAPPY NEW YEAR !

14 Jan 2022
15:00
21 Jan 2022
15:00
28 Jan 2022
15:00
04 Feb 2022
15:00
11 Feb 2022
15:00
18 Feb 2022
15:00
25 Feb 2022

Ahmed Bentaib

IRSN (France)

15:00
TBD
04 Mar 2022
15:00
11 Mar 2022
Lorenzo Basili
NIER (Italy)
15:00
Design by analysis: the ITER electron cyclotron upper launcher
18 Mar 2022
Mariano Tarantino
ENEA (Italy)
16:00
Lead-cooled Fast Reactor. Status & Perspectives
25 Mar 2022
Alessandro Marino
SCK CEN (Belgium)
15:00
Towards safe and reliable operation of lead-bismuth cooled fast systems: the Chemistry and Conditioning Programme of MYRRHA
01 Apr 2022
15:00
08 Apr 2022
Danilo Ferretto
SURO-TSO (Czech Republic)
15:00
Perform Safety Analysis using neutronic and thermohydraulic codes applied on VVER technology
15 Apr 2022
MERRY EASTER VACATIONS !
22 Apr 2022
Maarten Ooms
SCK CEN (Belgium)
15:00
Radiopharmaceuticals: utilizing radioactivity for Diagnosis and Therapy
29 Apr 2022
Jeff Lane
Zachry Nuclear Engineering (USA)
16:00
GOTHIC - Hybrid System Level and Course Grid CFD Modeling and Simulation
06 May 2022
Alessandro Del Nevo
ENEA (Italy)
15:00
The Water Coolant Lithium Lead Breeding Blanket: design and R&D activities
13 May 2022
Carlo Parisi
INL (USA)
15:00
TBD
20 May 2022
15:00
27 May 2022
Matteo Bucci
MIT (USA)
15:00
TBD
03 Jun 2022
15:00
10 Jun 2022
15:00
17 Jun 2022
UNIVERSITY OF PISA HOLIDAY
(SAN RANIERI)
24 Jun 2022
15:00
01 Jul 2022
15:00
08 Jul 2022
Lucia Sargentini
CEA (France)
14:00
TBD
15 Jul 2022
15:00
22 Jul 2022
15:00
29 Jul 2022
15:00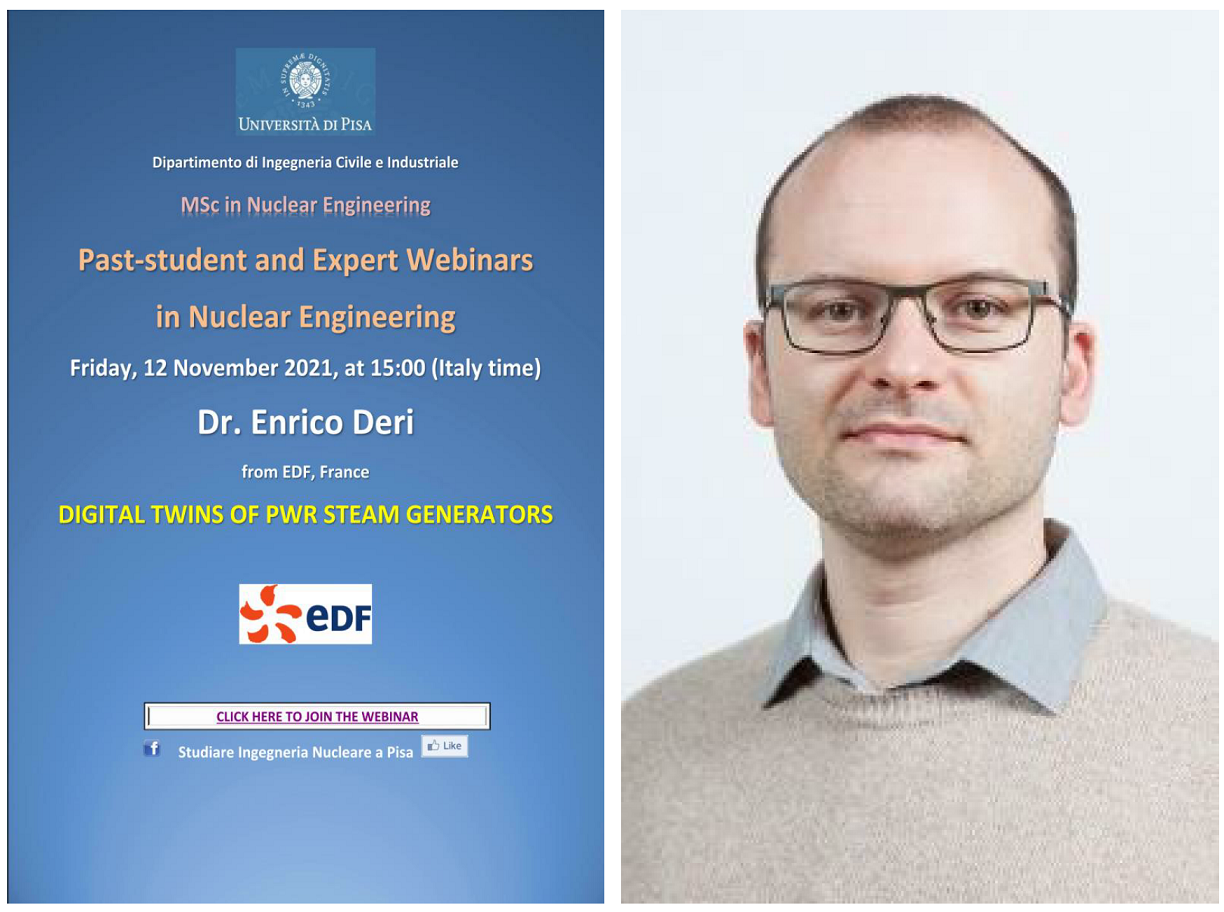 Enrico Deri works as project manager in the R&D division of EDF company. He obtained a MSc in Nuclear Engineering from University of Pisa in 2006 and the EMSNE (ENEN) certificate in 2007. In 2009 he got his PhD in fluid mechanics from CEA Saclay and Sorbonne University (formerly Pierre et Marie Curie University). After a Post-Doc on fluid-structure interaction at the Fluid Mechaincs Institute of Toulouse (IMFT), he joined EDF in 2011 to work on steam generators.
Webinar by Luis E. Herranz on Friday November 19, 2021 at 15:30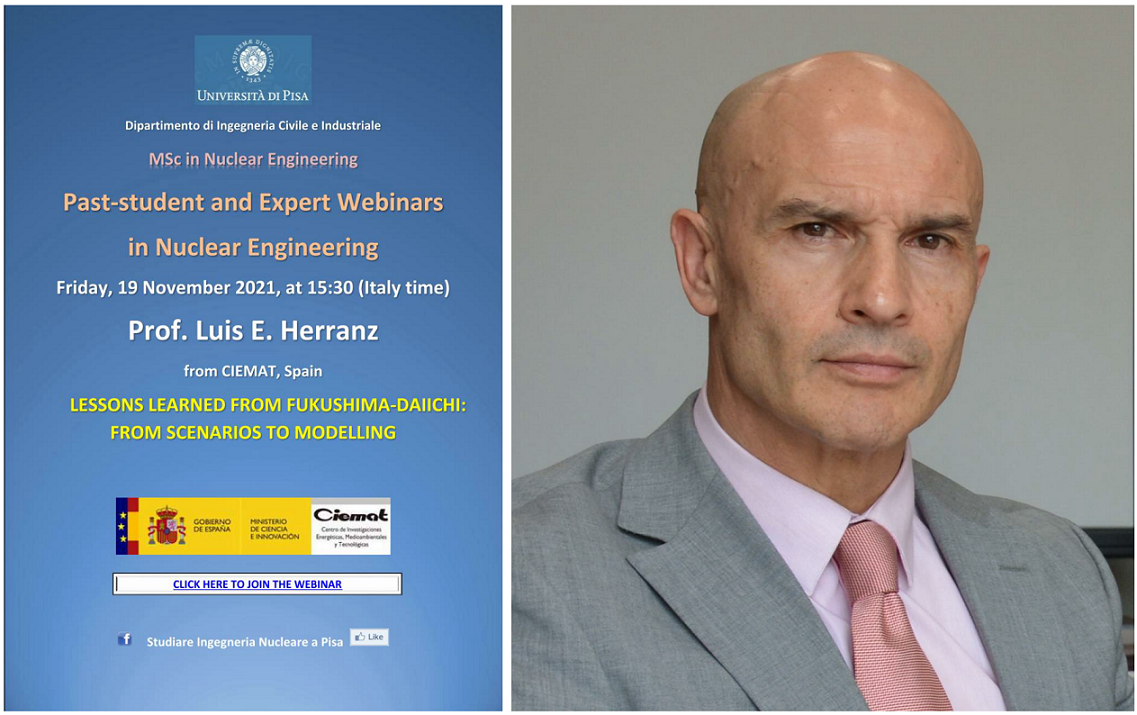 Luis E. Herranz has led the research group on Nuclear Safety in CIEMAT since 1999. He graduated in Quantum Chemistry (1986) and did a master on Nuclear Engineering at the Instituto de Estudios de la Energía in 1987. He defended his PhD thesis on Thermal-hydraulics of passive systems in 1996 and in 2016 he became Research Professor on Nuclear Safety, the highest category in Spanish research scale. Among his fields of interest are: Severe Accidents, Thermal-hydraulics of advanced nuclear systems, Thermo-mechanics of nuclear fuels and Safety and power cycles of IV Gen reactors. As a result of his research he's published more than 100 papers in refereed journals and has made more than 200 contributions to international conferences and congresses.
At present, after more than 30 years of professional career, he has been Chairman of the OECD-NEA Working Group on Analysis and Management of Accidents (WGAMA) since 2015 and after several years coordinating the Sub-Technical Area on Source Term within SNETP/NUGENIA, he became Leader of the entire Technical Area 2 on Severe Accidents in 2018. In addition, he is a member of several expert groups of OECD/NEA on Fuel Safety (WGFS) and Reactor Fuel Performance (EGFRP).
Along his career, Luis E. Herranz has collaborated in Universities and national and international graduate, masters and post-graduate courses. He was Co-Director of the Master on Nuclear Engineering and Applications (MINA) for 10 years, organized by UAM/CIEMAT, Professor at the Department of Mechanical Engineering of UPCO (ICAI) on Heat Transfer and on Energy Technologies for another 10 years. Presently, he is a lecturer in a number of masters and post-graduate courses related to nuclear energy and energy technologies.
Webinar by Henri Paillere on Friday November 26, 2021 at 16:00
Henri PAILLERE, Head of Planning and Economic Studies Section, International Atomic Energy Agency. Dr. Henri PAILLERE has over 25 years of experience in the nuclear energy sector and is currently working as Head of the Planning and Economic Studies Section at the International Atomic Energy Agency which he joined in February 2020. Before that, Henri worked at the OECD Nuclear Energy Agency in Paris between 2011 and 2019, as Senior Analyst and Deputy Head of the Division of Nuclear Technology Development and Economics. He was also the head of the Technical Secretariat for two international initiatives, the Generation IV International Forum, and the International Framework for Nuclear Energy Cooperation. Prior to these positions, he worked as R&D Program Manager at the Alstom Power Company and at the French Alternative Energies and Atomic Energy Commission (CEA) in various positions, including European Programme Manager in the Nuclear Energy Division of CEA.