These webinars have been accepted as an in-kind contribution
of the University of Pisa - CIRTEN in the frame of the ENEN+ Project.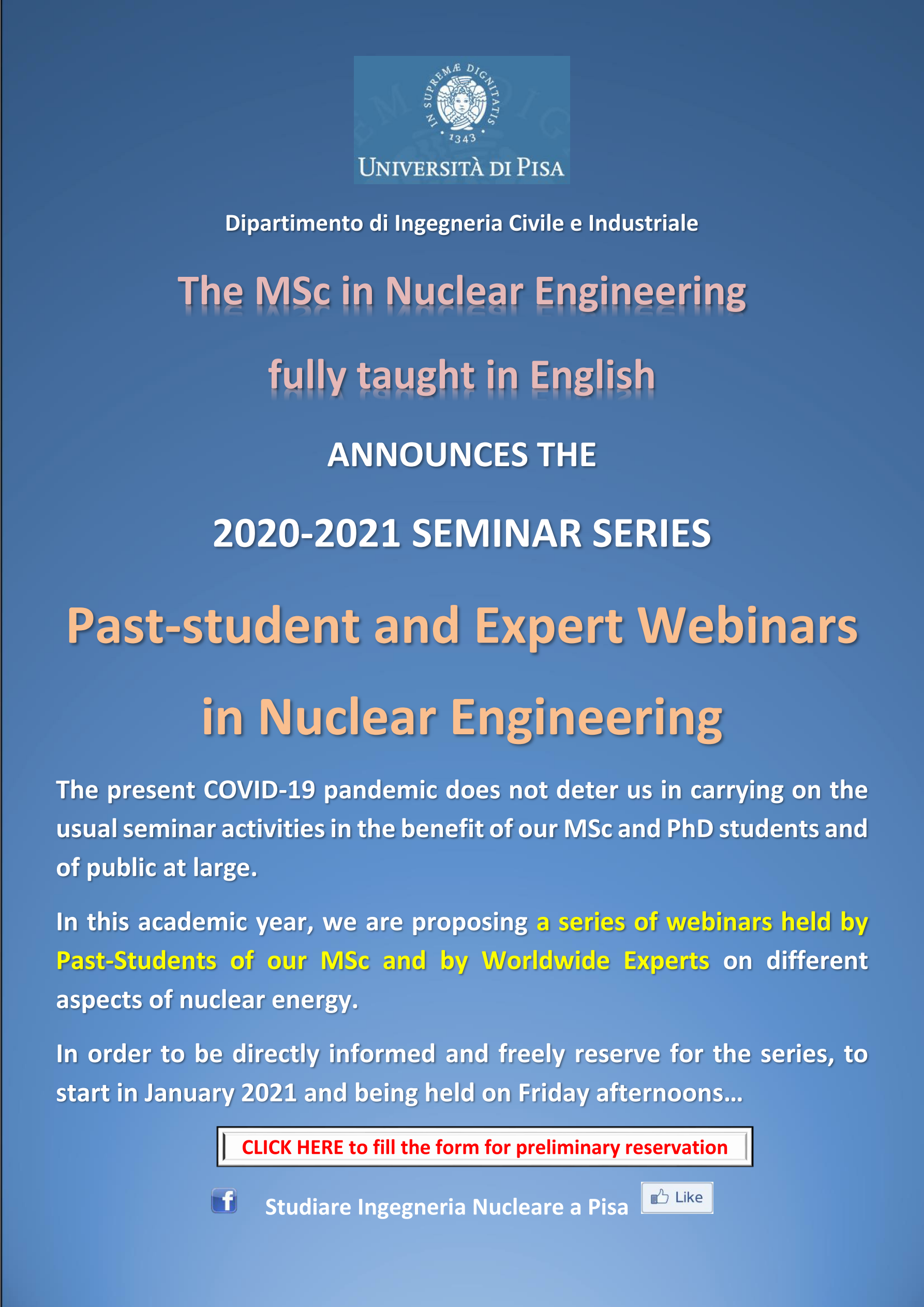 Preliminary programme for the Webinars. Each webinar will be announced separately.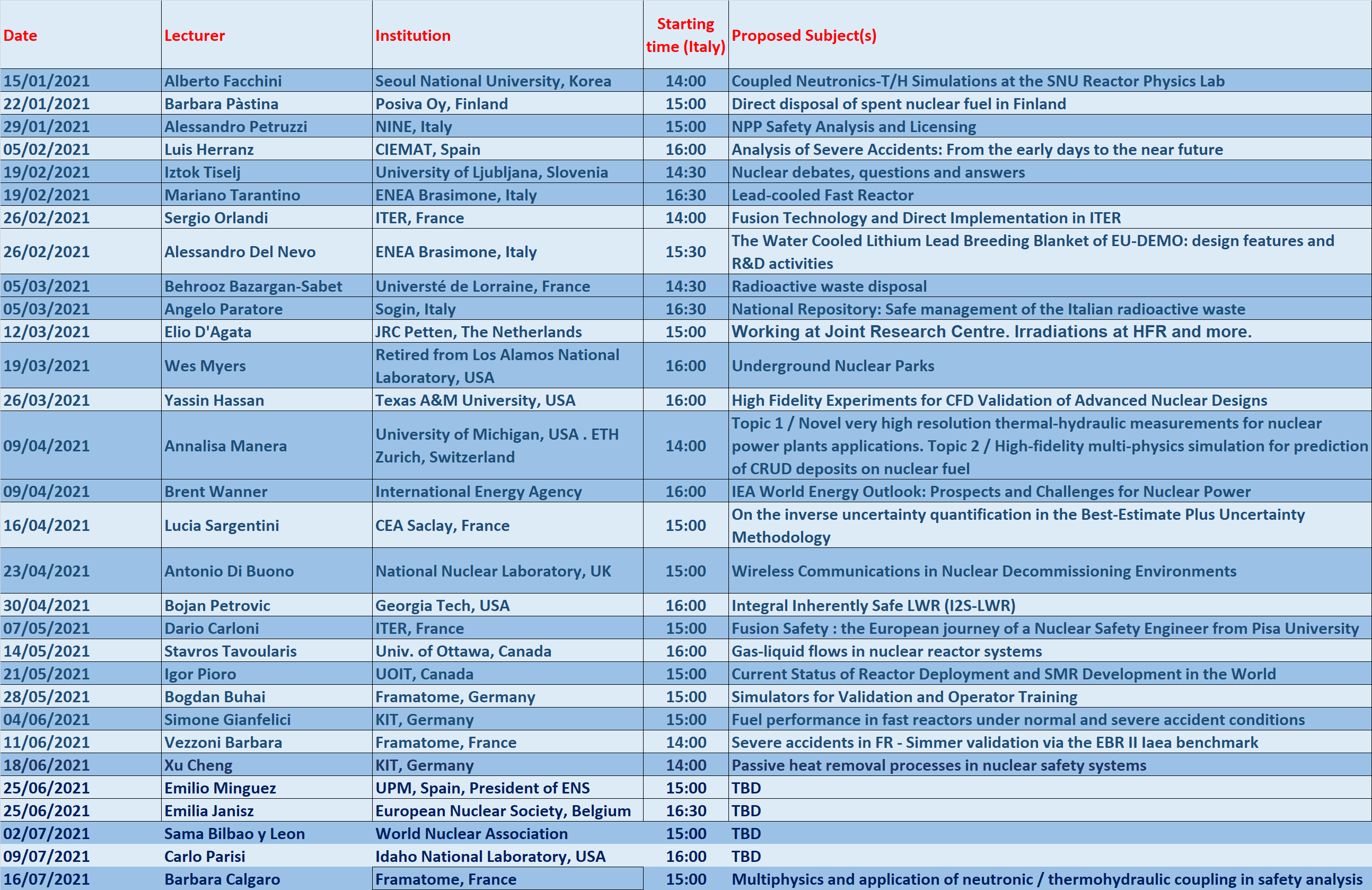 Here are the links to MS Teams for each Webinar
Webinar by Alberto Facchini on Friday January 15, 2021 at 14:00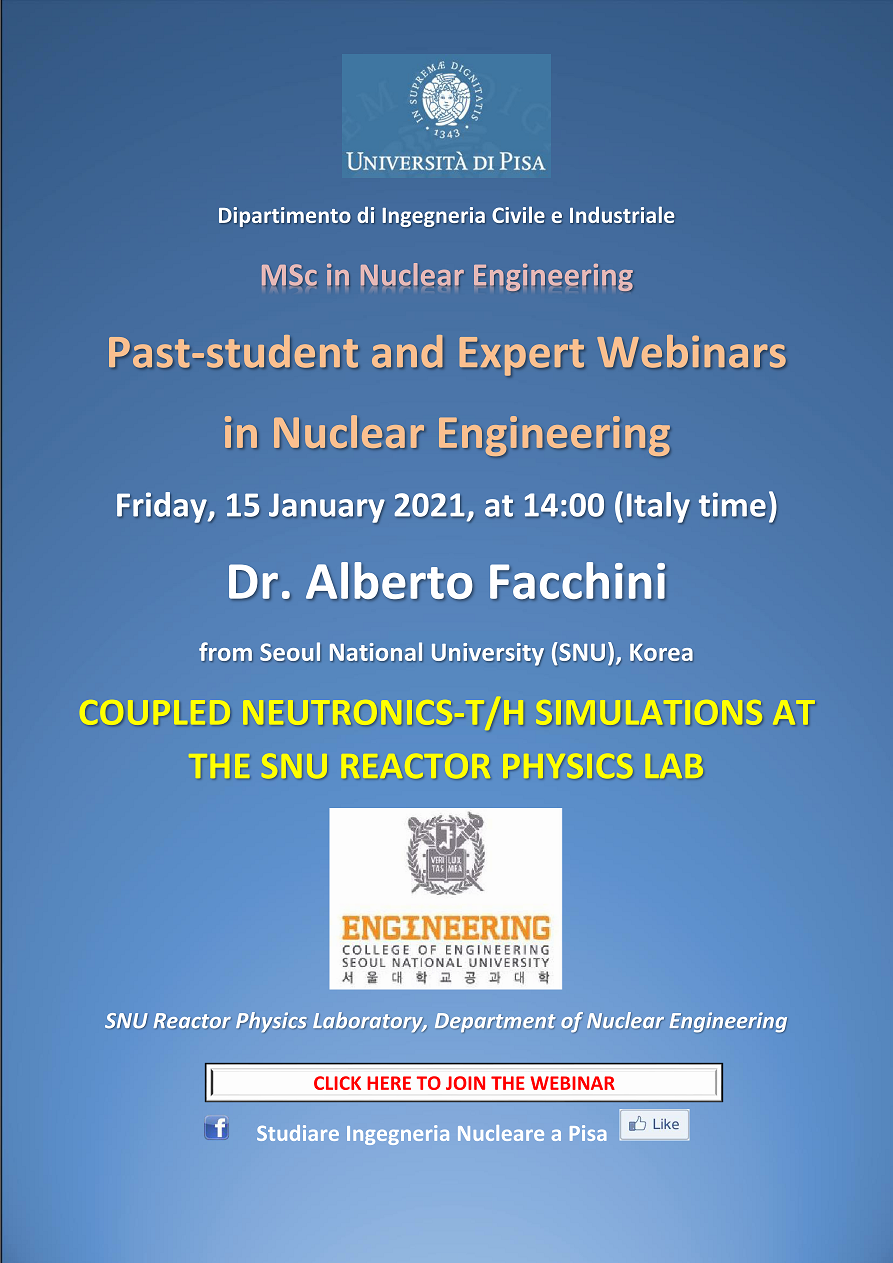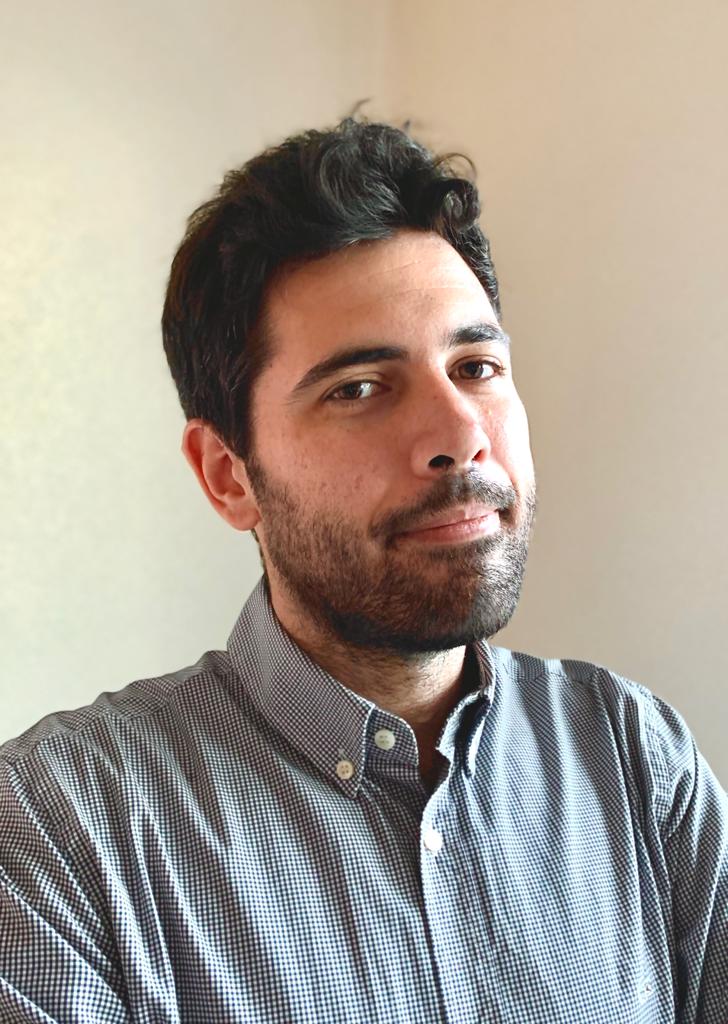 Alberto Facchini completed his B.Sc. in Nuclear and Safety and Protection Engineering at University of Pisa in 2013. Immediately after he joined the M.Sc. program in Nuclear Engineering offered by the University of Pisa. From September 2015 to January 2016, he was intern at the Joint Research Centre, ex Institute ffor Energy and Transport (Petten, NL), where he contributed to the modelization of ESFR for MCNP analyses under UTOP conditions.
In February '16, he defended his Master thesis and graduated 110/110 summa cum laude. After his graduation, he collaborated with the Department of Civil and Industrial Engineering (DICI) until March 2017 when he enrolled in the Ph.D. program of the Seoul National University (SNU in Seoul, KR) under the umbrella of the Reaactor Physics Laboratory (RPL). At the SNURPL, he has been focusing his research on increasing the fidelity of Coupled Neutronics-Thermal/hydraulics (T/H) calculation systems by employing a pin level T/H solver. In particular, he co-authored the ESCOT code, a 4-equation drift-flux based pin level code. This code has been successfully used for steady-state and transient pin level analyses.
At the end of December 2020, he defended his doctorate dissertation with the title "Development of a Pin Level Thermal/Hydraulics-Neutronics Coupled Core Simulator for High Fidelity Steady-state and Transient Analysis".
Webinar by Barbara Pàstina on Friday January 22, 2021 at 15:00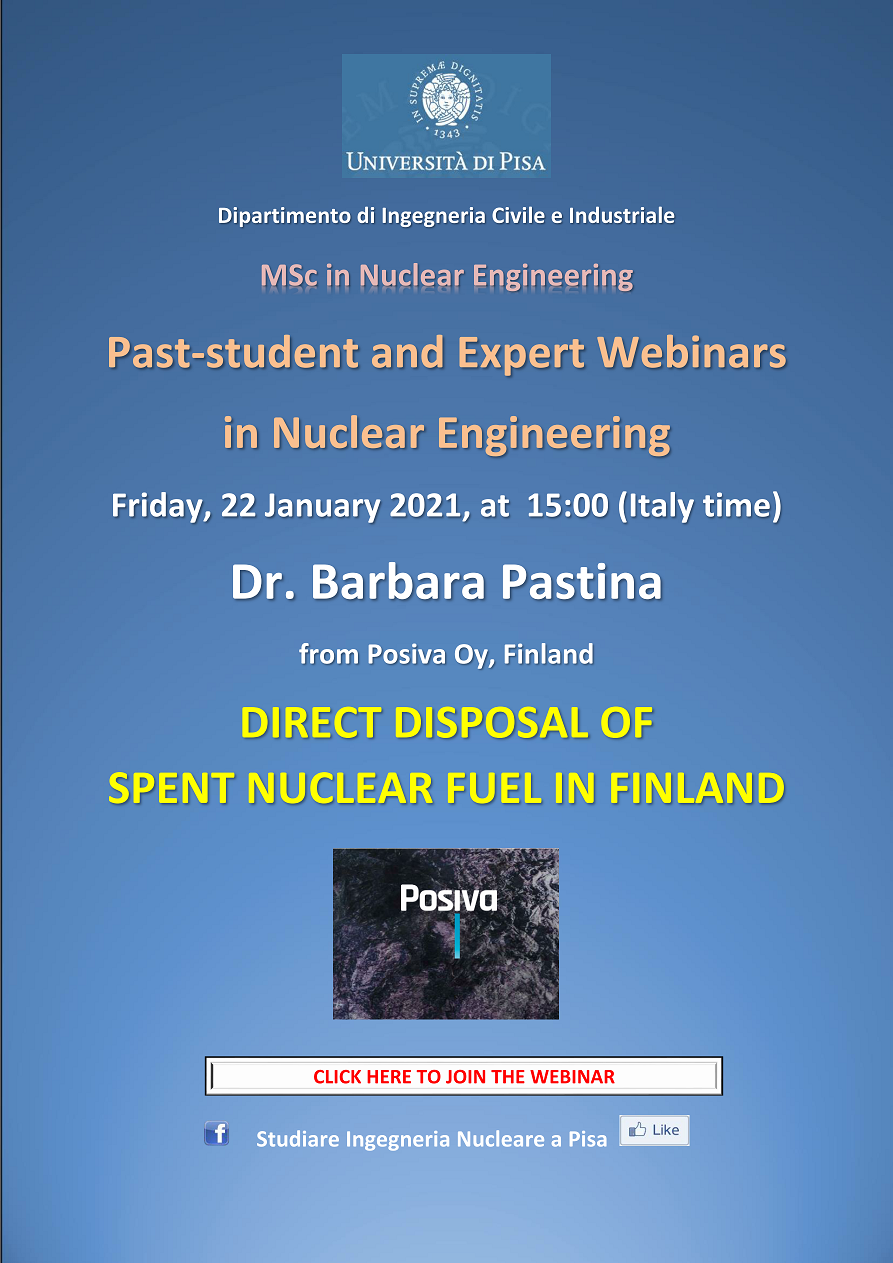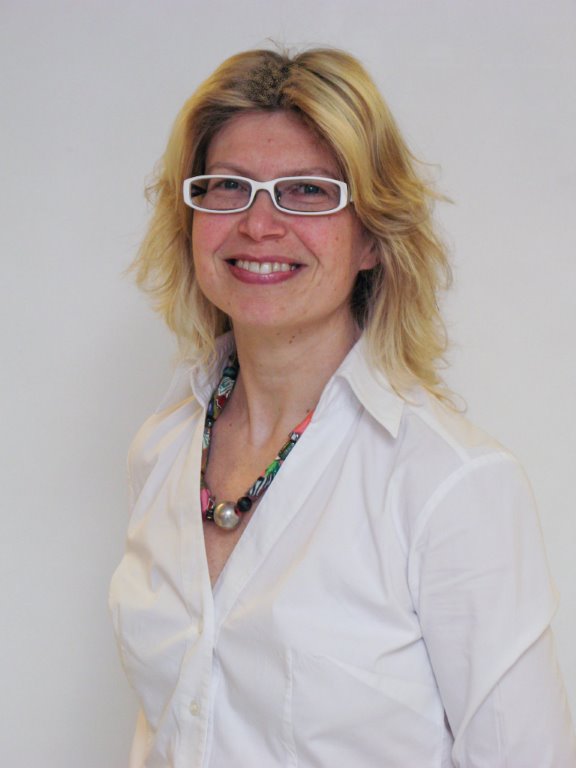 Barbara holds a PhD in Physical Chemistry (subject: Water radiolysis in the primary cooling circuit of a PWR reactor) from the University of Paris carried out at the Commissariat à l'Energie Atomique/Saclay.
Her research activities continued at the Notre Dame Radiation Laboratory under the sponsorship of Electricité de France. In 2000, she transitioned from research to science policy, working on nuclear waste-related issues for the U.S. National Academy of Sciences in Washington, DC.
In 2006, she moved to Finland to join Posiva's safety case team. Since 2014, she manages the project producing the safety case for the operational license application.
Webinar by Alessandro Petruzzi on Friday January 29, 2021 at 15:00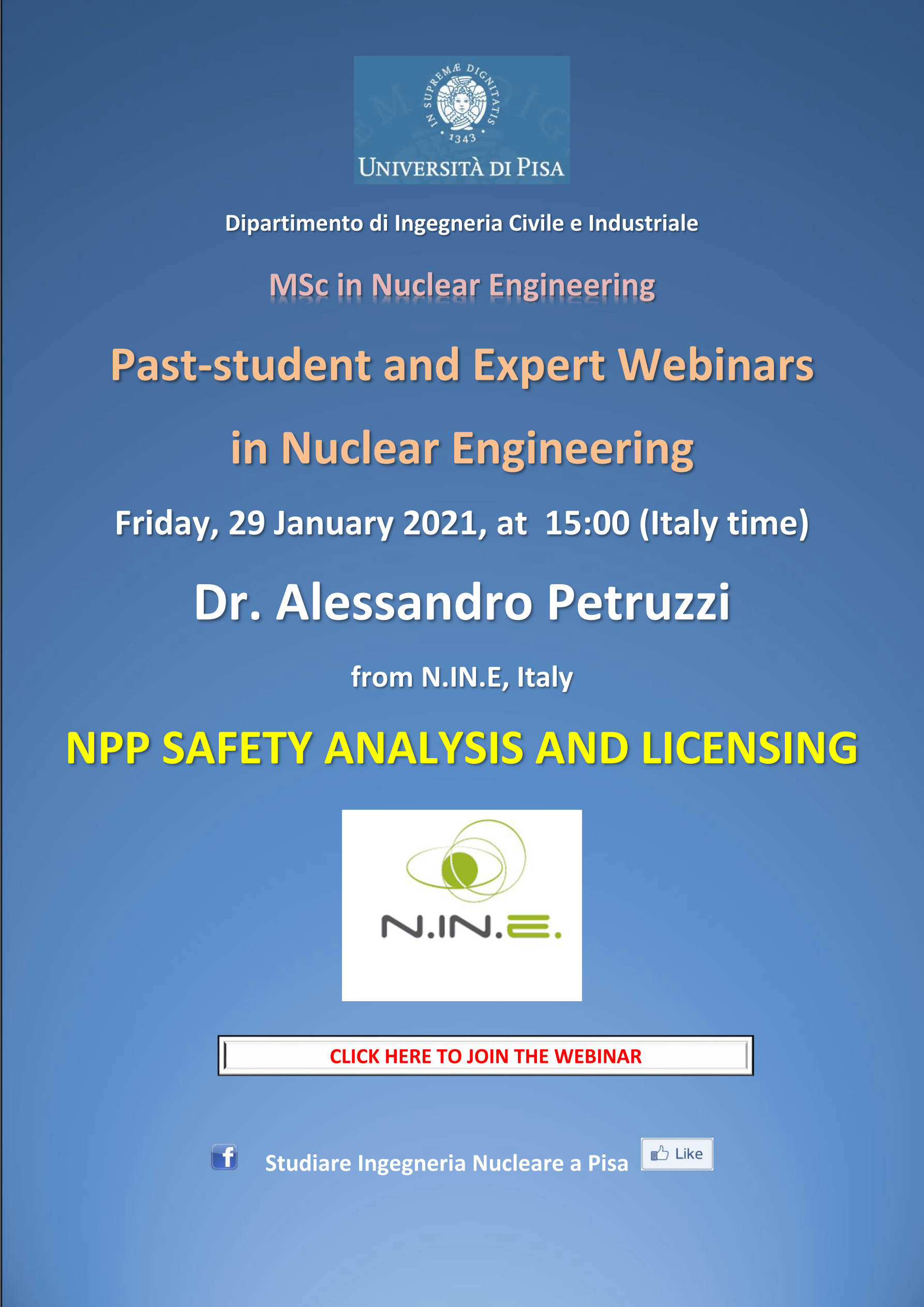 Alessandro Petruzzi is the President of NINE and current Head of the Plant Thermal-Hydraulics Area devoted to safety analysis and licensing of NPP.
Prior to join NINE, he worked over 9 years in the Nuclear Research Group of San Piero a Grado (GRNSPG) and he spent the year 2004 working as an intern-assistant in the Pennsylvania State University (USA).
He got his PhD Degree in "Nuclear and Industrial Safety" Course of the "Leonardo da Vinci" Doctoral Engineering School in 2008, discussing the thesis titled "Development and Application of Methodologies for Sensitivity Analysis and Uncertainty Evaluation of the Results of the Best Estimate System Codes applied in Nuclear Technology".
The methods for uncertainty and sensitivity analysis applied to thermal-hydraulics system codes constitute his main interest as well as the assessment of computer codes and the development of sensitivity and uncertainty methods.
He was involved in several activities connected with safety and licensing process, including the preparation of Chapter 15 of Final Safety Analysis Report (FSAR) of Atucha-2 NPP (Argentina), Hanhikivi-1 NPP (Finland) , the support to the Generic Design Assessment (GDA) Step-3 and 4 for the HPR-1000; the participation as expert to the Generic Reactor Safety Review (GRSR) service organized by IAEA for several NPP design (more than 10 different NPP).
He is the founder and director of the NINE Multi-Level Training Program which includes several courses organized each year and devoted to Scaling, Uncertainty and 3D COuPled Code Calculation, Models and Methods for Advanced Reactor Safety Analysis, Nuclear Reactor Safety Hand-On Training. He was involved also as expert in the Safety Assessment Education and Training (SAET) Programme of IAEA which has been designed to support IAEA Member States with development of required safety assessment capacity and competency.
Webinar by Luis E. Herranz on Friday February 5, 2021 at 16:00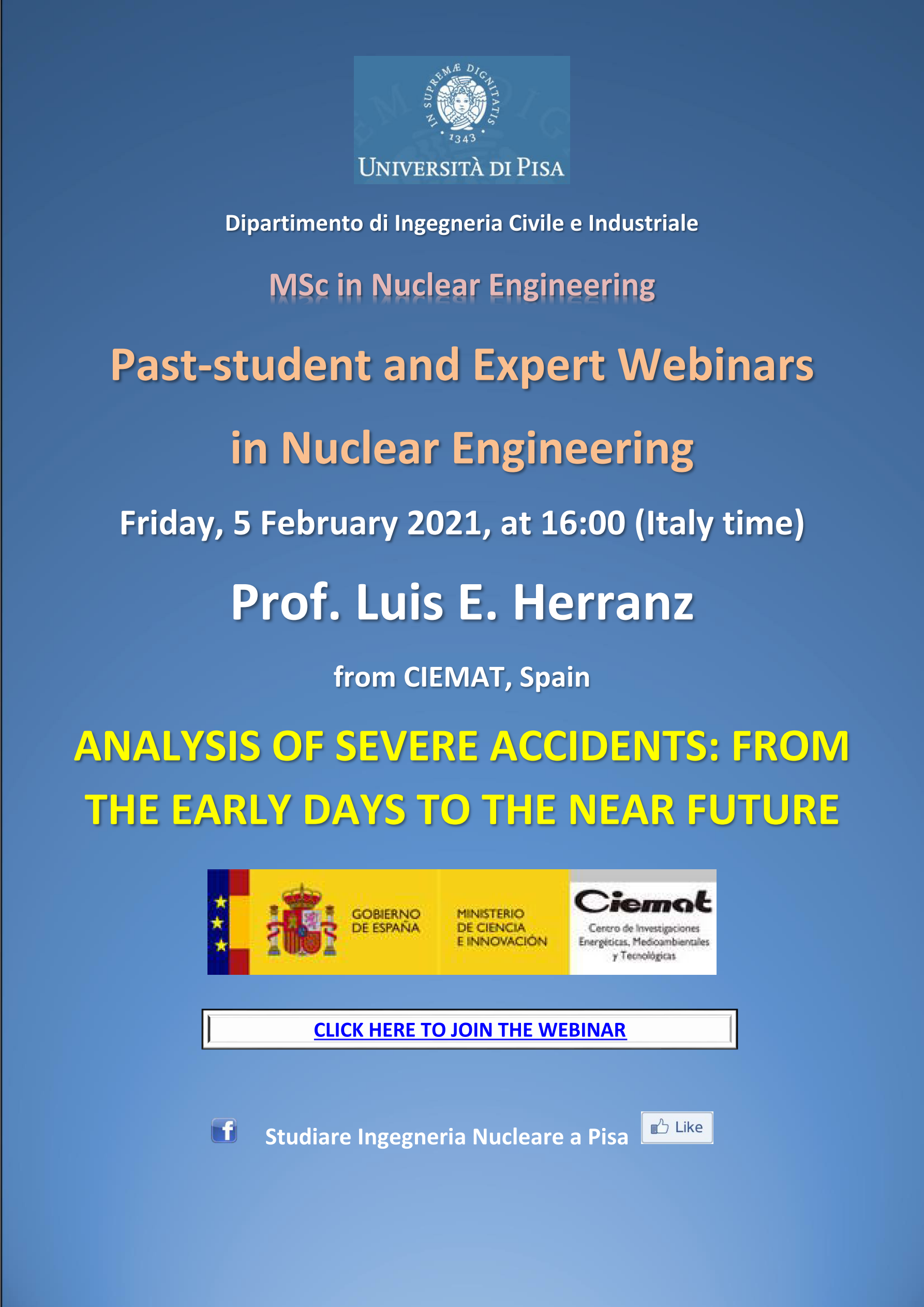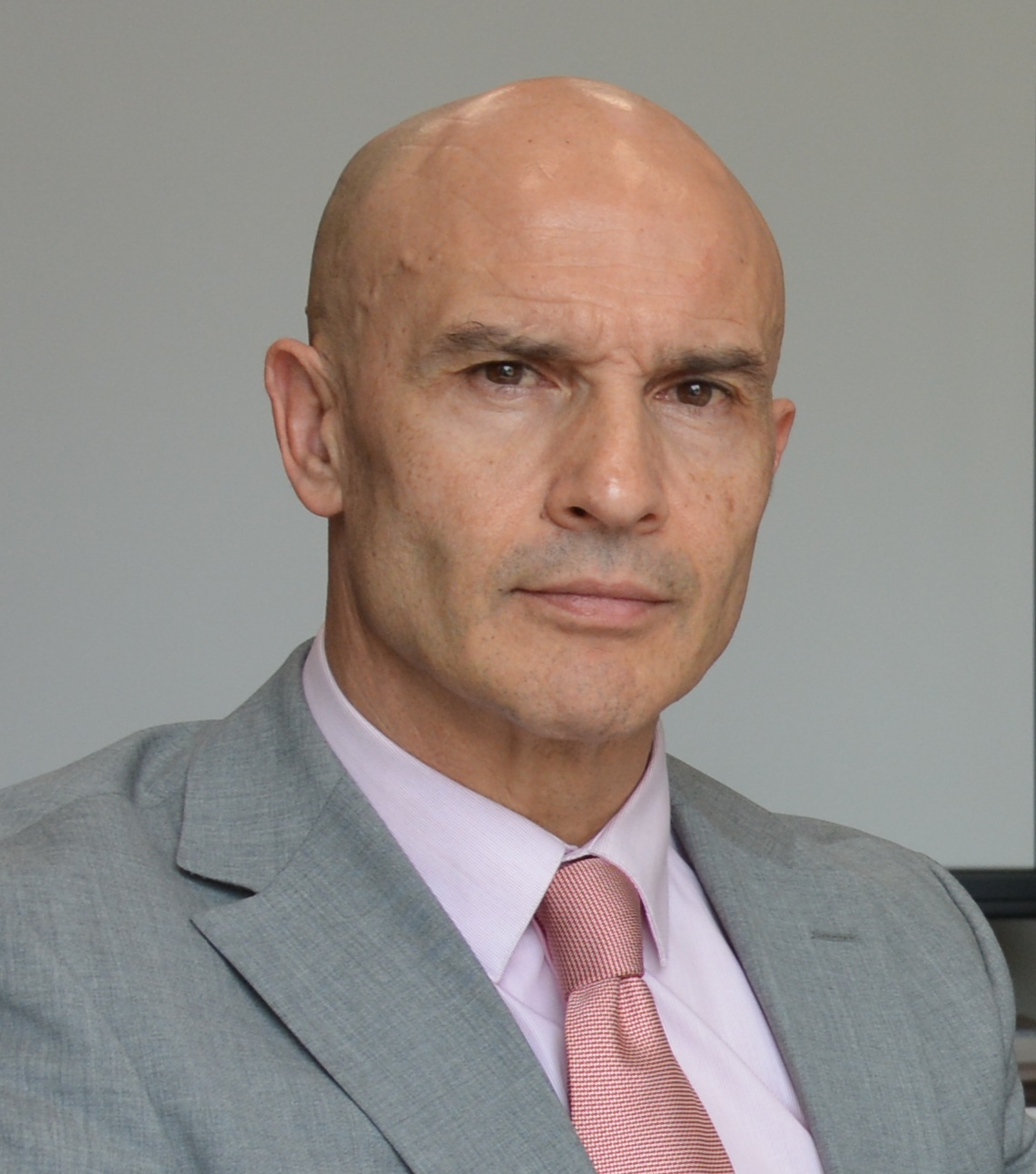 Luis E. Herranz has led the research group on Nuclear Safety in CIEMAT since 1999. He graduated in Quantum Chemistry (1986) and did a master on Nuclear Engineering at the Instituto de Estudios de la Energía in 1987. He defended his PhD thesis on Thermal-hydraulics of passive systems in 1996 and in 2016 he became Research Professor on Nuclear Safety, the highest category in Spanish research scale. Among his fields of interest are: Severe Accidents, Thermal-hydraulics of advanced nuclear systems, Thermo-mechanics of nuclear fuels and Safety and power cycles of IV Gen reactors. As a result of his research he's published more than 100 papers in refereed journals and has made more than 200 contributions to international conferences and congresses.
At present, after more than 30 years of professional career, he has been Chairman of the OECD-NEA Working Group on Analysis and Management of Accidents (WGAMA) since 2015 and after several years coordinating the Sub-Technical Area on Source Term within SNETP/NUGENIA, he became Leader of the entire Technical Area 2 on Severe Accidents in 2018. In addition, he is a member of several expert groups of OECD/NEA on Fuel Safety (WGFS) and Reactor Fuel Performance (EGFRP).
Along his career, Luis E. Herranz has collaborated in Universities and national and international graduate, masters and post-graduate courses. He was Co-Director of the Master on Nuclear Engineering and Applications (MINA) for 10 years, organized by UAM/CIEMAT, Professor at the Department of Mechanical Engineering of UPCO (ICAI) on Heat Transfer and on Energy Technologies for another 10 years. Presently, he is a lecturer in a number of masters and post-graduate courses related to nuclear energy and energy technologies.
Webinar by Iztok Tiselj on Friday February 19, 2021 at 14:30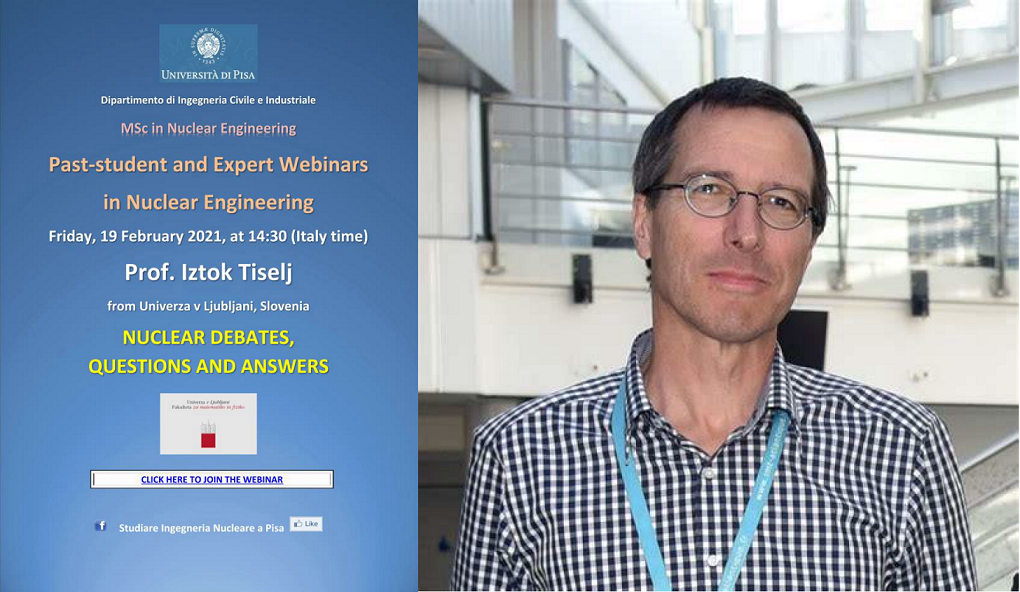 Personal: Born 1966, Slovenia
Education:
1991: Dipl. Ing. - Univ. Ljubljana, Dept. Physics
1997: PhD - Univ. Ljubljana, Dept. Physics - Nuclear Eng.
Employment
July 1991 to present: Researcher at "Jožef Stefan" Institute.
(1999 - 1-year postdoc at Technion - Israel Institute of Technology)
Since 2012 full professor of Nuclear engineering at Faculty of Mathematics and Physics, Univ. Ljubljana.
Major Research interests:
1D/2D/3D Simulations of two-phase flows.
Direct Numerical Simulation of heat transfer in near-wall turbulent flow.
Analyses of turbulent flows in complex geometries (LES methods).
High performance computer simulations in fluid mechanics.
Webinar by Mariano Tarantino on Friday February 19, 2021 at 16:30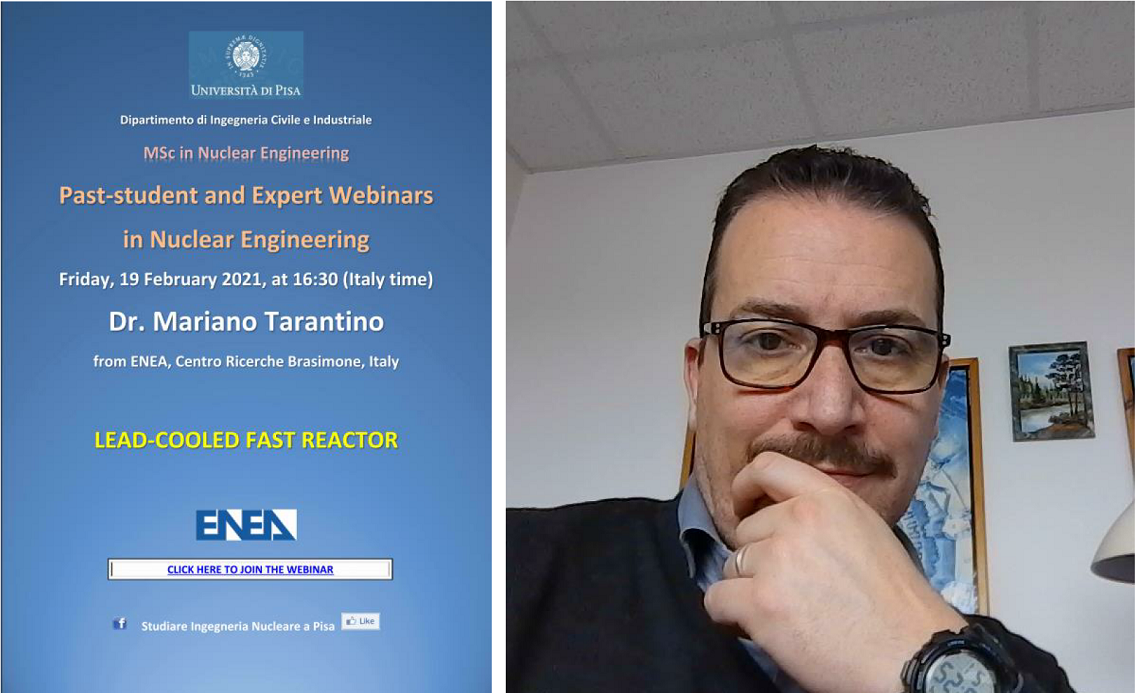 Mariano Tarantino got his PhD degree in "Industrial and Nuclear Safety Course" of the "Leonardo da Vinci" Doctoral Engineering School in Pisa in 2008, discussing a thesis work on "Experimental Investigation of the Thermal Hydraulic Behaviour of Heavy Liquid Metal Cooled Reactors".
From November 2010 to December 2018 he acted as Scientific Advisor of Gen. IV R&D domain in the frame of the Research Program Agreement (ADP) between ENEA and Italian Minister for the Economic Development (MiSE).
Mariano Tarantino has been involved in heavy liquid metal technology development since 2003, leading numerous programs at national and international level. In this frame, he worked on heavy liquid metal heat transfer, prototypical components design, operation and experimental characterization of innovative solutions for LFRs, experimental infrastructures implementation, coolant chemistry assessment and material development and qualification.
Mariano Tarantino is also a member of the FALCON Consortium for the ALFRED (DEMO LFR) promotion, design, construction and operation in Romania. Specifically, he is responsible of the RD& Qualification Task Force in FALCON.
He is author of more than 50 papers in international journals and more than 80 papers in peer-reviewed international conferences.
Presently he is the head of Innovative Projects Section in the Department of Fusion and Technologies for Nuclear Safety and Security, ENEA.
Webinar by Sergio Orlandi on Friday February 26, 2021 at 14:00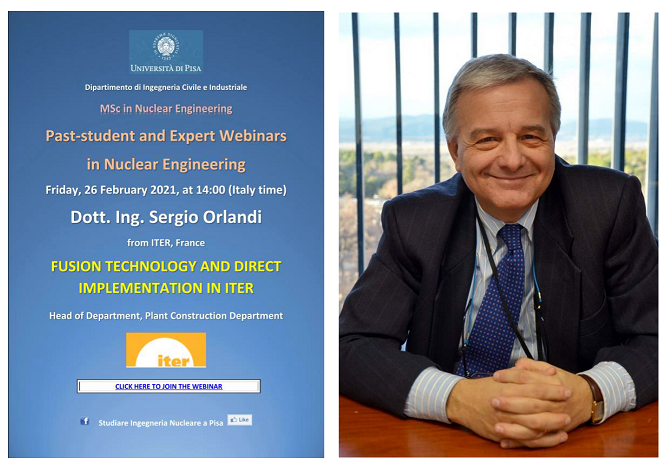 Sergio Orlandi graduated in Nuclear Engineering from the University of Pisa and is fluent in three languages. After a long experience in the Ansaldo Group, he was also general manager of Ansaldo Nucleare. Since 2013 he has been central director of the "Plant Engineering and Construction" Department of the ITER project for the construction of the Fusion Nuclear Plant in Saint Paul Lez Durance, France.
Webinar by Alessandro Del Nevo on Friday February 26, 2021 at 15:30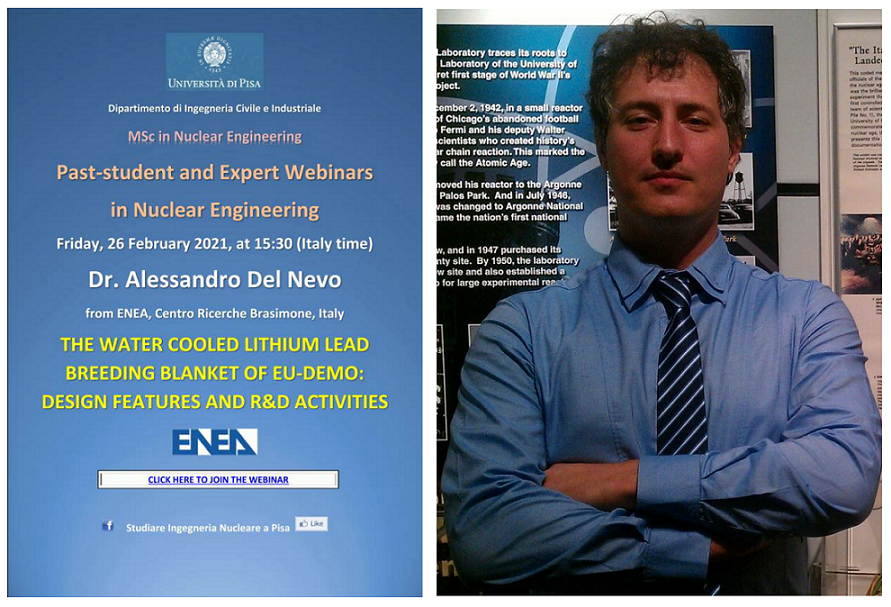 Alessandro DEL NEVO. Nuclear Engineer (2002) and PhD in Nuclear Safety (2007) at University of Pisa. He worked for the San Piero a Grado Nuclear Research Group (2003-2010) of University of Pisa and, then, for ENEA. . Currently, he is the Head of Systems and Components Design Laboratory at ENEA, Research Center Brasimone.
Technical skills: thermal-hydraulics, design of systems and components, design of experimental facilities and experiments, code model development and validation, fuel pin mechanics. Co-author of 98 publications in International Journals; 104 papers in peer-reviewed International Conferences; 8 contributions in published content books and International Technical Reports (e.g. IAEA, NEA); and more than 300 research reports.
Since 2013, he contributes to Nuclear Fusion Technology design and R&D activities through the participation in the EUROfusion Project: responsible of the heavy liquid metals/water safety issue (since 2013); leader of the WCLL Breeding Blanket design (2014-2020); scientific manager of the working package Balance of Plant (2014-2020); currently, deputy project leader and scientific manager of the working package Breeding Blanket.
Webinar by Behrooz Bazargan-Sabet on Friday March 5, 2021 at 14:30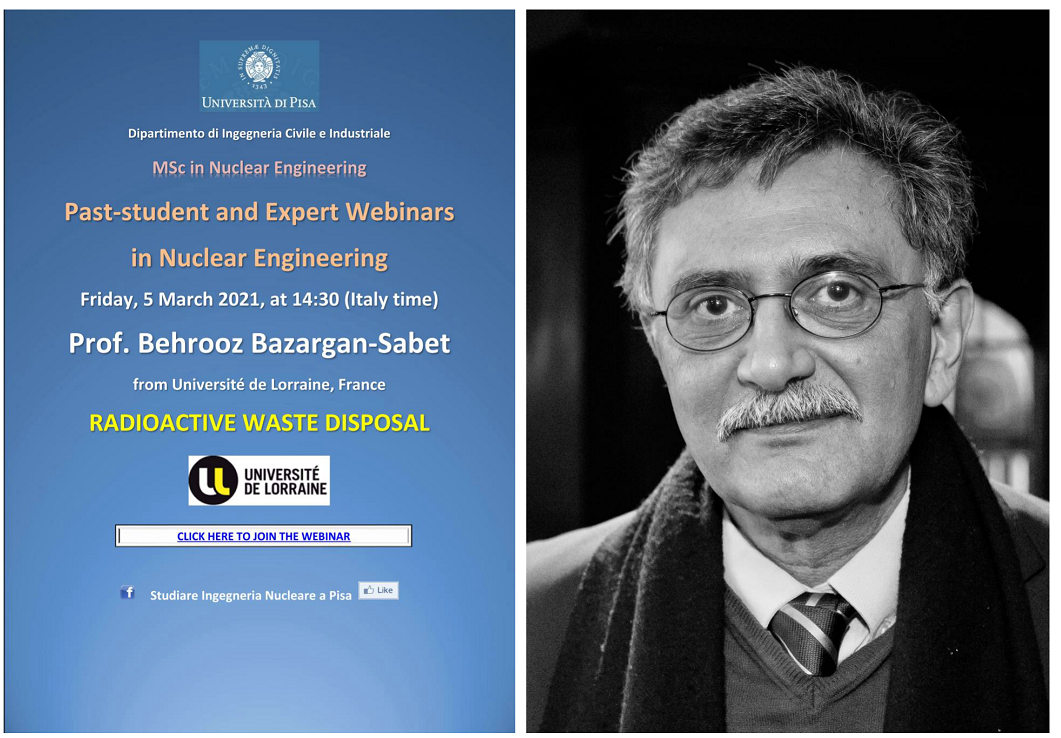 Prof. Behrooz Bazargan-Sabet has 36 years of experience in Geological Disposal of Radioactive Waste and site investigations. He extensively involve in both fundamental and experimental research on geomechanics and fluid-rock interactions. He was member of the IAEA expert group on radioactive waste knowledge management. Since 2003, he is appointed as Professor at the University of Lorraine (France). He is member of Standing Advisory Group of the French Nuclear Safety Authority (ASN).
Webinar by Angelo Paratore on Friday March 5, 2021 at 16:30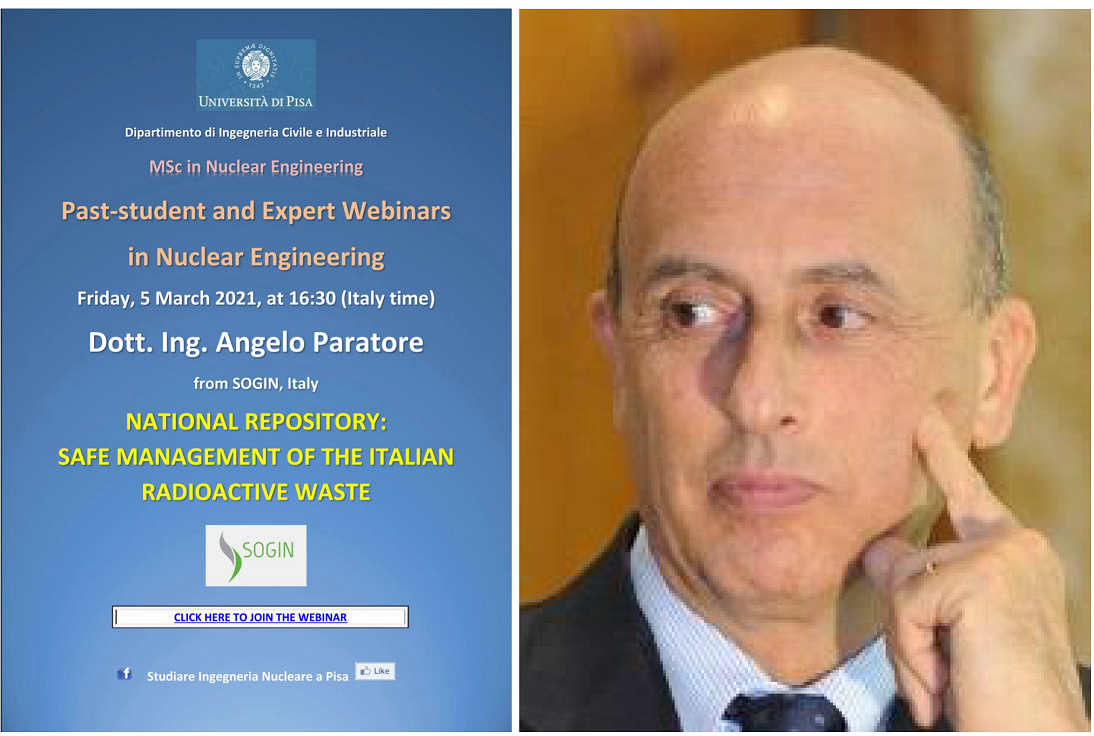 Angelo Paratore has been working since the early 80's in the nuclear industry, participating in the Caorso NPP refueling outages. In 2001 he joined the Engineering Dpt. of SOGIN where he covered positions of increasing responsibility, being involved in the decommissioning activities of the Italian NPP's and Fuel Cycle Facilities. In 2011 he was appointed Responsible of the National Repository & Technology Park Division following the activities aimed at siting, designing and realizing a centralized surface repository for the final disposal of short-lived radioactive waste and the interim storage of long-lived radioactive waste generated in Italy. From 2013 he's been involved with different roles and responsibilities in the same activities and in the international benchmark on pre-disposal management of radioactive waste.
Webinar by Elio D'Agata on Friday March 12, 2021 at 15:00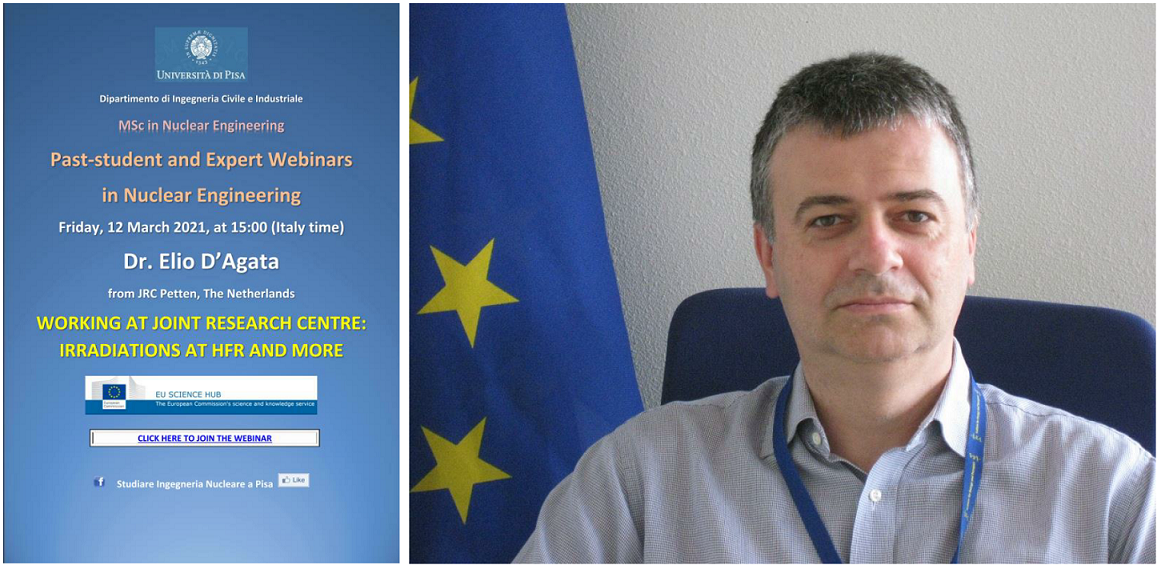 Dr. E. D'Agata. Graduated in Nuclear engineering, he has obtained his PhD in Mechanical engineering at University of Pisa. He worked first as consultant at the University of Pisa in order to develop deterministic neutronic codes then as design and analyst engineer in the design of the Divertor of the ITER machine and after in the integration unit of ITER project dealing whit the integration of the whole Tokamak. As scientific officer and project leader, in the Joint Research Center of Petten, he has been responsible for several irradiation campaigns related to transmutation of Minor Actinide, Reactor Pressure Vessel material aging and Molten Salt. He (was) is involved in several European Projects (EUROTRANS, FAIRFUELS, PELGRIMM, ARCHER, MATISSE, INSPYRE, PUMMA, PATRICIA, JHOP2040). He is author and co-author of more than 50 peer review papers in international journal. He is member of the working group on material of the Jules Horowitz Reactor and recently he has been nominated member of the scientific committee of the JRC.